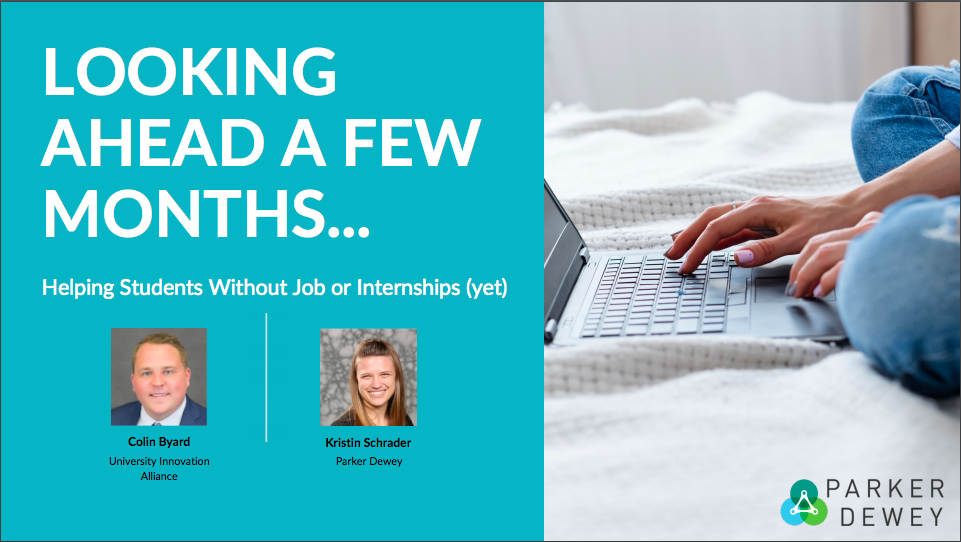 Looking Ahead a Few Months: Helping Students Without Jobs or Internships (yet)
With all of the current challenges with the COVID-19 virus, rarely has there been a more critical time for the higher education community to pull together than now. To that end, Parker Dewey offered a webinar on March 25, 2020 to discuss ways that universities can engage multiple audiences to help students who do not have a job/internship yet or who may have recently lost their opportunity. This session was a follow-on to an earlier meeting that discussed how remote, project-based work can be useful during this time.
The webinar was facilitated by Colin Byard, University Innovation Alliance Fellow, and Kristin Schrader, Director of University Engagement at Parker Dewey, both of whom have extensive backgrounds in higher education at various institutions. The session focused on the sharing of ideas as well as tactical solutions for engaging various stakeholders to help in this current challenge.
Ideas that emerged from the webinar include:
According to one survey, over 14 million students have been impacted by COVID-19 in some way, and the trickle-down effects of this on the economy may linger for awhile. There are many needs, and many solutions will be needed to address challenges ahead. Micro-Internships may be one of these solutions for your students, so here are some suggestions for how to message your various constituents about these opportunities.
Step #1: Reach Out to Students
Step #2: Reach Out to Employer Partners:
Step #3: Reach Out to Alumni and other "Friends" of your university:
These are unprecedented times, and pulling together as a higher education community is essential for helping students weather the coming storms. To that end, if you would like to continue the conversation about Micro-Internships and have ideas on how to do so, please let us know.
Here are some additional resources that may be helpful:
Here are some other frequently asked questions:
What is a Micro-Internship?
These projects are generally 20-40 hours in length, paid, professional experiences that are appropriate for current college students or recent graduates. A great way to think about these are the "We should…" projects that employers don't have time for, or those "I shouldn't…" tasks that aren't the best use of time for an organization. If helpful, here are some of the most common Micro-Internships.
What are some considerations for companies looking to provide these opportunities?
Remote, project-based work for students and recent grads can be a scalable solution to help staffing needs across an organization. While the concept is relatively new, it has been offered by organizations large and small and featured in major publications such as Forbes, The Wall Street Journal, SHRM, and The Chronicle of Higher Education.
In addition to offering a flexible staffing solution with no conversion fees or long-term contracts, these projects also offer employers access to students who currently have difficulty engaging in traditional internships. These may include student athletes or non-traditional students who may be unable to complete a summer internship.
What should universities do to implement these opportunities?
First, share information about these opportunities with employers! Let them know that students are very interested in gaining professional experiences and want to interact with companies even if it is remotely. Alumni, parents, and other "friends" of the university can also help provide these opportunities for your students as many are looking for ways to give back while also getting professional support on their assignments.
Second, share these opportunities with students as options that can be completed remotely and added to a professional resume. Place them in student emails, newsletters, mention them in calls to students...spread the word! Projects can fit any academic major and can be completed by students from their first year through recent graduates, and can be a great way to explore career opportunities.
Are all opportunities available to all students? Or can some projects only be visible to students from my university?
All Micro-Internships that are currently available are available to all students, and we do not have separate collections of opportunities for individual schools at this time. We designed the system this way largely because of employer feedback. Employers use the platform to find talent quickly, and they wanted to be sure they could access a broad talent pool to apply for their immediate needs.
Is there a cost to students to use the platform?
The platform is always free for students, and students are welcome to join the platform whether or not their university is an official partner.
What are some of the advantages of a university partnership?
There is a free, basic university partnership that includes a custom landing page with university branding, marketing materials, and data access about student utilization of the platform. In addition to these resources, university partnership allows the Parker Dewey team to share data about what employers have made accounts on our site via their university landing page. This will help us to notify you when your employer or an alum posts a project so that you can notify your students.
What if I want additional support to launch/grow my Micro-Internship program?
Due to requests like this, we have provided premium services to schools to support these specific areas of interest. We are happy to customize a program package that fits your goals for your Micro-Internship program. Please let us know if you want to learn more about university partnerships or click here for more information.
Has there been a slowdown in the number of Micro-Internships during this COVID-19 period? Do you anticipate any slowdowns moving forward?
Actually, we're seeing just the opposite, particularly since employers are looking for opportunities that can be done remotely and flexibly. They still have work to be done and are still interested in connecting with students, so it is very busy in the world of Micro-Internships!
Do students get critiqued or guidance by supervisors?
They do get feedback upon completion and many of the companies do provide some level of mentoring. But, no, it is not as in depth as the 10-week traditional internship. Most Micro-Internships can be completed in a couple of weeks if not faster.
Has there been success in Micro-Internships for healthcare?
Yes, on the business side. We would not suggest them for "high stakes" situations like patient interaction.
Does Parker Dewey work directly with professors?
We do and are happy to. Some of the best situations are when professors are involved to serve as mentors for students completing projects and can discuss the project during office hours. We do not allow faculty to make it a requirement to obtain a Micro-Internship as part of their class since employers choose which student they want to complete their project, and there is no guarantee that a student will be picked. That said, we see many faculty members encourage their students to use the site for additional professional development opportunities.
Do you have experience working with any community college students?
Yes, and they have done very well with Micro-Internship opportunities in the past.
Do Micro-Internships ever lead to longer-term opportunities (longer internships, full-time jobs)?
Yes! Micro-Internships often result in offers for internships and full-time jobs, and are even used as a recruitment tool for those opportunities. Employers who have used Micro-Internships recognize that although the project may be short-term, the projects can be a great way to identify students' potential and evaluate skills like grit, communication, and problem solving that are so important, but often difficult to assess during a traditional recruiting process. Plus, if multiple projects need to be done, these opportunities allow multiple students a chance to work on the different projects allowing for a wider pool of potential interns/candidates for other positions.
Can Micro-Internships be completed by International Students?
Micro-Internships have been approved for international students, often through OPT or a work visa. However, it is up to each school to approve the student, and we direct the students to reach out to their International Students Office before applying.
How are Career Services platforms like Handshake, Symplicity etc. most helpful now?
These platforms can certainly be a great resource for those employers who still have opportunities available that need to be filled (full-time, internship, etc.). Unfortunately, they may not have shorter-term opportunities or ones that can be done remotely. For employers who may be concerned about their ability to host remote projects, we are happy to help if needed.
A few of our employer partners have contacted us about students working there currently stating that they are not prepared to have their co-op students/interns work remotely. How can we address this with both employers and students?
As a leader in providing short-term, remote projects for college students, we are happy to share our expertise if that would be helpful. We have our project library that gives employers ideas of projects that could be done remotely. If we can help, please let us know.
Should companies be engaging their employees differently during this crisis to get them involved in the hiring process in new ways? Is this changing that dynamic?
That's what we would recommend. One advantage of these projects is that they can be opportunities across the organization and can engage departments that may not be used to having a traditional "intern." It's a low-cost way to engage them while getting work off their plate. In these uncertain times, this flexibility may be particularly helpful.
Are there testimonials or student experiences of those who completed Parker Dewey micro internships? Yes. There are a number in our news section and on the blog. Here are a few examples:
Additional FAQ's about Parker Dewey are available here.