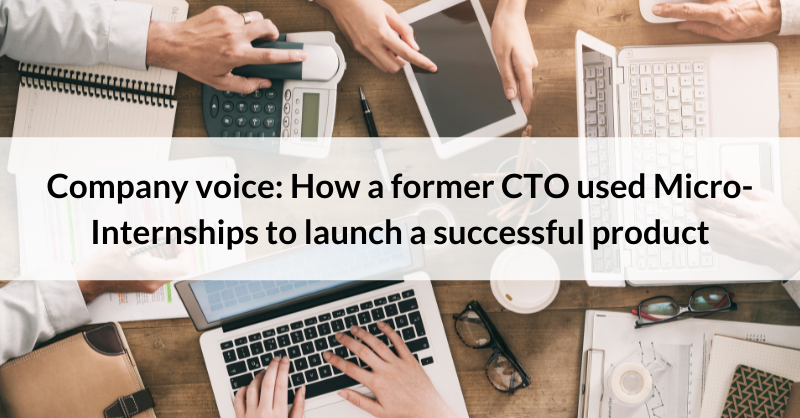 Company voice: How a former CTO used Micro-Internships to launch a successful product
The game development industry is growing at a rapid pace. According to Grandview Research, the industry is valued at more than $151.06 billion, and will grow at a 12.9% CAGR over the next five years.
But while business is booming, breaking into the market is harder than ever. Recent statistics suggest a price range of $50,000 to $750,000 to develop an indie game, with some triple-A listers clocking in at $275 million (in the case of Star Citizen).
For developers looking to crack into the industry for the first time, affordability is a huge concern. How can anyone launch a game without the right kind of connections?
The answer: Micro-Internships.
Brian Balestri, former CTO of GrandPad, experienced this firsthand in the early half of 2021. Ready to launch his idea into a full-blown game, Brian turned to Micro-Interns to help him innovate, scale, and roll out the Who Said True? game.
We sat down to have a quick chat with Brian about his take on Micro-Interns, ROI, and the process of marketing a game. What he had to say was incredibly insightful. Take notes!
---
Q: Tell me about yourself!
Brian's career took him down many paths. He spent several years in the IT industry before becoming the CTO of GrandPad, which eventually set him on his biggest adventure yet—building a gaming company from the ground up.
Q: How did you hear about Parker Dewey?
By using the resources available through the University of Minnesota, Brian was able to get connected with career center professionals who knew about Parker Dewey. This eventually led to matching with the perfect Micro-Intern for the role.
Q: What intrigued you about the Micro-Internship model?
Brian got more familiar with the Micro-Internship process, and liked what he saw. Because he didn't have an established company to hire interns for, and he wasn't yet sure about the scope of their work, he was curious to see how the platform might partner with his business goals.
Q: Why did you decide to host a Micro-Internship?
The bottom line for Brian: the risk was very low. Unlike committing to a three- to six-month internship that may not be beneficial, a Micro-Internship would provide excellent flexibility, scalability, and a high ROI rate.
Q: How would you describe your working relationship with your Micro-Interns?
Brian posted a 40-hour marketing research project on the Parker Dewey platform, and started receiving interest within days. He was looking for a Micro-Internship that would stretch for a flexible number of hours over the span of several months—a goal that might have been logistically-challenging within the constraints of a traditional internship.
Brian's awesome marketing analyst Micro-Intern helped him discover new marketing opportunities with influencers, streamers, and media experts. She used her expertise to discover advertising spaces in unique places, including Pandora, Twitch, and related platforms.
Q: How would you describe the outcome of your Micro-Internship?
Brian didn't just like working with Micro-Interns—he loved the whole process. He and his employees are currently looking for new ways to connect Micro-Interns with their business process, including long-term work.
Q: What kind of impact do you think Micro-Internships have made on your company?
By the end of the Micro-Internship, Brian had nothing but positive things to say about his experience. The impact it had on his new venture allowed him to scale with an impressive ROI, and produced outcomes that would continue to help his company far into the future. "It gave us the guidance we're gonna use when we go to market in the next couple of weeks," he says.
Q: What advice do you have for companies considering Micro-Internships?
After experiencing it for himself, Brian believes that everyone should try using Micro-Interns. "It just makes sense from a hiring standpoint," he says.
Q: What advice do you have for students and grads considering Micro-Internships?
Brian breaks his advice down into three simple truths: update your LinkedIn profile, don't be shy, and put in applications for all the Micro-Internships that grab your attention!
Students looking for more Micro Internship advice should use provided resources from Parker Dewey, and get involved with the Parker Dewey Career Launcher LinkedIn Group for camaraderie, higher learning, and even better learning opportunities.
Q: Finally, where can we play the game?
Brian's newest game, Who Said True, is available at whosaidtrue.com, or on Twitter, Instagram, and Facebook as @WhoSaidTrue. Go check them out!
Micro-Internships have the power to dramatically transform startups in the tech industry, providing cost-effective solutions that benefit students, employers, and everything in between. As Brian launches into his latest game venture, the value received from his Parker Dewey intern will continue to connect him with valuable marketing resources.
---
Thanks, Brian, for sharing your perspectives with us! To learn more about launching a Micro-Internship program, click here!