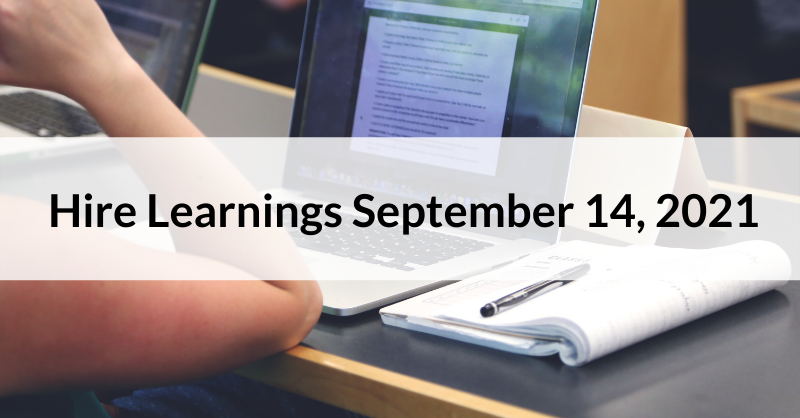 What's happening in the job market right now?
It's no secret that the pandemic is continuing to disrupt the job market: just look at the recent survey from SHRM that reported that 90% of 1,200 employers were struggling to fill open positions. What surprises me is how many companies continue to pull from the same playbook to try to fill these positions: posting on job boards, attending career fairs (virtual or otherwise), or making the hiring process more complicated through assessments and other hoops that students must complete in order to be considered.
I remember applying for a job over 10 years ago and having to complete a two-hour assessment that made me feel like I was taking the SAT or GRE all over again. And this was just to apply for the job!
Meanwhile, these methods continue to put students at a disadvantage, and it's increasingly evident that the old playbook is not working. The good news is that students have told us what they want: paid opportunities to show what they can do. Yes, they may do an internship, but summer is over, and you and they have important decisions to make about upcoming job opportunities. Plus, every professional is exhausted from the past year and a half, and would be excited to get an extra set of hands - not only does this help existing employees get work done, but it demonstrates the company's commitment to support these employees, especially important as companies face increasing attrition.
The solution to all of these problems is out there: Micro-Internships. No other option provides paid, professional experiences that are accessible to all. No other option gives your hiring managers a chance to engage and evaluate a diverse array of prospective talent. No other option gives your burned-out team an extra set of hands. It's what students want; it's what your team needs.
Kristin Schrader, Director of Partnerships
---
Articles of the Week
The COVID-19 Labor Shortage - SHRM
Colleges help students compensate for lost internships - Inside Higher Ed
Viral Post Asks Why Entry-Level Jobs Often Require Years of Experience - LinkedIn Talent Blog
---
The COVID-19 Labor Shortage - SHRM
"Nearly 60% of organizations say they're facing a lack of applicants with the necessary skills for these difficult-to-fill positions either considerably or a great deal," while "30% of unemployed Americans say a reason why they're still unemployed is that the jobs currently available don't match their skillset or interests."
Recent research from SHRM explores the topic of the labor shortage from two different perspectives: Businesses and unemployed Americans. In SHRM's research on which positions are currently the most difficult to fill, entry-level roles were ranked most challenging. From the early-career talent standpoint, lower pay, employer ghosting, and lack of jobs that match skill sets or interests rise to the top among the reasons for unemployment.
Related reading: What Can Recruiters Do About Hard-to-Fill Early-Career Positions?
---
Colleges help students compensate for lost internships - Inside Higher Ed
"'For employers, we know that the deciding factor between two otherwise equally qualified candidates coming right out of college is paid internship experience...So getting as many students this experience is really critical.'"
Over the past year-plus, the pandemic has stripped many students of the ability to participate in a paid internship. In response, college career centers are pushing new virtual programming to help students gain the experience they've missed out on, but need to secure future opportunities. The programming discussed in the article is designed to "give students real-life experience with professionals, while also allowing them to build their networks," a goal that can be accomplished through Micro-Internships!
Related reading: A Hands-On Approach to Building Core Skills
---
Viral Post Asks Why Entry-Level Jobs Often Require Years of Experience - LinkedIn Talent Blog
"This 'experience inflation,' as Verve Search calls it, combined with the ongoing issue of 'degree inflation,' creates a steep barrier to entry for jobs that were once a way for people to get their foot in the door. Without previous experience, many job seekers struggle to get the experience they need to kick-start their careers."
Even in a labor shortage, why is finding an entry-level job challenging for so many students, recent grads, and career changers? One reason: "entry-level" has come to mean 2-3 years of experience in a related role, barring potential talent from even applying. This piece lays out actions for making entry-level positions more accessible—and many of them can be accomplished through Micro-Internships: "Focus on screening in rather than out, "let candidates show you what they can do," and offer paid opportunities to help talent "gain the experience and connections they need to start their career."
Related reading: How Professional Experiences Support Post-Graduation Success
---
For more stories and insights on HR, recruiting, and diversity, click here to subscribe to our weekly newsletter Hire Learnings.