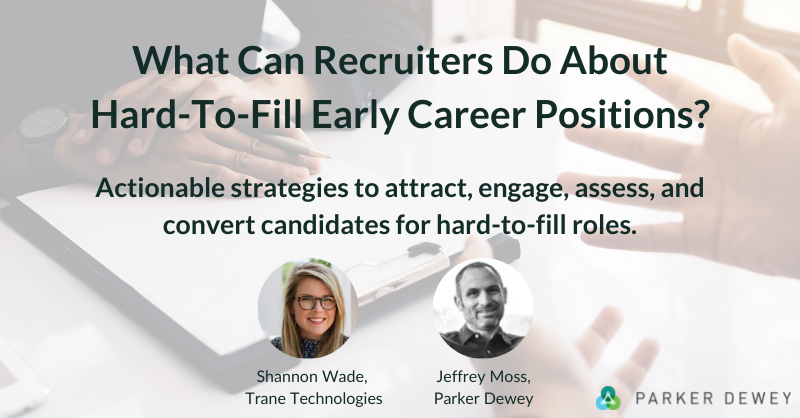 Webinar Recap: Hard-to-Fill Roles
If you're an early-career recruiter or hiring manager, you've probably dealt with a hard-to-fill role. Maybe your job posting has been up for weeks, but it's gotten few applicants. You've shown up at virtual campus recruiting events, but students just don't seem to be interested in your company. You've even interviewed candidates, but no one has the skill set or growth potential the role demands.
What, then, is the root of this issue? And how can companies ultimately find the right talent to fill those less-desirable positions?
In this webinar, first presented at the 2021 Nace Conference, Parker Dewey CEO and Founder Jeffrey Moss was joined by Shannon Wade, Strategic Recruiting Consultant at Trane Technologies, to cover:
The underlying cause of hard-to-fill roles

What students are looking for and what causes them not to apply

How experiential recruiting allows hiring managers and recruiter to authentically engage talent
Read on for a recap of the webinar, or watch the full replay here.
---
Why are some early-career roles so difficult to fill?
Brand awareness: From preconceived notions about a company, to general lack of familiarity, students don't know what they don't know. Maybe they've never heard of your B2B, or they assume that a specific type of organization offers only certain opportunities.
As Shannon shared, "What I want [students] to see is that Trane Technologies is more than AC and truck freezers." So far, the company has hosted Micro-Internships in both the operations (think manufacturing and supply chain) and HR departments—roles that might not come to mind immediately when thinking about Trane.
Students also might read a job description and assume that their college coursework or major isn't a fit for the role—a scenario that Shannon has seen play out at Trane.
"With a company like ours, students don't always know how their major aligns to the jobs that are available. [For example,] we hire a ton of technical sales engineers into our early-career programs. Very often, engineers haven't thought about going the sales route."
Candidate sourcing: Recruiters often rely on signals that aren't valuable predictors of how well a candidate will perform in an organization: GPA, major, academic pedigree, personal connections. Instead of focusing on growth potential, a candidate's unique perspective, or core skills, recruiters often end up sourcing too-similar candidates or focusing only on limited talent pools.
Alignment to company culture, including DEI efforts: Is an organization making surface-level diversity efforts, or is there actual equity and inclusion follow-through? Is an organization focused on social impact? Do an organization's values match up with my own? It can be challenging to glean answers to these questions from a company website—but for students and recent grads, aligning with both are key.
What are students actually looking for right now?
To make meaningful connections while they explore career paths.
What potential candidates value right now are pathways for versatile engagement with your organization to get to know you on more than an introductory level—they're hungry to find the right job and learn more about your company. When we asked students last fall about how they want to virtually engage with employers, more than 86% rated "real work experience" as their preferred method.
To hear personal experiences from peers and alumni.
It's one thing to hear employers talk about their early-career opportunities—but perspectives from students and recent graduates are often more relatable and valuable for job seekers. (Check out our library of career launcher success stories for first-hand accounts from past and present Micro-Interns!)
To understand the skills needed for hard-to-fill roles and how their coursework may have prepared them.
Our recent fall recruiting survey revealed that when it comes to securing a job after graduation, 56% of students are unsure of what roles exist and how to apply, while 67% said they're unsure of what to expect in entry-level positions. (Stay tuned for the full survey results—coming soon!)
How do we solve for hard-to-fill roles?
Experiential recruiting tools like Micro-Internships help solve some of the challenges presented by hard-to-fill roles, while also meeting the demands of students and recent graduates.
In a nutshell,
Micro-Internships serve as a pathway to traditional internships, apprenticeship/training programs, and full-time roles,

Short-term, paid, remote assignments better meet the needs of underrepresented candidates,

The year-round/on-demand nature of Micro-Internships attracts talent earlier than traditional programs,

And real work helps students to see how their skills actually fit in an at organization.
Micro-Internships are designed to complement traditional internship programs—not replace them. According to Shannon,
"Micro-Internships function as a top-of-funnel, intermediary step where we get to learn a little bit more about them and they get to learn a little more about us. It's been helpful for our career team from an assessment perspective, particularly when we look at the ability of talent to demonstrate their skills. Of this group [of Micro-Interns], we've had 2-3 examples where we said 'Hey, this is someone we wouldn't traditionally hire into this role, but they've got some interesting skill sets. Let's give them a shot and see if this is the type of work they could be a fit for.'"
Shannon also explained how Micro-Internships have been employed as a diversity recruiting tool for Trane:
"If we think about what we're trying to do with DEI and building an equitable experience, we know that early-career candidates from diverse backgrounds don't always have the same access to that first foot-in-the-door opportunity that some other students might have access to. And so for us, our Micro-Internship program was really about starting to build that with some of those first professional experiences with students so they could get a little bit of a glimpse of what Trane Technologies was like and help us build our pipeline for our longer-term internship program that then flows into full-time opportunities with our company."
And finally, of the 14 Micro-Interns hosted by Trane, 10 have been presented with a second opportunity with the company, based on performance, skill sets, and growth potential.
One final thought from Shannon, in closing: "'This is one of the greatest sources of innovation I have seen in a long time.' This was the comment of our executive sponsor at the report out of our most recent Micro-Intern cohort."
Need support with your hard-to-fill roles? Schedule a call with us.