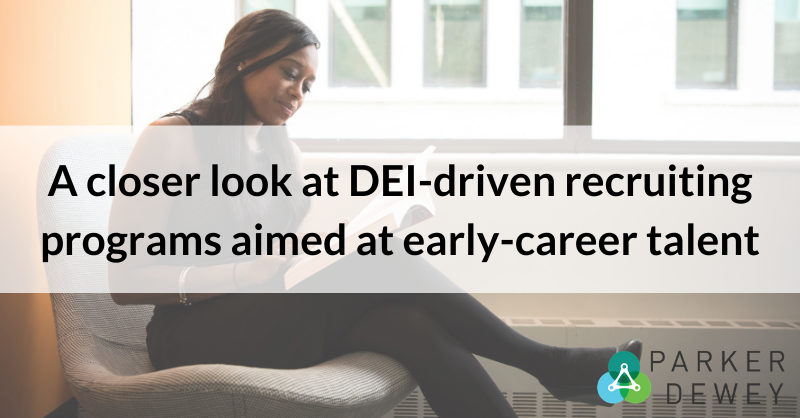 Why Your Early-Career Recruiting Program Isn't Equitable And How You Can Fix It
There's been a lot of talk about not just creating more inclusive work environments, but also creating strategic and systematic change. Let's take a closer look at DEI-driven recruiting programs aimed at early-career talent and how small add-ons can create big impacts in our workplaces.
We'll start with some data points about today's college student, move on to exploring some of the most common campus recruiting programs, and then share one alternative that fits into all types of organizations.
But first, a little bit about me. I'm a marketer by trade, but like so many I didn't know "what I was going to be when I grew up." I still don't. How many of us went to school with a clear vision to be where we are now? Certainly not me! How many of us had a college major that didn't sound like a job title? Hello, liberal arts education!
Not knowing and needing time to explore in particular really resonated with me and what we're doing at Parker Dewey. Our platform facilitates connections between college students and companies for Micro-Internships. (More on those shortly!)
Today's College Student
The Lumina Foundation put it best when they said, "most of us envision college students as 18- to 21-year-olds fresh out of high school. That's no longer the reality." Let's dig into a few points about the college-to-career transition:
The so-called "non-traditional" student, someone returning to school after spending some time in the workforce, is the new norm.
Today's students are more racially and ethnically diverse.
Over 19% of college students report having a disability.
Today's students are more likely to work full time while attending classes than ever before.
And sadly,

they are more likely to experience poverty, a lack of stable housing, and food insecurity.
From an employer perspective, a more diverse talent pool sounds positive, right? But looking further at the data shows that for every 100 low-income and first-generation students who enroll in college, only 26 will have completed a four-year degree, six years later.
From there, the data continue to remain—quite frankly—bleak:
Black, Hispanic, and Asian graduates combined hold just 21.3% of business management, professional, and related occupations.
An even closer look at the U.S. Bureau of Labor Statistics data shows that more than half of recent graduates with a bachelor's degree or higher left their first job within a year.
And that's the half that found employment.
Data from the Federal Reserve Bank of New York shows that nearly 43 percent of recent college graduates are underemployed—or working in a job that doesn't require a college degree.
Parker Dewey's own surveys to college students and recent graduates show that students lack awareness of different roles that exist in the professional setting and what entry-level roles entail.
Moreover, for those that recognize leading employer brands names, they have preconceived notions about the roles and career paths these employers offer.
Think about a student interested in doing tech: They may be focused on securing a role at some of the well-known consumer tech brands, but they don't know the rapid innovations taking place at J.P. Morgan in regards to cybersecurity. Or they may be familiar with Pepsico's full line of products and snacks, but never have thought about the market research that drives product innovations behind the scenes.
All together, these data points suggest problems in career preparation for today's college students and even bigger problems for companies that are missing out on high-potential candidates year after year.
The data reveals that today's students have characteristics like grit, perseverance, dedication, persistence, and resilience—all traits which any employer across industries highly value—but lack effective ways to identify and assess through the traditional resume review and interview process.
The Most Common Campus Recruiting Strategies
Let's start with a look at internal resources. The typical campus recruiting program targets just 10-20 schools, and oftentimes even that is too many to manage effectively. Employers use a target school model because they rely on university admissions to help curate their talent pool. It's not a bad tactic, but considering there are more than 11 million degree-earners any given year, most organizations who on the one hand say they are invested in diversifying their workforce, are on the other hand marketing their opportunities to just 1-2% of the collegiate talent pool.
It can be expensive both in terms of actual spend and time spent to more broadly advertise open positions, with many entry-level positions seeing upwards of 300 applicants pre-pandemic. (The data that I've shared so far is all pre-pandemic, and early research is already showing that underrepresented populations have been exponentially affected by closures and changes taking place in the workforce due to COVID-19.)
Over the years, we've seen a rise in programs that combine both experiential learning with recruiting:
Internships are no longer just for medical students, but widely accepted across industries.
More cooperative learning programs that blend classroom learning with on-the-job training are popping up.
And apprenticeships, typically thought of as the go-to method for the Trades, are now being adopted by the tech industry seeking to fill empty seats by paying for education and certifications for their entry-level workforce.
What all of these programs have in common is the understanding that to get the right people in the role for the long term, employers need to be willing to invest in educating and mentoring college students. And yet, these programs are based on strategies and systems that catered to a different type of student.
Consider the Chicago Apprenticeship Network taking place in my hometown. While the intent of the program is to provide pathways into tech roles, the program unintentionally limits opportunities for career development. Students from Chicago's City Colleges are siloed off into the apprentice program, while students from four-year colleges are mentored via management training programs. In this example, the root cause of professional inequity isn't the training that new hires receive, but rather the reliance on signals to determine who is provided with which opportunities.
Again, looking back at who is currently enrolled and graduating points plainly to the need for a wider variety of alternative pathways. Rather than more programs that filter candidates out, we need more programs that welcome candidates in. That's why you're reading this, right? So what's the solution? Well, there isn't one.
We attend conferences and read articles like this in hopes of finding a silver-bullet—a mythical one-size fits-all program—when we know that one-size simply doesn't fit all. I want to be clear that I'm not against internships, co-ops, apprenticeships, and other recruiting programs. Instead, let's circle back to the concept of Micro-Internships as an alternative or add-on to these programs—so more employers can take a "Yes, and" approach to recruiting.
About Micro-Internships
Parker Dewey first pioneered the concept of Micro-Internships in 2016, since then we've seen both other vendors as well as homegrown solutions pop up. However, not all programs are created equal, and with our mission to create equitable access to professional opportunities, I want to highlight three key components that a program should include to ensure it's both inclusive and equitable.
Unlike Chicago's Apprenticeship program, Micro-Internships on Parker Dewey's platform are open to all current students and recent graduates of any U.S. based institution. From community colleges to Research 1 universities; from first year freshman, to master's and doctoral candidates all searching for the same thing: more opportunities to explore career paths, industries, and gain meaningful experience.
Micro-Internships are exactly what they sound like—the emphasis is on Micro, or bite-sized. These are short-term opportunities for students or recent grads to gain professional experience.
Short-term is the first of three criteria that I believe is critical to making the program accessible. Picture a student working while going to school, an athlete with an intense training and meet schedule, someone doubling up on coursework to finish their program faster. any of these potential candidates who just by being themselves demonstrate a strong will to succeed—are filtered out by traditional 3-month long internships and any of the other experiential learning programs that have popped up. They simply can't put their other commitments on hold, or worse, miss out income earning opportunities for an unpaid internship that may or may not result in a job offer. Short-term allows for the "Yes, and" to happen.
Short-term also directly benefits organizations. Hiring managers that default to candidates that "look like them" on paper see the short-term support as a quick way to get help, and we've seen more than 80% of students hired for Micro-Internships come from underrepresented backgrounds. Why is that? We've seen that it's directly tied to lowering the risk of a bad hire. Instead of defaulting to the status quo, hiring managers focus on the skills required to complete the project. We hear it again and again: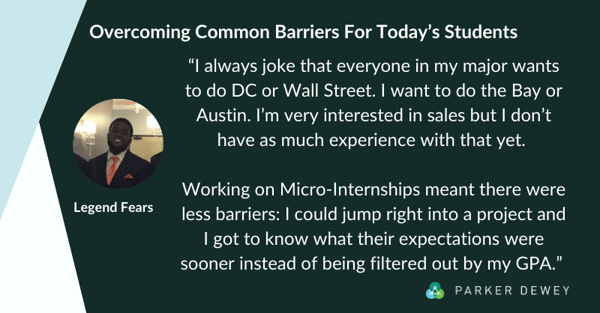 Payment is the second most critical component for designing equitable recruiting programs and even though we now have regulations to prevent unpaid internships, this is still a huge issue for today's students. We've seen clear data that shows how unpaid internships disproportionately affect those from underrepresented populations, for example according to the National Association of Colleges and Employers, women account for 81% of unpaid internships just in this past year. Even internships completed for course credit can be unattainable when you consider the tuition and fees that a student must pay in order to receive credit for their experience. Simply put, if we want a more diverse workforce, we have to respect everyone's time equally.
Professional is the third component to designing an equitable Micro-Internship program. While on the one-hand organizations are using these programs to identify entry-level talent, we also know that diverse students need more opportunities to understand what's required in professional roles. Specifically, by demonstrating how the concepts and skills they are learning in the classroom connect to the day-to-day responsibilities of a professional, as well as the expectations for various industries and roles, college students feel better prepared to make career decisions.
Here's an example of a typical Micro-Internship with an organization seeking to hire junior research associates. The Micro-Internship may consist of just 30 hours of work spread across a month's time. The college student or recent graduate has an opportunity to use the research and writing skills they have practiced in the classroom to review publicly available information and create a report for the organization. They then share their findings with a hiring manager or even an ERG member, who instead of relying on a 60-second resume review of the school name and GPA:
gets to actually see the work product,
witness the student's communication style, and
view the outcome of an earlier coaching and feedback session that took place while the student was working on the project.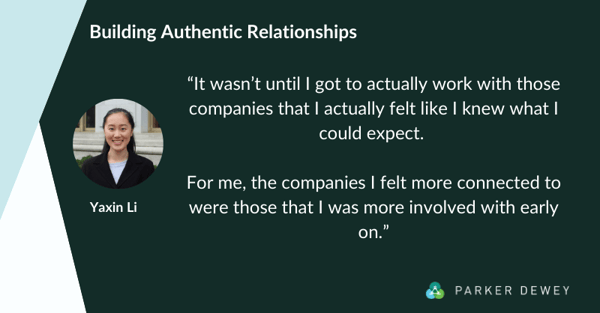 Whether or not the experience results in a longer-term opportunity, a student that was previously unable to find professional development opportunities that fit their schedule now has had an opportunity to:
gain skills and experience for their resume,
explore career paths and industries,

and

make a professional contact.
And they got to participate as their whole self—not being judged on GPA or for having other commitments, but based on their skills and abilities needed to execute the project. This is the true win-win of Micro-Internships. And everyone has these bite-sized projects that not only help you get ahead on your workload, but also benefit college students and grads hungry for opportunities to explore careers while gaining experience.
Think about the action-items you're coming up with during your next staff meeting:
from researching and writing an article,
to analyzing data on your existing programs,
to reviewing existing documentation to revise and remove gender and other biased language.
I want to again emphasize that there simply isn't a one-size fits all solution. I do strongly believe that Micro-Internships open pathways and overcome common barriers. We're accountable today for the workplace of tomorrow. And for early-career recruiting programs to be inclusive, accessible, and provide equitable paths to professional roles, then it's time to look at small ways to make big impacts.