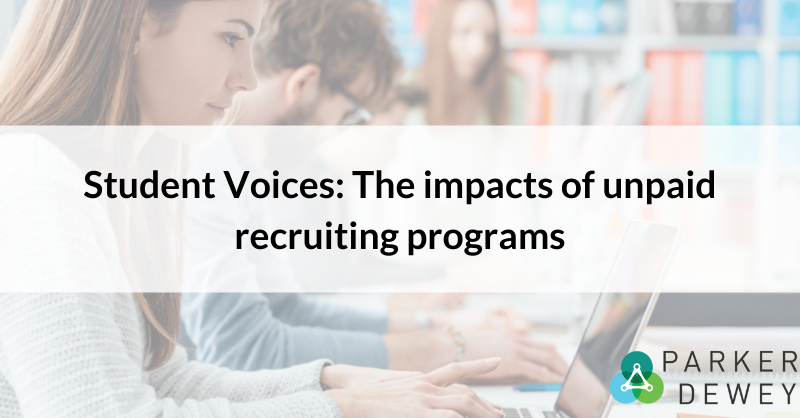 Reflections on Unpaid Experiential Recruiting
We talk to recruiters from across industries, at small companies and large ones, from major metropolitan hubs to small towns across the U.S., and a common theme that emerges is when, where, and how to incorporate new trends and tactics into their recruiting strategy. Though unpaid internships are widely being called out for their detrimental impacts on diverse candidates, the fact of the matter is many organizations are creating "loopholes" by investing in new tools and programs that effectively take the same misstep in the eyes of candidates: requiring work from early-career candidates without compensation.
We went straight to the source and asked students from our nationwide network about "unpaid internships in disguise." Here's just two stories that we ask organizations committed to diversity, equity, and inclusion to consider when launching a new initiative:
Reflections From a Winter of Both Paid and Unpaid Work
By Heather Cagar
My laptop was stolen in December of 2018, during finals week of my sophomore year. After using the desktops in the library to complete my Political Science and Russian Studies papers, I was able to get a loan to buy a new computer. But I needed to pay off that loan as soon as possible. After hurriedly searching for a job that would hire me temporarily that winter, I finally found work as a concession stand attendant in a busy soccer stadium.
That same break, my college friend took up an unpaid, "virtual work experience" with a state politician, a perfectly-fitting bullet point to add to their resume as a Political Science major. I couldn't afford to take something like that on, though. Although labeled a "virtual work experience," what my friend signed up for was essentially an unpaid internship in disguise. And reflecting on how we spent our winters, I realized a few things:
Regardless of the form they take, all unpaid internships hurt both employers and students. They are financially and emotionally exploitative of students, inherently unequal in their accessibility, produce environments where students are unmotivated, and hurt employer branding.
It's important to keep an eye out for unpaid internships in disguise, such as the virtual work experience my friend had. They often come in the form of campus recruiting efforts such as challenges, ideathons, immersion programs, and other types of competitions, all of which go uncompensated. Companies believe that these immersion and challenge strategies are an engaging way to build brand recognition. However, these experiences demand time, effort, and brainpower that, situated within a proper employer-employee relationship, would otherwise be paid. Instead of engaging me, these recruiting programs immediately make me question how the organization values its employees.
Unpaid internship and unpaid project-based opportunities are only accessible to those with the financial means to take them on. So many students have to pay for their own tuition, rent, groceries, and everything else in between. That is why, when companies advertise these experiential opportunities, many students have no choice but to bypass them.
Here's an example I've seen that I (and students like me) have to pass on: A company advertises that students will be given a series of challenges the company needs to solve that require extensive brainstorming and problem-solving. They must utilize software and reverse engineering methods to solve these challenges, and then provide video demonstrations on their solutions. These challenges take anywhere from 20-80 hours to complete, but at the end of it all, only a few students will have the chance to have their resumes pushed to the top of the pile for future internship consideration.
Where's the benefit for a busy college student? Students must sacrifice considerable time to complete these events. Then, to reap some type of benefit, the student—someone eager to get their foot in the door—needs to be a top performer. And winning only results in the promise of their resume gaining more attention, no feedback, compensation, or even an offer for more learning experiences for the bulk of participants.
It is in this way that these unpaid experiential learning opportunities leave out students in the same ways that unpaid internships do. Typically, only students with more time or resources can afford to carve out room for these things. Many students miss out on opportunities to engage with these companies, and companies miss out on engaging busy, but driven, highly-motivated candidates who simply can't work for free. The company's talent pool shrinks as a result, and leaves participants who worked hard but received nothing in return to question the value of these programs, and the culture of the employer.
Companies must recognize that such programs may not present an accurate reflection of the values they hold, such as investment in their employees, diversity efforts, and being accountable for rewarding ingenuity and work ethic appropriately. Both sides of the recruiting relationship must signal to each other that their time is valued and that they are useful to one another. Overall, such programs can be a negative signal of a company's culture.
Finally, it is clear that there is a tradeoff required to participate in such programs. Speaking from experience, I would often see these types of events advertised at my college. But I, like so many others, couldn't justify the time needed to complete these events.
Overall, these recruiting programs and challenges are, in essence, unpaid internships in disguise. While companies use them as a way to garner potential interviewees, they also exclude countless students who have so much talent to bring to the table. Being a concession stand attendant taught me how to be adaptable under pressure and how to deliver a quality service. I internalized the value of tenacity and teamwork from dedicating four years as a violinist in my college's orchestra. But as it currently stands, so many of us students have to make decisions between unpaid, experiential opportunities promoted by our college's career centers, and working other paid jobs, alongside our extracurriculars. Many of us can only pick one. And at the end of the day, companies will miss out on great students when they choose their paid jobs and engaging extracurriculars over these recruiting strategies.
Unpaid Internships in Disguise
By Danielle Whitaker
As we continue to learn and grow as a society, we owe it to ourselves to reevaluate the systems and ideas we put in place when we didn't know any better. One such system is the concept of internships or, more specifically, unpaid internships.
While the original idea behind internships was "to expose the student to the practical side of a discipline and provide relevant work experience" in order for students to: earn college credit, "much-needed experience, improve job skills, and potentially receive an offer of future employment;" however, over time this learning opportunity warped into something less altruistic.
Somewhere along the line employers decided that their interns' lack of real world experience in the field meant that they shouldn't be paid like someone who had previous opportunities. From there the benefits to completing an internship dwindled from future job offers to college credit to the opportunity to network and add the experience to their resume.
Expecting students to perform hours of work without reasonable compensation is a ridiculous ask that could potentially hurt the reputation of the company.
Considering how much harm these internships can cause us all, we should all be getting equally sick of it. In fact, over "30,000 university students across Quebec… [took] to the streets" to protest a majority of available (and often academically mandatory) internships being unpaid in March of 2019.
Fortunately more and more companies are beginning to realize the error of their ways and getting rid of their unpaid internships altogether; although, others have unintentionally traded theirs in for initiatives that pose the same sorts of issues.
Challenges, Contests, and Hackathons
One prime example of this is the annual Online Marketing Challenge that Google started in 2008. On paper the Challenge seems like an admirable opportunity "to give students experiential learning. … [developing] online marketing campaigns for actual businesses." In reality "more than 8,000 students along with 339 instructors and 1,619 businesses from 47 countries" spent three whole weeks working on their online marketing campaigns during the Challenge's first year. Out of the thousands that applied, only one team of students was selected to receive financial compensation for their work...in the form of $200 worth of Google ads.
By not offering any kind of reimbursement for all of the time and work that these participants dedicated to this project, Google's Online Marketing Challenge seems less about encouraging excellence and more about taking advantage of students for weeks worth of (virtually) free labor.
Job Simulations, Tests, and Work Assignments During the Interview Process
Now, I'm currently in my junior year of college, which means that I've spent the last four months applying for summer internships.
Taking into consideration that my main source of income for the last few years has been my part time work study job, it took three semesters worth of painstaking, penny pinching in order to save up enough money to cover my living expenses for one summer.
It was incredibly lucky that I did because a few months later I found out that my beloved grandmother needed surgery performed on her back. I wound up having to spend all of my savings this past summer in order to cover my expenses while I helped to take care of her, still searching for internships all the while.
During my search I came across a position that seemed like it was made for me. The company would publish my work in their publication and their dedication to trying to resolve global poverty aligned perfectly with my own values.
When I received an email from the company shortly after applying, my hopes soared with the possibility that I had already been accepted. It all seemed too good to be true.
I scanned over the automatic reply and was shocked that the company required applicants to perform an outrageous "Writing Skills Test" in order to move on to the interview portion of their unpaid internship.
After a year of various freelance writing I've developed a relatively diverse portfolio but according to the email, I had to research and write an entirely new article following the specific guidelines that the email outlined. They weren't even going to publish it.
As much as I had originally wanted the job, I wasn't in a situation that would allow for me to take on a pointless project like that, especially for an internship that I couldn't afford to take.
If the company was planning to pay me for my time or even if the company was planning on publishing the article, I would have been more than happy to do it. If I happened to get accepted then I would have to figure out the money situation—I'm no stranger to having to work multiple jobs.
Being forced to choose between your basic responsibilities and the chance to further the career of your dreams is a soul-crushing reality that countless students find themselves facing. Not to mention unpaid assignments like these could be standing in the way of hardworking students like me that don't have the means to afford focusing on them. Just like unpaid internships, unpaid assignments and challenges are damaging to us both.