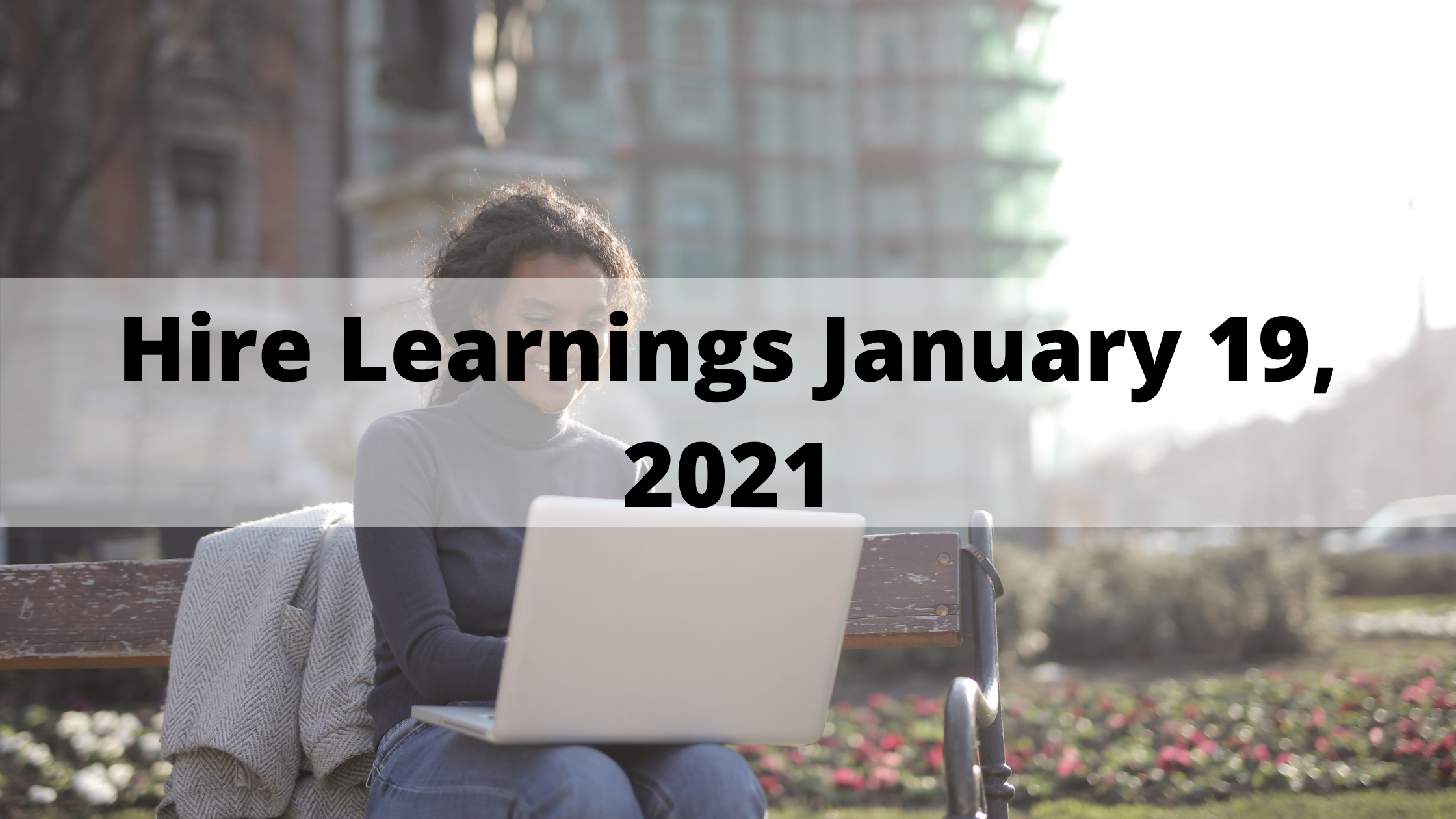 All You Need to Know About Diversity, Remote Work, and Experiential Recruiting
While I usually use this space to share thoughts on campus recruiting, given the events of last week, yesterday's celebration of Dr. King, and tomorrow's inauguration, I wanted to urge you to listen to the last words of former US Congressman John Lewis. Irrespective of one's political leanings, Congressman Lewis' message clearly captured the importance of laying down the burdens of division, "setting aside race, class, age, language and nationality to demand respect for human dignity."
As we reflect on the events of 2020 and the first month of the new year, I urge you to remember Congressman Lewis' insights that we all have the power to drive change, and the "moral obligation to stand up, speak up and speak out."
Jeffrey Moss, Founder and CEO
Articles of the Week
Diversity Recruiting Efforts Won't Significantly Improve Until We Address These 2 Barriers - Linkedin Talent Blog
Is Handshake Actually Helpful for College Students? - Linkedin
After embracing remote work in 2020, companies face conflicts making it permanent - VentureBeat
Executive Profile: Corinne Milien aims to diversify sports industry - Atlanta Business Chronicle
---
Diversity Recruiting Efforts Won't Significantly Improve Until We Address These 2 Barriers - Linkedin Talent Blog
"Developing new muscles to source, engage, and interview talent that doesn't fit our sameness profiles takes time. But the ROI is there — and it'll become our new-normal (and "fast") if we identify and act on the cultural shifts that need to take place, so that we all develop these underdeveloped hiring muscles."
There are two internal barriers that must be overcome before companies are able to effectively diversify their hiring: speed (the pressure to hire quickly) and predictability (hiring candidates with similar backgrounds). To address these barriers, companies must prioritize quality and diversity over speed, and stop the practice of requiring a consensus in hiring decisions.
Related reading: The Intersection of Diversity and Campus Recruiting
---
Is Handshake Actually Helpful for College Students? - Linkedin
"These employers are doing what amounts to a 'spray and pray' approach; they're pushing roles to hundreds of schools targeting hundreds of thousands of college students--- the odds of one of our students gaining access to these positions is roughly the same as lottery odds."
Handshake, a platform meant to help college students and recent college graduates find opportunities, might not be as effective as students are often led to believe. The prospects of obtaining employment through Handshake are slim and are mostly based on luck rather than experience or connection. A better model is experiential recruiting, where job candidates are given an opportunity to try on roles to see how their skills fit in with an organization.
Related reading: How paid Micro-Internships can position you for career success
---
After embracing remote work in 2020, companies face conflicts making it permanent - VentureBeat
"Academic Year 2020-21 will go down as one of the most operationally challenging, one of the most anxiety-creating, and one of the most expensive in the history of US higher education."
In 2020, colleges and universities were forced to swiftly respond to budgeting and operational challenges caused by the pandemic. Though the process of making these changes was very different from anything universities have faced in the past, many schools stepped up to the challenge successfully. However, the effects of COVID-19 are far from over, and educational institutions will need to take meaningful steps to maintain success in 2021, including creating ways for students to engage in the community.
Related reading: Micro-Internships in Cincinnati: How Your Community Can Attract and Retain College Students
---
Executive Profile: Corinne Milien aims to diversify sports industry - Atlanta Business Chronicle
"The lack of racial and gender diversity in the workplace has become a topic of discussion as companies nationwide aim to address social inequities. The sports industry is no stranger to the issue."
This article features an interview with Corinne Milien, the co-founder and executive director of Winning Edge Leadership Academy and the former recruiting coordinator for legendary Tennessee basketball coach Pat Summitt. She discusses her experience as a woman of color in the sports industry, as well as the challenges she faced in helping other organizations to overcome their diversity problems. She also talks about how important Micro-Internships have been for student-athletes during the pandemic. With sports seasons canceled, Micro-Internships allowed these students to spend their newly gained free time getting vital work experience.
Related reading: Gigs For Good: How Your Company Can Support Diverse Talent Nationwide
For more stories and insights on HR, diversity and inclusion, and hiring, click here to subscribe to our weekly newsletter Hire Learnings