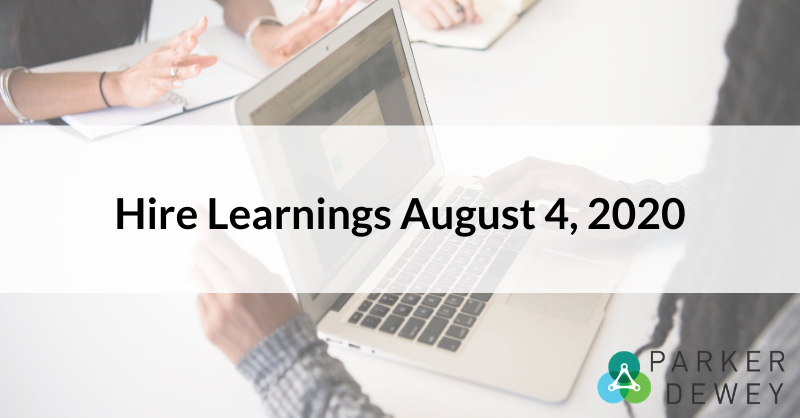 Hire Learnings August 4, 2020
It's already August, and while many teams are still developing their campus recruiting strategy, college students are also planning for the fall. Irrespective if they return to campus, these students are already thinking about launching their professional careers.
Last week we launched a student sentiment survey to our network to better understand their preferences and goals when it comes to career preparation, and how they want to engage with employers given the constraints of COVID-19.
We'll share the data with you once our survey closes, but my early look doesn't surprise me: simply transitioning existing tactics to "virtual" isn't enough to stand out for a career exploring underclassman or a soon-to-be graduate.
This week, we're taking a look at ways to make virtual internships more engaging, highlighting the racial disparity in traditional internship programs, and thinking about ways we as professionals can help develop the next generation of talent.
Stay tuned for our survey results and keep an eye out for our next webinar where we'll share the data and tactical ways to meet students where they plan to be this fall.
Jeffrey
What we're reading this week:

As you focus your recruiting tactics on increased diversity initiatives, these minority students have feedback. Noel, Fabian, and Rachel share their unique stories of interacting with college recruiters for entry-level jobs, how they felt disadvantaged, and the hurdles that they had to encounter that their peers did not. They also offer some suggestions for how recruiting programs can better serve diverse candidates.
Related reading: Campus Recruiting and Challenges with Diversity
---
NACE's nationwide sample shows a disproportion in race representation in internship programs. By examining three different categories of internship engagement (never had an internship, unpaid internships, and paid internships), the survey provides observations that there is also disparity in pay rates and program completion.
Related reading: Everything You Need to Know About Paying Interns
---
"In fact, even before this pandemic took place, the World Economic Forum said in its 2018 "Future of Jobs Report" (download required) that, between 2018 and 2022, the skills required to perform most jobs will have shifted significantly by an average of 42%."
Across higher education, employers, and government systems, there is a skills gap that is expected to continue widening. The Senior Director at Wiley offers three strategies that could provide solutions for the future. This includes: strengthening the bridge between demand and supply of skills, helping people develop and practice skills, and creating stronger education and training pathways.
Related reading: What are "Growth-Gigs"? (and why they're perfect for college students and recent grads)
---
"The Cisco team has been leading the industry in creating exceptional internship experiences and campus recruiting initiatives. The team won Best Recruitment Marketing Campaign (among many other awards!) at this year's Rally® Awards for their #WeAreCisco National Intern Week campaign in 2019."
Rather than throwing in the towel, Cisco is moving forward with its award-winning internship experience, regardless of the disruption to summer programs this year. Their three-point plan in making a successful virtual program includes:
Setting up a home office and building community
Online onboarding
The Cisco Disco
They also share the virtual campus recruiting strategies they plan to use this year.
Related reading: Tips for Bringing Your Internship Remote
For more stories and insights on HR, diversity and inclusion, and hiring, click here to subscribe to our weekly newsletter Hire Learnings.