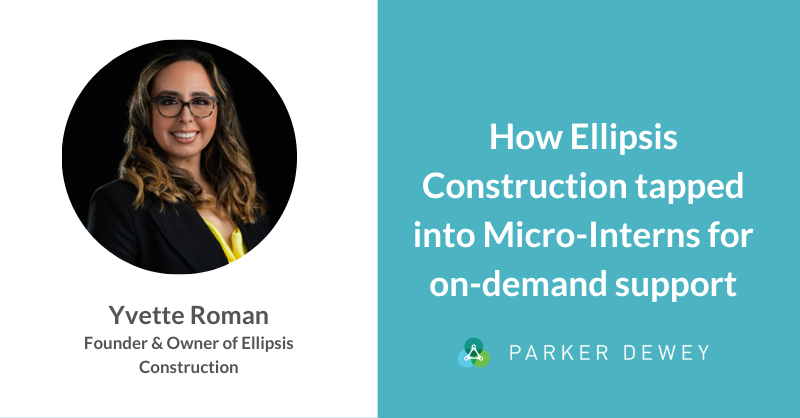 Launching a new business with support from college students
Learn how a talented solopreneur, Yvette Roman, launched Ellipsis Construction by strategically optimizing on time and delegating work to college students through Micro-Internships.
The Challenge
Launching a new business is inherently risky. Managing start-up costs, ensuring quality delivery of products and services, and driving demand are critical to ensure early success. Yet many entrepreneurs struggle to manage projects related to building their business practice as they juggle a plethora of responsibilities. Yvette Roman, Founder & Principal of Ellipsis Construction, is an expert in her field with more than a decade of experience in the construction industry. Still, she knew she would need extra sets of hands to launch her own firm. Not quite ready to hire full-time, Yvette utilizes Micro-Interns to support business operations enabling her to get more done today while also providing opportunities for early-career talent to explore career paths in the construction industry.
Background
In search of a new challenge, Yvette knew it was time to go out on her own to launch Ellipsis Construction, a licensed commercial contractor specializing in tenant finishes in the Greater Denver Metropolitan area.
Although Yvette has done it all when it comes to managing commercial construction projects to ensure that the unknown factors inherent to the building process are handled strategically and timely, she also knew that trying to manage every detail on her own was neither sustainable nor realistic as she worked to grow her client roster and a team of trade partners.
Yvette quickly realized that essential business operations projects like client invoicing, miscellaneous operations tasks, social media marketing, and software implementation were mission-critical but not the best use of her limited time.


The Solution
Yvette reached out to the Colorado State University Career Center in hopes of connecting with a student or recent grad with the skills to support her business launch. Knowing that she wasn't quite ready to hire for full-time, but also that managing an internship program wouldn't help conquer her to-do list, CSU introduced her to Micro-Internships.
Micro-Internships offer a flexible, on-demand solution for a busy entrepreneur, with payroll, NDAs, and contractor administration managed by Parker Dewey. This as-needed staffing model ensures that experienced professionals like Yvette can strategically prioritize their time while providing opportunities for the next generation of talent to gain meaningful professional experience.
"Since I was just starting my own business, I knew I wanted to be mindful of costs without jeopardizing quality. I thought working with college students would be flexible, quality efficient, cost-effective, and through Parker Dewey, it was low-risk too," shared Yvette.
Parker Dewey Micro-Internships, short-term professional projects completed by early-career talent, provide:
Flexibility: employers can post projects as needed, year-round, outside of academic calendars

Access: hiring managers can reach early-career talent from across the nation from a variety of educational programs

Cost savings: organizations incorporating Micro-Internships into their hiring process save between 40-80% on cost-per-hire
Micro-Internships have quickly become the go-to resource for Ellipsis Construction. Since discovering Parker Dewey, Yvette has worked with Micro-Interns on a variety of projects for an average cost of $300 per engagement, including:
"I see Micro-Internships as a continuous resource for the full-time staff I'm onboarding and me. There's a potential opportunity for me to hire local Micro-Interns full-time, and that's great!"
Tips for Micro-Internship managers: When working on Ellipsis Construction projects with Micro-Interns, Yvette highlights that communication is vital, "I use Microsoft teams often. Its quick chat feature allows for seamless communication. I ensure the expectations are communicated early on, and as we engage, we learn more about each other's expectations."
The Results
It's no secret that launching a new business is hard work. On any typical day as Founder & Principal, Yvette is busy with the day-to-day operations of Ellipsis Construction, including:
Actively seeking new clients

Providing detailed cost estimates

Coordinating with subcontractors

Ensuring all projects stay on schedule and within budget
As a result of juggling priorities, close to 20% of new businesses fail within the first year, but Ellipsis Construction continues to grow by delegating to Micro-Interns.
"I'm able to sleep at night once again! I'm no longer staying up, taking care of miscellaneous tasks. I'm optimizing on time and delegating important but time-consuming tasks to Micro-Interns who save me multiple hours' worth of work," Yvette shares.
By working with Parker Dewey to facilitate Micro-Internships, Yvette gains:
On-demand support without the burdens of hiring–she never has to worry about payroll, taxes, or contractor agreements.

Access to Parker Dewey's nationwide network of early-career talent–she never has to create multiple posts to find college students or recent graduates with the right skills and availability.

Hours back in her day to focus on her highest business priorities. To date, Ellipsis Construction has outsourced over 250 hours of projects to Micro-Interns.
Additionally, as Ellipsis Construction continues to grow, Yvette has a vetted-talent pool of Micro-Interns she can tap back into should a full-time position arise.


Changing Industry Perceptions
When it comes to the construction industry, many college students and recent grads think of careers in the trades reliant on physical labor. In reality, new technology, advances in AI and robotics, the impacts of a global supply chain, and eco-conscious "green design" are just a few of the reasons early-career talent should take a closer look at opportunities available in this field.
Through Micro-Internships, Ellipsis Construction introduces a new generation to the construction industry and the wide variety of skills needed to launch a successful career.
"I never would have applied to work with a construction firm, but in this format I did, and they benefited and it worked out really well for me," shared Michael Petronzio, a current Finance and Molecular Biology major at Westminster College and Ellipsis Construction Micro-Intern.
Dispelling myths and providing learning opportunities in the construction field is something Yvette takes very seriously. "I know that the Micro-Interns will walk away with the work experience I provide and be able to apply it elsewhere," said Yvette.
About Ellipsis Construction
Ellipsis Construction is a licensed, woman-owned, commercial general contractor specializing in tenant finish construction in the Denver Metro area. The company focuses on relationships, sustainability, and innovation to make the construction process enjoyable, environmentally responsible, and efficient long-term for their clients.