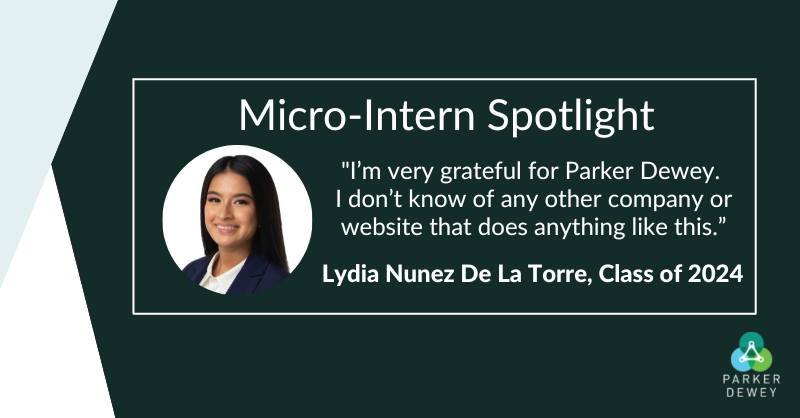 Skill-Building that Works With Student Schedules
Students today face a myriad of demands on their time. They are somehow expected to balance full course loads, extracurricular activities, family ties and friendships, some sort of experiential learning (too often unpaid), attend the latest on-campus networking event, maintain a job to keep tuition paid and loans from getting too far out of hand, and then not forget to carve out time to take care of their physical and mental health. It's no wonder that over 85% of college students are stressed out. Lydia Nunez De La Torre, a first-generation psychology major at Florida International University (FIU), was part of the population attempting to balance all these demands, including a full-time job. The honors student recognized in the fall of her sophomore year that it wasn't realistic for her to continue being both a full-time employee and full-time student, and consequently quit her job. Still in need of a way to earn money that would work around her academic commitments, she was excited to learn about Micro-Internships.
Micro-Internships Make it Manageable
Lydia described the ongoing struggles involved in being both a full-time employee and a full-time student, particularly when it came to midterms and finals, during which her job wasn't particularly understanding of her academic needs. In the Fall of 2022, when Lydia resolved that her academics needed to come first, the financial realities of the decision to quit her full-time job were not lost on her.
"I didn't have time to hold down a job and be a full-time student, but I still needed to make money."
Lydia also expressed a desire to learn new skills, which is why she was intrigued when she saw paid Micro-Internship opportunities being promoted on the FIU Honors Instagram page. The project-based endeavors caught Lydia's eye as a way to gain experience, build new skills, and earn income, all in a way that didn't negatively impact her academics.
"When I learned about Micro-Internships, I liked the fact that there was no long-term time commitment. I realized that I was able to apply for Micro-Internships when I actually have the time, and make it work around my schedule."
Paid to Pursue Passions
In addition to being able to gain paid, professional, experience, Lydia was also excited to do it in a way that allowed her to pursue new interests as well as rediscover old skills and passions that had been placed on the back-burner while she'd been both working and going to school full-time.
"I really just didn't have time for any other types of opportunities. I had that job and school, and that was it. I didn't even have time for my passions. Parker Dewey was really a blessing."
Lydia considered her first project, which she was selected for in September, a test run in many ways, trying to get a feel for how the Micro-Internship model worked. The project involved recruiting fellow students for a traditional internship program with a Fortune 500 financial services company. Since starting at FIU, one of Lydia's goals had been to become more involved on campus and meet more people, so she was excited that this project would push her to get out of her shell and engage with her peers.
Despite her enthusiasm, Lydia also admitted that she was a bit intimidated before she got started, because she didn't know exactly what to expect. Those nerves dissipated however, as soon as she met with her Micro-Internship supervisor.
"[My supervisor] was so helpful, clear with her expectations, and understanding about timelines. It was a great experience."
With one Micro-Internship experience successfully completed, Lydia was excited to take on projects with 3 more companies during the fall semester. Lydia's second and third projects involved different skills, allowing Lydia more opportunities to explore and build on her existing research abilities. Lydia appreciated that both projects also clarified the context of the work, allowing her to understand her projects' impact. Lydia also enjoyed that these projects allowed her to experience scenarios she would have never expected, like participating in a meeting on the metaverse platform.
"[Meeting in the metaverse] is an experience I hadn't had yet, and it's really cool to be able to say that I've done that now. All of my supervisors were very welcoming, like I was part of the company, even though I was only part of the organization for a short time."
Quiptu, the fourth company Lydia Micro-Interned with, has required and engaged an especially rewarding combination of her unique skills and interests. The company, which Lydia described as 'sort of an airbnb for outdoor gear', was seeking help making TikTok videos about their offerings. Lydia, who already possessed video editing skills and had been longing for an opportunity to spend some time in the great outdoors, was excited to dip her toe in the water, both literally and figuratively.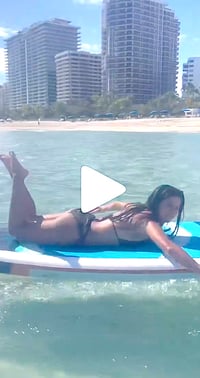 "I have a lot of experience with video editing, so I saw an opportunity to apply those skills. I also got to go out on a paddle board and be in the water. I had fun doing it but also got paid and got to add it to my resume."
For a student who previously described their schedule as one that allowed for nothing other than their job and school, the array of new experiences, connections, and interests Lydia has been able to engage in since quitting her job and engaging in Micro-Internships is not only a stark contrast, but a positive one.
Making a Great Impression
Lydia's motivation, work ethic, and professionalism have all been evidenced both in her completed Micro-Internship projects, as well as the ongoing relationships with her supervisors. In fact, two of the four companies Lydia has worked with have invited her back to do a second Micro-Internship.
"It felt awesome to be asked back for a second project multiple times. They were really grateful for me, and I was excited to come back. It wasn't expected either time, but I was grateful for it."
Lydia is proud of the work she's created and the relationships she's built, and looks forward to highlighting these achievements as she continues in her career. Lydia's ultimate goal is to become a psychotherapist and have her own practice, and even though her Micro-Internship experiences may not seem like they directly correlate with that goal, she knows that the people skills she's developing with her supervisors alone will help her navigate future professional endeavors.
"I'm very grateful for Parker Dewey. I don't know of any other company or website that does anything like this."
Advice for Students
Lydia, who has completed five projects as of February 2023 and is currently working on a sixth, has plenty of advice for her peers who are interested in Micro-Internships. Aligned with her revelation about how her Micro-Internships are supporting her career goals, even if they don't seem to be directly related, she encourages fellow students not to be afraid to consider projects that don't seem to be related to their major.
"Whenever you see projects that are interesting to you, apply for them, even if they don't seem like they match what you're studying."
Lydia also encourages her peers not to let rejection keep them from applying to future projects. She shared, "You get rejected more than you get accepted, and that's ok! Once I got one, it got the ball rolling. It's a great, low-pressure way to practice applying for things. Rejection shouldn't discourage you."
Advice for Companies
For companies, Lydia encourages not only posting Micro-Internships, but also using them to engage students earlier.
"There are so many students who are excited to show off their skills but haven't had the chance. Especially freshmen and sophomores who typically aren't able to engage in the traditional internships yet - they would love these!"
---
In need of project-support from students like Lydia who have unique skills and interests? Get their attention and make use of their talents with a Micro-Internship!