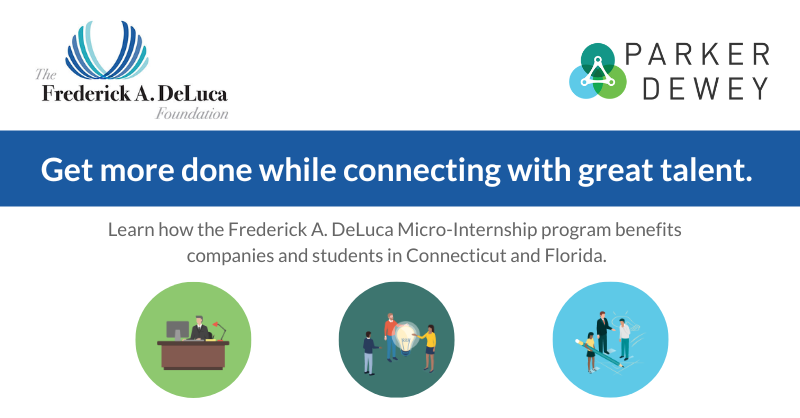 The Frederick A. DeLuca Micro-Internship Program
Estimated reading time: Less than 4 min
Have you heard about the Frederick A. DeLuca Micro-Internship Program? This unique program provides short-term, paid, professional opportunities to a diverse population of Connecticut and Florida community college, university, and other post-secondary students. This program is sponsored by the Frederick A. DeLuca Foundation and has already supported hundreds of students and organizations with plenty more to come!
Through this program, companies, nonprofits, startups, and government organizations nationwide can students or alumni from any eligible postsecondary institution in 15-hour Micro-Internships. All costs associated with providing these opportunities including payments of up to $300 to each Micro-Intern are funded by the Frederick A. DeLuca Foundation and processed by Parker Dewey.
Even more exciting: as of late July 2023, this program has expanded to benefit students and grads from all HBCU's and the HSI Career Collaborative. This opens up opportunities to students at 100+ more schools and also allows organizations to reach an even more diverse and nationwide group of talented career launchers!
There is no cost to students, colleges/universities, or organizations to participate.

This program is truly a win-win-win for all!
"My students get the opportunity to earn money while applying theory to practice. They are learning professional etiquette from great employers, from Fortune 500 to startups.... I love that I get to help companies and entities that otherwise would not have access to such talented young people."

~William Kornegay
Experiential Learning Coordinator
Florida A&M University
Projects are posted on the Parker Dewey platform where students/grads from eligible schools can find available opportunities and connect with projects both for this program and Micro-Internships from hundreds of other organizations nationwide. Parker Dewey supports organizations by scoping out the projects; handling all HR, payroll and other administration for the project; and the organization can hire the student for a long-term role at no cost.
Interested in learning more or getting involved? Please read on.
What are Micro-Internships?
Micro-Internships are short-term, paid, professional projects. While the projects may not be the best use of time for busy professionals (e.g., content creation, data cleansing, lead generation, etc.), college students and recent grads are excited to gain professional experience. As a result, organizations get on-demand support while engaging with early-career talent to see if the student is a good fit for a permanent role.
Micro-Internships provide an on-demand way to solve business challenges, are easy to introduce, and are being conducted in all types of organizations and industries.
How to Get Started
If you are an organization (for-profit, non-profit, or government):
Click here

to learn more and post a project

Click here to watch the recording from a live webinar for organizations to learn more about this program
Click here to watch a webinar recorded in late July 2023 which features a panelist from OrangeTheory Fitness who discusses how Micro-Internships have benefitted her early-career recruiting/DEI goals.
If you are a student or recent grad from a college or university in Connecticut or Florida or an HBCU or HSI Career Collaborative school:
Click here

to create a free Parker Dewey account

and access these opportunities
Click here to watch a webinar with tips for success or check out the slides
Click here to learn more about how you can create your own Micro-Internships by approaching an employer in your network
If you are a faculty/staff member at an eligible college or university:
Click here

to access various resources for faculty/staff

to share with your students, employer partners, and other stakeholders
Click here to watch a webinar recording for Connecticut and Florida college/university faculty/staff
Click here to watch a webinar recorded in late July 2023 which discusses the program's expansion and features a panel of representatives from Career Services and employer who have participated in the program.
If you have any questions or we can help in any way, please click the link below or send an email to deluca@parkerdewey.com.