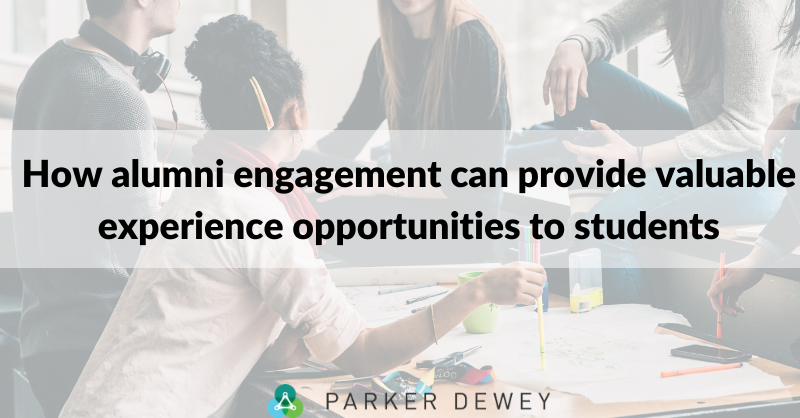 How students and professionals benefit from alumni engagement
This is a guest piece by Catherine LaBelle, a recent graduate of Purdue University. She currently works with employers, alumni, and students as Constituent Relations Coordinator for Purdue's College of Liberal Arts.
Networking can be an overwhelming process for both students and alumni, but they're lucky to have a head start with the most amazing built-in network: each other. The second a student commits to a school, he or she is committing to being part of that campus' community, which is an automatic network; instructors, classmates, everyone who came before, and everyone who will come after are part of it.
With that being said, it isn't enough for a student to simply know that network exists. A student could go his or her entire school career and never interact with a single alumnus or alumna. And once students are alumni themselves, they're fully entitled to leave campus after graduation and never look back. However, the students who engage with enthusiastic alumni benefit immensely from their knowledge, advice, mentorship, and extra opportunities they may provide.
How students and professionals can get the most out of alumni engagement conversations
Students know they should take advantage of networking opportunities, including with alumni, but effectively communicating with them can be a challenge. Introductions and follow-up emails are great, but at some point the initial conversation ends and then what? How many times can you really discuss the basketball team, certain professors, or how much the campus has changed? How do you take that conversation to the next level?
From the alumni perspective, they can also run into the problem of having unsatisfactory interactions with students. A graduate can only answer, "What do you do in a typical day?" and "Are you hiring?" so many times before feeling like they're not really helping any students. Many alumni do want to help, but answering superficial questions may not feel like the best way.
Another challenge is that students are – spoiler alert – often uncomfortable engaging because they are not always sure what they even want to get out of conversations with alumni. Once they get beyond the normal college-related small talk and generic questions, they feel like conversations hit a dead end, and it can be frustrating for both students and alumni. And after an uncomfortable conversation, alumni may be less willing to take another call and students less willing to make it.
Students who reach out with questions that are specific to a particular alumnus or alumna have been more successful in forming an authentic relationship. It is much easier for alumni to help students and give advice when questions are specific. This moves the conversation from vague small talk to purposeful communication.
Unfortunately, thinking of purposeful questions to ask is easier said than done. One solution is to discuss projects the alumnus or alumna is currently working on. This effectively guides the conversation and allows for feedback and authentic mentoring without forced formality, commitment, or artificial structure.
But how can alumni create more of these catalysts for students before they have a full-time job to discuss?
How alumni engagement can provide valuable experience opportunities
Many alumni that students will interact with likely have marketing strategy, content writing, lead generation, financial analysis, or research projects that they need to tackle. A project like this is maybe not the best use of an alumnus' or alumna's time, but still needs to be completed in a timely manner. Students and recent grads can help alumni get this work done and gain real world experience, build their professional network, and explore career options in the process.
Micro-Internships are emerging as a new model where professionals can get these short-term, low-risk projects executed by current college or graduate school students. Not only does this provide alumni access to a highly motivated resource pool, but it allows them to give back to their alma mater in a sustainable way and access a diverse range of new talent. By connecting alumni and students through projects, micro-internships provide a structure to make interactions more meaningful.
Instead of just asking an alumni about what it's like to work in marketing, students can have a relationship with an alumna or alumnus with instruction, mentorship, and feedback, which is a win-win.