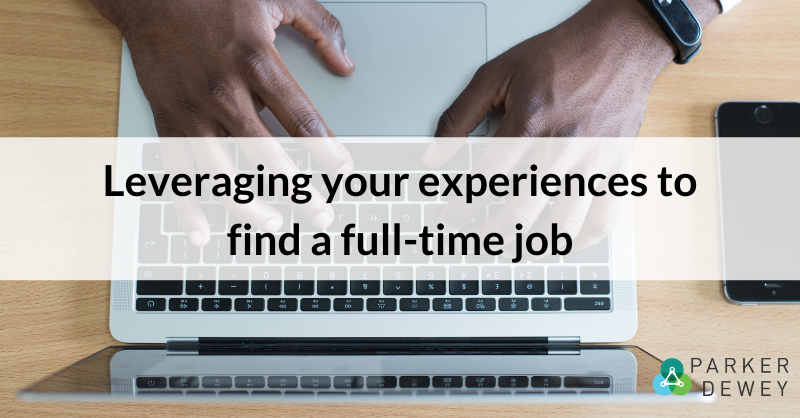 Career Launcher Resource: Leveraging your experiences to find a full-time job
While working on a Micro-Internship you may determine that you are interested in pursuing an internship or full-time employment opportunity in that industry, either with the client or with another company in a similar department. You intend to make the most of this experience and prove to a prospective employer that you have the capabilities they need. You want them to offer you a full-time job. What can you do to increase the chances of this happening?
Build a relationship with your point of contact at the client
You are more likely to be selected for a full-time role by the client when you've taken the time to develop and maintain relationships with employees. The effort itself indicates that you are committed to the organization and positions the client contact to promote you internally or with other organizations. It also gives you the opportunity to understand how individuals within the company function and what they expect beyond the specific tasks assigned to you. Be forthcoming, take initiative, and be friendly. For example, smile at your coworkers and be polite while talking to them. Don't make inappropriate jokes, talk about others negatively, or ask personal questions. Also, remember that your primary contact may have years of experience from which you can learn. Make the most of it! For instance, ask questions about how he or she expects to use the work you have completed and offer to help with additional tasks once you've completed your assignment.
You should also take advantage of any feedback that you receive. Both positive and constructive may come informally along the way - listen closely for things like "This is really thoughtful" or "I really hoped you would have included…" as they often convey valuable insights. You can also solicit feedback along the way, especially when you provide deliverables. When you do receive feedback, listen closely, ask questions if you want clarifications, and then make plans to act on it in the future.
Network
If this is your first engagement, it can be intimidating. You should make it your mission to create a good impression by being professional and dedicated. Your client contact could play a positive role in your future at this or another company. Here are some tips to help you network the right way:
Be polite and respectful.
Remember names and roles.
Learn about different working styles by observing other employees.
Ask questions and listen to the answers.
Take the initiative to get to know people and what they do.
Learn about the existing culture by paying close attention to what is going on around you. For instance, at a particular engagement, your team members may prefer to work independently and spend less time in meetings or discussions. At another engagement, the team might work closely together.
Know your boundaries. Recognize that your job is to make the client's life easier and support him or her on a project. It is good to solicit input, advice, and other help, but remember that the client also has deadlines and other responsibilities. If you are interested in meeting with a colleague, send an email to request the time. Let the colleague know what you want to discuss so that he or she can think about it beforehand.
Demonstrate a good work ethic
Always be cognizant that the client is watching your work and your behavior.
Treat people well. Leaders often make decisions about employees based on how well or poorly they treat support staff. Employees who are rude to the janitor and ignore the receptionist are sending bad signals about their character.
Display humility. You are not entitled to an engagement or the opportunity to learn. Value the opportunity and use it as your chance to learn from those with more experience than you. Listen, observe, and make notes.
Ensure that you let the client know that you value group work and that you're not there just to further your individual aspirations.
Be the person the client can depend on. Always focus on being reliable and exceeding expectations.
Accept your mistakes. Decisions about your future will be made based on the potential you show, not how perfect your work is.
Be indispensable! By offering to do different tasks and always being around to help others, you're demonstrating that you're a crucial resource and that the client can't do without you.
Do not get involved in office politics. If someone is complaining, listen and smile, but don't offer your opinion.
Set goals
Goal setting during an engagement is bound to increase your chances of success. Be sure that you understand what the client expects from you and by when. When you've determined your goals, make sure you spend time understanding whether they are realistic and, if so, how to attain them. If they are not realistic, discuss your concerns with the client. Ultimately, clients appreciate those who are willing to ask questions about the work. Ask intelligent questions. For example, you might ask about your task's typical problems and challenges and how you can overcome them.
Document your work
You may complete several projects before seeking a full-time job, and it will be hard to remember the details of what you did at each engagement. Therefore, document all your work. Mention specifics so that you can recall important details when necessary. Also, mention the role your work played in terms of the larger goal of the business. At a job interview, you may be asked to describe exactly what you did on a particular project and how it contributed to the company's larger goals. You should share what you did, but be sensitive to confidential aspects of the project.
For example, you can explain how you helped a client evaluate expansion into a new market, how you evaluated competitors based upon specific metrics, and what you did to find those metrics; however, you should not go into detail about the client name, specific market, and the metrics without first asking the client. When in doubt email support@parkerdewey.com for advice.
Keep track of what you've learned
Before you leave a particular engagement, make sure that you've requested feedback and understood it. Review the feedback provided and, if appropriate, ask the point of contact at the client if he or she is willing to serve as a reference for you. These individuals understand that you are or will soon be seeking full-time employment, so don't be bashful about asking if they know of any job opportunities either at the client or at other organizations that could be a fit. In fact, most job opportunities are filled through this type of networking.
Following these basic suggestions can help you get to where you want to be. But remember that you are at the beginning of your career. You still have a lot to learn and experience. Be open, flexible, and positive, and prepare yourself for successes, failures, and other learning experiences to come.
Takeaways
Take time to connect with other employees at the company in which you have an engagement. Build good relationships with them.
Create a good impression by being friendly, and establish a network of people you can talk to and learn from.
Demonstrate a good work ethic by being dependable, humble, and respectful.
At every engagement, set goals before you begin work. This will increase your chances of success.
Keep a record of every task you have done and its place in the organization's bigger picture.
Ensure that you've gathered feedback at the end of each engagement so that you can learn from it and use what you've learned in the next engagement.