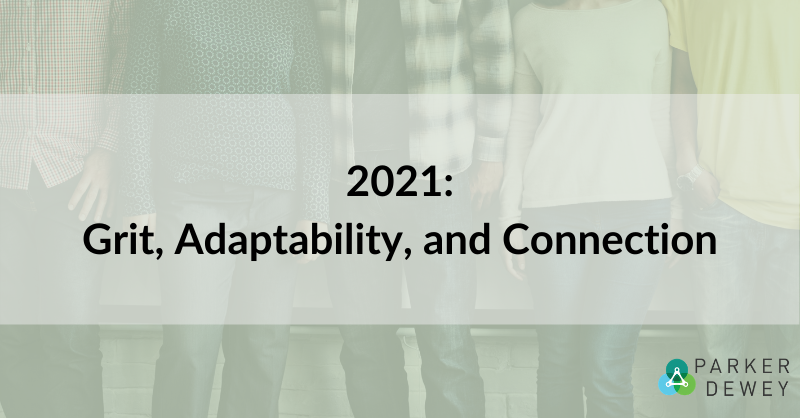 2021: A Look Forward
Each new year brings a moment to think about the future by reflecting on the past. 2020 was certainly like no other, but some things have remained the same:
Grit
We've seen college students and recent graduates across the country take on the challenges presented by a pandemic head-on and persevere in the face of adversity. In addition to overcoming the academic obstacles, more than 78% of undergraduate students had their 2020 summer internship and career exploration plans disrupted by community shut-downs and campus closures, yet interest in Micro-Internships continue to grow with more students than ever before joining our network in search of short-term, paid, remote, flexible opportunities that fit into their new remote learning schedules. Despite these new obstacles, college students and recent graduates have overwhelmingly told us that they want more experiences to build their resumes and get their foot in the door with employers. They are not shying away from the challenges of the present as they look forward to their futures.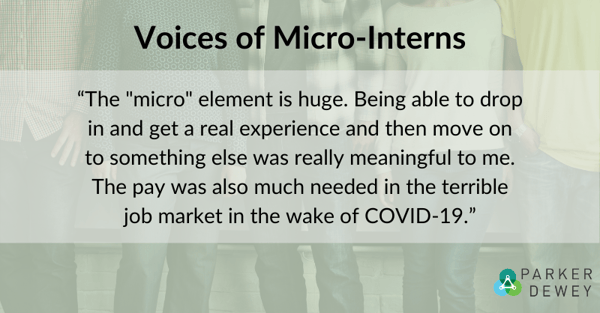 Adaptability
Despite widespread cancelations, many companies shifted their internship and early-career talent initiatives to virtual formats to not only grow their talent pipeline, but especially to achieve diversity and inclusion goals. Overwhelmingly we heard from human resources teams that companies are ready to move beyond initiatives that "check the box," and instead focus on recruiting practices that truly make a diversity impact. More than 1,200 employers looking to make such impacts joined our network in 2020 to offer short-term, paid, remote experiences for college students and recent graduates nationwide, proving that even during a time of disruption, innovators did not stop searching for ways to improve hiring effectiveness and provide remote support to both internal teams and their communities.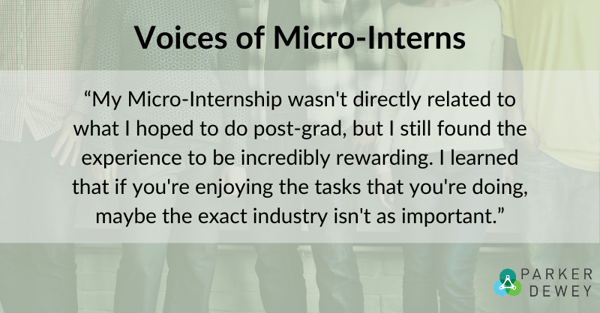 Connection
While travel restrictions kept many of us apart this year, both students and employers have seen the importance of staying connected first-hand, with colleges and non-profit organizations stepping in to help facilitate these connections. This year, Parker Dewey saw an amazing 349% growth in our partnerships with higher education institutions ranging from community colleges to research universities, as well as non-profit organizations dedicated to supporting the needs of diverse student populations. These partnerships stem directly from interest by these organizations in finding new ways to support career exploration for students while also assisting employers in transitioning to online recruiting best practices. More than 86% of students rated, "real work experience with a company" over virtually-adapted recruiting tactics such as online career fairs, and our partners have worked tirelessly to drive awareness of Micro-Internships to their student, alumni, and employer networks.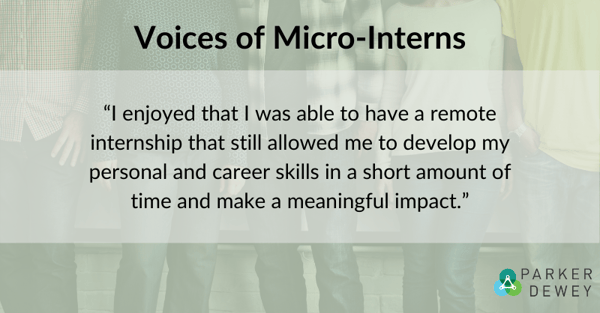 Though so much remains in flux, all of us at Parker Dewey and our partners nationwide are committed to continuing to provide a more effective, scalable, inclusive way for students to explore careers while employers improve hiring effectiveness. As we look forward, we ask that you help us in driving our missing forward, whether that's: