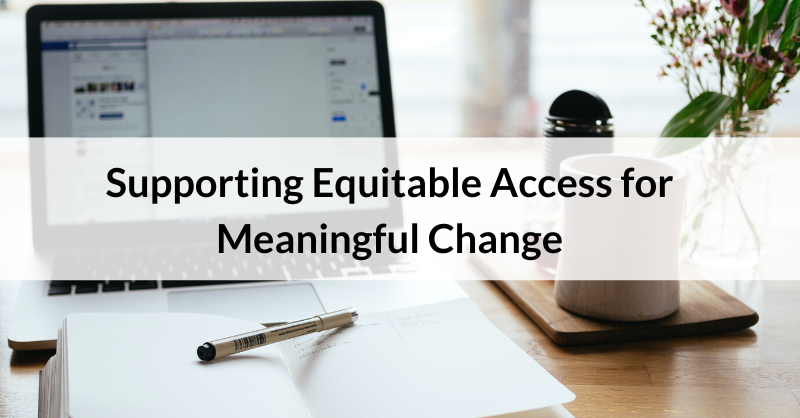 Supporting Equitable Access for Meaningful Change
Though a growing segment of college students are 25 and older, Gen Z makes up the majority of 2022 graduates. This generation is the most ethnically and racially diverse in history, and "the core values of the generation are reflected in their prioritizing social activism more than previous generations and in the importance they place on working at organizations whose values align with their own," according to a recent Deloitte study. While many companies are rushing to address recent events for their existing workforce, early-career talent will be looking to prospective employers to assess how they move beyond lip service to truly support diversity in the workplace.
Corporate diversity, equity, inclusion, belonging, and justice initiatives are a wonderful way to highlight your commitment to change, but more early-career candidates are pushing back and asking: "do your actions match your words?" And this goes beyond companies having ERGs, celebrating diversity in the workplace, or any of the other wonderful DEI-driven programs. Rather, college students and recent grads look at the whole picture, including how companies treat their job candidates.
Year after year, NACE research illustrates that paid internships offer the best head start into a career, yet these opportunities are not readily available to all—especially to those from historically marginalized and underrepresented groups. That's why our platform remains open to any career launcher looking to gain skills, explore an industry, or develop relationships with companies. It's why 100% of Micro-Internships on Parker Dewey are paid, ensuring that our actions align with our mission. And it's why organizations choose to offer Micro-Internships through Parker Dewey, demonstrating their commitment to equity in the early-career recruiting process.
Though data on Micro-Internships facilitated by Parker Dewey continues to yield amazing results like lower costs per hire, increased candidate diversity and reach, and higher first-year retention, we know that actions speak louder than Instagram posts or press releases.
Affecting change starts by giving early-career talent an opportunity to show what they can do. When we think outside of the status quo, we can address accessibility and unconscious bias in the hiring process—opening the door for all candidates.
Making a meaningful change can feel daunting, but even small steps contribute to ongoing growth. Whether or not you're ready to introduce Micro-Internships, Parker Dewey is always here as a sounding board, partner, and friend, to share insights from our direct relationships with college students, higher ed, and employers alike.
With hope,
Michele Aymold
Vice President, Parker Dewey