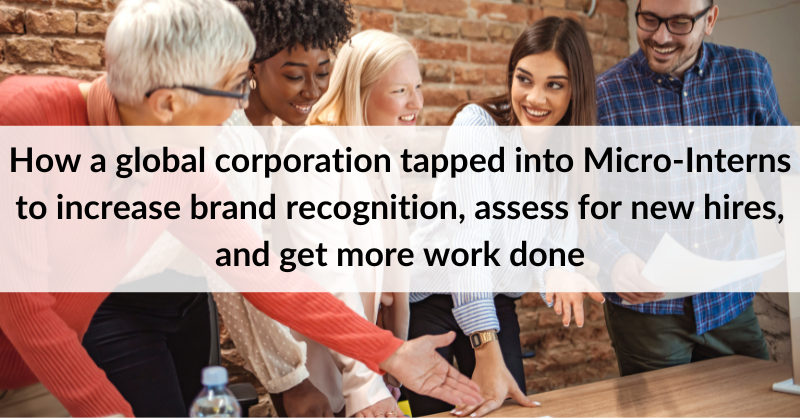 Hiring the right talent and increasing employer brand awareness through experiential opportunities
Learn how a global corporation seized the opportunity to access, assess, engage, and hire early-career talent through Micro-Internships while benefiting from immediate project support.
Trane Technologies is a global climate innovator operating with two strategic brands, Trane and Thermo King. Trane provides HVAC solutions for commercial and residential operations. Thermo King provides transport refrigeration to safely move goods such as food and medicine at a climate-controlled temperature to their destinations. Trane Technologies employs approximately 37,000 employees across the globe on a mission to boldly challenge what's possible for a more sustainable world.

"With our 2030 Commitments, we've set the pace for positive change in our industry. Change that can have a transformative impact on our planet, and for future generations. What we do today will create a better, stronger world tomorrow," said Dave Regnery, Chair and Chief Executive Officer.

With a strong commitment to bringing efficient and sustainable climate innovations to buildings, homes, and transportation, Trane Technologies works extremely hard today for a more sustainable tomorrow.
The Challenge
Trane Technologies (formerly Ingersoll Rand) debuted as a climate-focused innovator in 2020 after separating its industrial businesses and renaming the remaining company.
Though Trane Technologies products are all around us, this global company is still building brand awareness in a competitive employer market.
We spoke to Shannon Wade, Early Career Recruiting Lead, and N. Tyrone Ellis, Aftermarket Engineering Leader, Americas, from Trane Technologies. Both shared their experience and insights after working with multiple Micro-Interns on various projects.
Background
Shannon's team hires approximately 500 candidates for early-career positions annually. The roles are composed of full-time and internship opportunities; they vary from corporate, accounting & finance, engineering, operations, technical sales, and heavy manufacturing managerial positions. Therefore, opportunities are vast, but finding the right talent proved challenging.
"We did not have a student ambassador program running at Trane Technologies before we partnered with Parker Dewey for Micro-Internships. I wanted to work with student campus ambassadors, but it would've been cumbersome to work with them for a few hours and add them to the payroll, all for work that would be ad-hoc. Micro-Internships proved an efficient way to get this done as Parker Dewey handles the administrative burden," Shannon shared.
Parker Dewey manages payroll, NDAs, and contractor administration, making it easy, effective, and scalable for Trane Technologies to implement Micro-Internships. This experiential opportunity allowed Shannon to engage with early-career talent and familiarize them with Trane Technologies and all the company had to offer.

"This is one of our most significant challenges," Shannon shared. "Educating candidates on the company, the open roles, and getting them excited enough to apply."
Beyond building an early-career talent pipeline, Trane Technologies also sees Micro-Interns as an effective way to support productivity.
Tyrone and his team needed help with on-demand projects that would arise but would naturally take longer to complete if they did not take priority, such as research and data collection.
"Projects would come about, and my team and I could use some help completing them to avoid having them stall or take longer than they should," Tyrone shared.
Prioritizing can be tricky, especially when deadlines loom, and time-consuming ad-hoc projects emerge. Trane Technologies optimizes time by delegating to Micro-Interns.

Micro-Internships enable Tyrone and his team to work on multiple projects throughout the year. In addition, Tyrone can assess candidates for longer-term programs at Trane Technologies. To do this effectively, Tyrone built relationships with the Micro-Interns, "I regularly touched base with Micro-Interns for 10-15 minutes to ensure the students felt comfortable with the assignments and could ask any questions during the engagement," Tyrone shared.
The Solution
Trane Technologies turned to Parker Dewey, the largest network of highly motivated college students and recent graduates excited to complete short-term, paid, professional assignments and be assets to any organization. The corporation accessed, assessed, engaged, hired candidates, and built a talent pipeline, all while obtaining immediate project support by working with Career Launchers.
In working with Career Launchers, Tyrone and his team obtained on-demand project support, precisely what they needed.
"We had a Micro-Intern work on compiling data for a competitive study which we used for our annual operating plan. The data was instrumental in helping us frame up an area of focus," Tyrone shared.
The Results
Trane Technologies has worked with Micro-Interns on 25 Micro-Internships, with more in the works.
Shannon had Micro-Interns work on projects such as:
Campus Ambassador

Researching Self-Identification Best Practices
Researching Best Practices to Attract and Retain Software Engineers
"The intent is to build some familiarity with our brand. However, getting a work output on top of that is the icing on the cake, and every time, we've derived value from the work the students produce," shared Shannon.
Shannon believes the mutual assessment during a Micro-Internship between an employer and Micro-Intern is highly valuable. She's seen it convert at Trane Technologies.
"We've had Micro-Interns make powerful impressions on the managers they work with, and these impressions have turned into full-time job offers," Shannon shared. "When we launched as Trane Technologies, we faced challenges with brand recognition at the University of South Carolina. Over a few years, our efforts to brand our company to students in this highly competitive program had failed to convert to any hires. After hosting a few Micro-Internships, we made multiple hires the next year; the candidates had a great experience and learned what our company was about, which led them to accept offers and tell their peers about what our company had to offer."
Similarly, Tyrone has also had Micro-Interns work on projects to help reach his objectives. Some of the projects Tyrone has had Micro-Interns work on include:
Researching the Benefits of Energy Data
Product Nomenclature Research: Noncompetitive Benchmarking
Product Circularity Research: Noncompetitive Benchmarking
AHRI Ratings Competitive Analysis
"The communication with the students was very successful and included weekly check-ins to answer any questions they may have had. The Micro-Interns I managed did very well, and I also received positive feedback from my team members who managed Micro-Interns themselves," Tyrone shared. "For each Micro-Internship we post, we save a week's worth of time for a team member, allowing them to prioritize and focus on what they need to get done. We save more time than the student spends on the project, as we derive great value from their work."
Some Advice for Recruiters and Managers
Shannon advises recruiters looking to engage early-career talent through Micro-Internships to be bold and try it!
"I think there's been some resistance in the recruiting industry to try a new approach as it can feel like adding one more thing to manage. However, recruiters will be surprised by the ease and efficiency of working with Parker Dewey," Shannon shared.
For managers, Shannon feels that implementing Micro-Internships is a low-risk way to identify candidates who can fill roles based on their skill set.
"Be open and use Micro-Internships to experiment and engage candidates you may not have considered doing work for you. Ask yourself if they can accomplish what the position would entail and if they need a specific degree to deliver the output required or if they can deliver regardless of their educational background experience," Shannon shared.
Tyrone advises managers to develop relationships with candidates through their Micro-Internships, as they often make great candidates for longer-term engagements.
"Developing relationships with early-career talent through a project is essential to assess their communication skills and attention to detail. We have used Micro-Internships to get to know candidates, build a talent pipeline, and have even had candidates apply for our formal internship and accelerated development programs informed by their successful performance in their Micro-Internships," shared Tyrone.