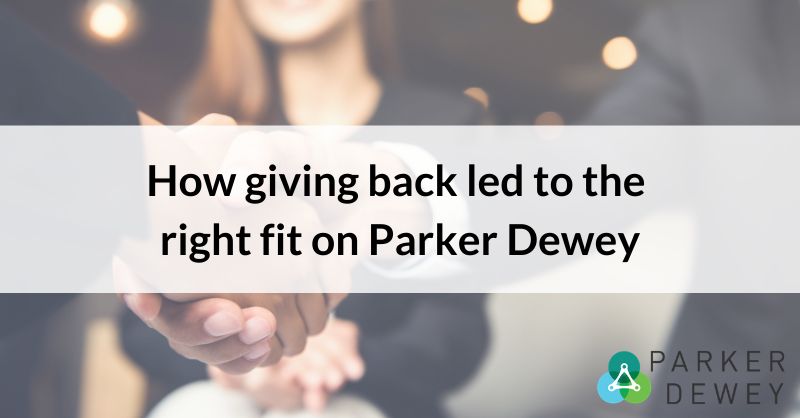 Company Voice: Small Opportunities, Big Impacts
We recently spoke with Eric Benson, Director of Operations at Thunderhead Engineering, a software development company in Manhattan, Kansas. Eric shared his experience with using Parker Dewey to hire Micro-Interns. After using the platform, Thunderhead Engineering created a position to bring one Micro-Intern full-time. Overall, Thunderhead Engineering has been able to engage candidates both locally and outside of their area on short-term projects that while important, weren't the best use of their senior staff's time or robust enough to warrant a traditional internship. By working with Parker Dewey, getting extra support while also supporting others in gaining experience is just a few clicks away.
Here's a look into Eric's experience working with Parker Dewey and Micro-Interns.
"The reason that I looked for Micro-Internships to begin with is that our founder and co-founder were both from Kansas State University—a professor and grad student. We typically hire interns to do engineering work and I wanted to expand the opportunities outside of just software development. Most ideas were not full internship possibilities—we're not a very big company, so a marketing intern for a whole summer didn't make sense."
What started as an effort to support local college students turned into a way to expand internships beyond Thunderhead Engineering's software development team. Eric saw that while there wasn't yet a need for full-time interns companywide, other teams including his own had plenty of projects that could be delegated to college students and recent graduates.
After learning about the concept of short-term, paid, remote projects, Eric was onboard with Micro-Internships. He spoke with a few other companies to get ideas on the types of projects that worked best. Eric heard from another employer that ideal projects were not just a small job, but also a good experience for the student and staff.
"Someone from K-State (Kansas State) introduced me to the idea of Micro-Internships at a career fair. I asked, 'What are you doing that is unique and different?' She said she was going to pilot Parker Dewey and wanted some help with it. After hearing about the concept and K-State's desire to pilot a Micro-Internship group, I said, 'Yes.'"
Eric's goal was to provide the Micro-Interns with valuable experience that they can use for future positions. He sees Micro-Internships as a "launching pad" for college students and recent graduates to get to the next level.
Since Thunderhead Engineering is a niche software company, Eric often found it difficult to compete with big-name companies with nationwide hiring programs. Micro-Internships helped Eric access Parker Dewey's network of college students and recent graduates across the country.
In addition, the unique model offered by Parker Dewey meant Eric did not have to deal with payroll and HR paperwork when it came to hiring interns for short-term work. Parker Dewey made it easy for Thunderhead Engineering to connect with interns for paid projects while eliminating the hassles of paperwork.
The biggest value that Eric got from using Micro-Internships was connecting with students who otherwise never would have heard of Thunderhead Engineering. In addition, Eric and his company valued being able to offer an opportunity for someone to gain professional experience. Due to the impacts of COVID-19, which forced most summer internships to be cancelled in 2020, many students are struggling to find experience that will prepare them for their future careers. Micro-Internships on Parker Dewey allow students to explore careers and gain real-world experience remotely, despite nationwide closures.
"Most of our interns work with us for a summer. The intent is not to hire them, the intent is to give them experience that they can use to go on and do great things. The Micro-Intern we ended up hiring was a 'unicorn' who may not have made it through our typical hiring process, but after working together we saw he was a great fit who had the skills we needed."
For other companies considering launching a Micro-Internship program, Eric believes that Micro-Internships are a way to help students gain valuable experience and to excel in their future career. He believes that even if employers are not looking to hire students for full-time positions, Micro-Internships provide both a meaningful way to give back to others, as well as the value of the work being completed. If employers are looking they also have the added benefit of seeing an applicant in action before the applicant is hired.