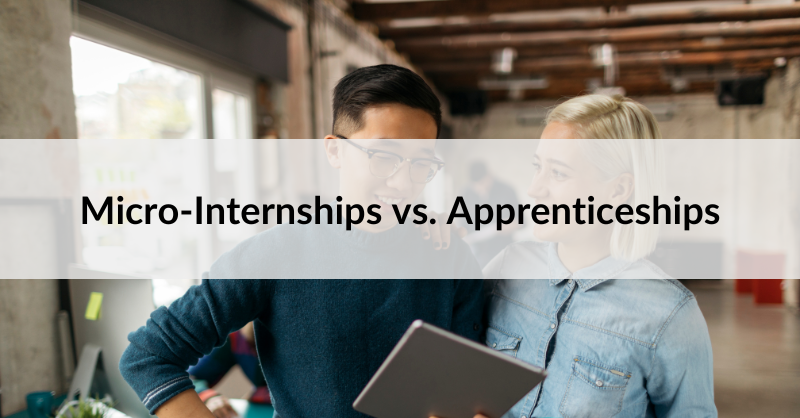 Three reasons why apprenticeships fall short as a recruiting strategy
Apprenticeships are a great way to learn a trade, and many companies offer them to train new employees. But apprenticeships have some drawbacks that can make them a less-than-ideal strategy for recruiting early-career talent.
Here at Parker Dewey, we've looked at data from apprenticeship programs and found that the majority of those who pursue apprenticeships are not college students. The average age of an employed apprentice is 42 years old!
Here's what you need to know.
What is an apprenticeship?
An apprenticeship is a system of training a new generation of practitioners of a trade or profession with on-the-job training and often some accompanying study (classroom work and reading). Apprenticeships can also be seen as a form of empowerment for those who didn't pursue formal education, providing people with skills, knowledge, and experience to help them transition into the workforce.
Some of the reasons why apprenticeships fall short as a recruiting strategy are:
Apprenticeships can be inflexible
Since an apprenticeship is a contract between an employer and an employee, it can be challenging to change the agreement. This inflexibility can make it difficult for apprentices to take on new responsibilities or roles or even change employers if needed. Apprenticeships are not always the best option for college students who want to be able to explore careers and engage with various employers to find the right fit.
Apprenticeships take a long time to complete
While apprenticeships can provide opportunities for people who might not otherwise have them, they can be lengthy. On average, an apprenticeship takes between one to six years to complete, depending on the industry and company. As a result, many students will choose not to pursue an apprenticeship because they don't have the time to commit.
Apprenticeships may not lead to a job
While apprenticeships can provide skills and training, there is no guarantee that they will lead to a job. With so much time invested in an apprenticeship, many college students will want to ensure that they have a job waiting for them at the end. Unfortunately, this is not always the case. In some industries, apprenticeships train people for a specific job rather than fill open positions.
Unfortunately, apprenticeships aren't the best recruiting strategy to access early-career talent. While they may benefit some, they are often inflexible, time-consuming, and may not lead to a job. An easier way to connect with potential college hires is to incorporate Micro-Internships into your existing recruiting strategy.
Micro-Internships are excellent for companies looking to connect with talented college students and recent graduates. Micro-Internships are short-term, project-based opportunities that allow students to showcase their skills and impress employers. Plus, they can be completed in as little as one week!
Are you interested in implementing Micro-Internships as part of your recruiting strategy? Connect with us today to see how quickly you can post single Micro-Internships or launch a new program in a few days!
As the largest network of highly motivated college students and recent graduates who are excited to complete short-term, professional assignments, we know internships!
Our mission is to provide meaningful opportunities for Career Launchers to add to their resumes while helping organizations get work done. If you're passionate about this too, please join our email newsletter Hire Learnings, and follow us on social!