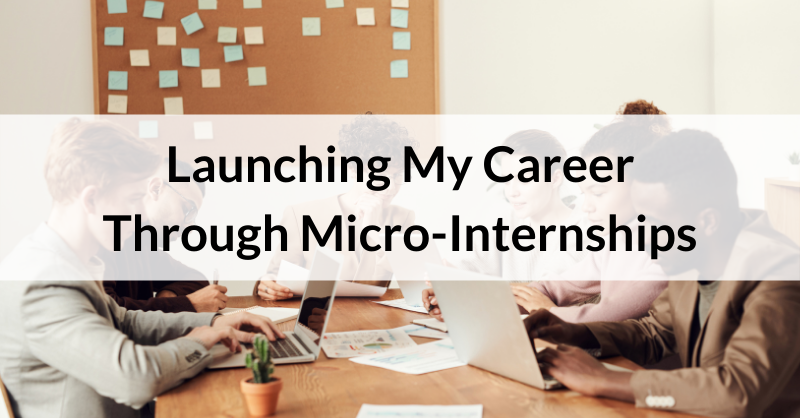 Launching My Career Through Micro-Internships
In March of 2020, I started to apply for Micro-Internships on Parker Dewey. Since then, the multiple projects I have completed led to a full-time position. Here's how it happened!
Micro-Internships were not my first work experience. I started working during my first year of college. I was only in my second semester when I received an offer to work at a private equity firm in Brickell Avenue, Miami's largest financial district. My professors encouraged me to take the leap, and I knew the value of acquiring real work experience throughout my academic career. In early January of 2017, I took the plunge and accepted the job offer!
On any given day, I booked planes for executives, managed calendars, took meeting minutes, processed payroll, showed rentals, prepared due diligence for external listing realtors, provided operational support, ordered and re-stocked office supplies, and managed accounts receivable/payable, reconciled company credit cards, etc. The list of tasks was endless.
I was constantly overwhelmed by my workload. When onboarded, the recruiter led me to believe that the role would be part-time and that I'd be the executive assistant to one of the firm's partners. This role is what I agreed to. A couple of weeks into the engagement, I was executive assisting three partners at the firm and the operations, accounting, and procurement departments while working on any new assets acquired.
The issue wasn't that I was incapable of accomplishing all that the role required; I hadn't signed up for it, nor was I recognized with a job title or appropriate monetary compensation. I was expected to deliver on tasks for a full-time role despite being hired at a part-time capacity and being paid as such.
I now know I was experiencing shift-shock, "'that feeling when you start a new job and realize, with either surprise or regret, that the position or company is very different from what you were led to believe.'"
Despite being able to soldier on for a few years, in late 2019, I moved on from the firm to profusely intern throughout 2020 and early 2021, when I would graduate from Florida International University (FIU).
In early 2020, I learned about Parker Dewey through an email from the career services director at FIU. I was intrigued by the concept of Micro-Internships: short-term, paid, professional projects open to all college students and recent graduates of U.S.-based institutions. I created my profile and immediately started applying to as many projects as possible.
Throughout 2020 and 2021, I was hired for 14 Micro-Internships, where I worked on various projects across industries.
To describe a few, I completed:
a lead generation project for a tech giant,
an accounting project for a CFO,
a digital marketing project for Menser Real Estate Group,
a candidate sorting project for Back to Basics Learning Dynamics, a national education services provider,
customer support and training for an UberEats and Postmates competitor,
a recruitment project for a global company that provides on-site, industrial steel mill services for steelmakers around the world,
and a content writing project for Diversity Works, a company that helps organizations get more out of their DEI investments.
Although I'm grateful for all the professional opportunities I've had, I wish I had known about Parker Dewey in early 2017 before accepting the job offer at the equity firm. After all, my primary goal was to acquire real work experience that I could leverage when applying for a full-time role, precisely what I accomplished through Parker Dewey!
The Micro-Internships on Parker Dewey were clear about the work they would entail and appropriately compensated. I built a network through the employers who posted the Micro-Internships, acquired real work experience in various industries in a short time frame, and was able to leverage it for a full-time job at none other than Parker Dewey, where I am thoroughly enjoying what I do, and am certainly not experiencing any "shift-shock."
I'm looking forward to what lies ahead and am fortunate to be part of a team that works tirelessly every day to provide equitable access to professional opportunities.