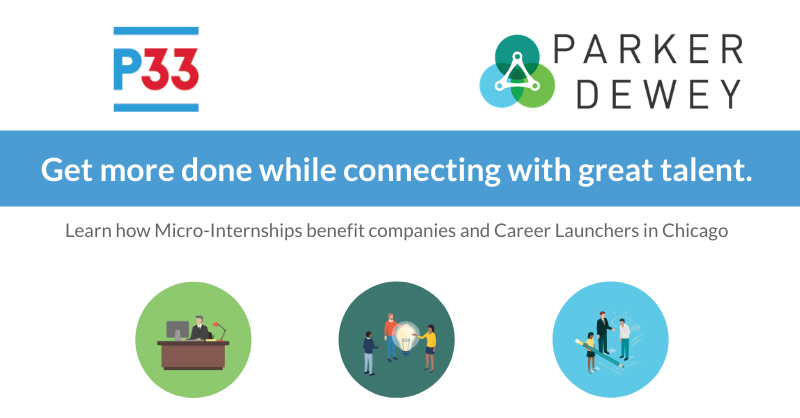 Micro-Internships Solve Tech-Student Recruiting Challenges for Chicago Companies - a P33 Chicago Initiative
Estimated reading time: Less than 4 min
Matt Muench and Jeffrey Moss sat down recently with Chicago businesses to discuss the P33 Chicago's Chi Tech Career Launch initiative and how Parker Dewey's Micro-Internship platform is a key asset to companies who want to increase access to early career tech talent in Chicago. They discuss how their multitiered use creates a strategic business solve to real problems that Chicago companies are challenged with now and are anticipating in the future. Here are some key takeaways from that conversation.
This is a link to the recorded conversation and the presentation slides if you want to view it in its entirety.
This is where you can get started and post your first project.
Matt Muench, SVP Talent Solutions at P33 Chicago
P33 Chicago: An economic development initiative in Chicago focused on technology and trying to drive inclusive growth in the city through the advancement of our technology sector.
Jeffrey Moss, Found & CEO at Parker Dewey
Parker Dewey: A platform for companies to better identify, engage, assess, and hire college students for internships and full-time roles through short-term projects ("Micro-Internships"). Micro-Internships, in-turn, provide equitable access to professional opportunities for students of any background.
Micro-Internships and P33's Chi Tech Career Launch Purpose
P33's Chi Tech Career Launch and Micro-Internships create a win-win-win for hiring managers, students, and early career recruiting. They enable students, from any school or social network, to gain real work experiences while providing Chicago companies with access to on-demand local early career tech talent that the company may not be exposed to. As a result, this helps retain top talent in the Chicagoland community, supports the hiring needs of corporations, and ensure equitable professional pathways for Chicago's college students and recent graduates.
"I think this is a huge moment. This thing we could be doing together around Micro-Internships is a transformative new element, new ingredient in this engine of tech talent development in Chicago that we're all trying to build together." – Matt Muench
How Businesses Use Micro-Internships
Micro-Internships are not intended to replace internships, co-ops, full-time hiring, etc., instead they can be used in a variety of ways to complement current early career recruiting strategies at any company.
Build a stronger early career talent pipeline through experiential recruiting. Rather than having students assessed on school, resume, interviews, and GPA, managers assess on indicators of future success: growth mindset, resiliency, empathy, communication skills, problem solving, etc.
Since students are paid for their work, they proactively engage with the Parker Dewey platform. This creates no costs for the company associated with marketing or branding.
Dismantle preconceived notions for candidates of what working at a company entails, what opportunities are available, and roles that would interest them.
Managers and teams get work off their to-do list while giving back to early career professionals.
Expand the scope that hiring managers have regarding what characteristics strong talent needs to be equipped with to be successful at a company. This often unintentionally creates obstacles in the recruiting process for individuals from underrepresented backgrounds.
Strengthen retention of early career hires. 55% of college grads leave their first job within one year, while 98% of grads who complete Micro-Internships remain at the same company for at least 18 months.
How Micro-Internships Are Defined
Short-term: Projects typically range from 10-40 hours in duration.
Paid: The average cost to a company is $400 (fixed fee, implying $20/hour).
Professional: Assignments are similar to those given to interns or new hires.
Comprehensive: Projects are used in all industries, across all departments (sales, marketing, HR, finance, etc.), and can take place year-round.
Valued: Micro-Internships provide busy professionals with additional resources ("We should..." or "I shouldn't..." tasks).
Flexible: Available year-round as needed, and typically remote
How to Get Started
A program-based investment where a company defines the number of students it is seeking to impact, from which a fixed cost is determined (e.g., 10-100+ students can be supported with a $5,000 to $50,000 financial commitment).
Engage ERGs by enabling members to select Micro-Interns from similar backgrounds for their own projects, leading to improved DEI hiring.
Ad-hoc projects in which hiring managers use Micro-Internships on an as-needed basis.
Parker Dewey can assist with:
Posting projects and templates
Best practices
Student access and assistance
Student selection
FAQs:
Over 98% success rate: students are inherently motivated to exceed expectations (and if they don't, you can select a different student or receive a refund)
You define the project: define what you need and when you need it (typically a few days to a few weeks out), and can use our templates to help
You set the price for each project: typically $200-$600 (of which 90% goes to the student), and there are no obligations or other fees even if it turns into an internship or full-time role
No administrative burdens: Micro-Interns are not your employees, interns, or contractors, but rather they are employees or contractors of Parker Dewey for the duration of the project
You select the Micro-Intern you want: our platform reaches students and recent grads at every college across the US, and you can make the selection based upon your goals
NDA and legal assignment: all Micro-Interns are under NDA, as is Parker Dewey itself, and you own the work
"This will only work if companies see it as a solution to a real problem that they have and a strategic business solve. Not just a nice thing to do. We've started with companies who've all said digital talent matters to their future and we're open to working in new ways, with new partners to figure out how to how to develop, find, and support more tech talent for our companies and for the city." – Matt Muench