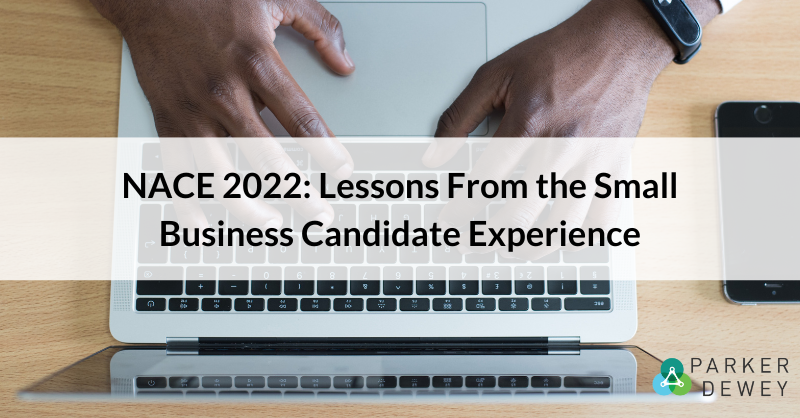 NACE 2022: Lessons From the Small Business Candidate Experience
"Small companies create a better candidate experience to recruit college students than big companies."
When I heard this insight captured from a survey of college students during Mary Scott's presentation at the 2022 National Association of Colleges and Employers conference, I was initially shocked, especially given the amount of money, time, and other investments large companies make. However, the results highlight that much of this expense may not be as effective as expected.
As I thought more about this, it's really not surprising—especially as companies expand their reach, ensure equitable access, and continue to adjust in response to COVID-related dynamics. While these efforts may help drive more applicants, the relationships developed between employers and prospective candidate are less authentic. The result: lower conversion, higher renege rates, frustrated hiring manager, and increased attrition.
In contrast, since small companies don't have dedicated campus recruiting teams, they rely on individual hiring managers. The result is deeper relationships with employees with whom candidates will work leading to better outcomes.
So, what can big companies learn from these smaller organizations that still works when recruiting 100, 1,000, 10,000+ interns or new hires every year?
It's actually really simple: engage hiring managers earlier in the process in ways that go beyond inviting them to panels or career fairs (especially since most students don't value those anyway). And, not surprisingly, we think the best way to do this is with Micro-Internships.
Since every hiring manager has small projects on their plates, they would appreciate the chance to offload them to highly motivated college students, allowing essentially unlimited scale without adding to the already heavy workload of campus recruiting teams. Not only does this provide a perk for the hiring manager, it also gives you insights into a candidate's skills, including those not captured on a resume or in an interview.
Micro-Internships also allow candidates to connect with companies and hiring managers easily and efficiently. In the words of one Micro-Intern, who learned he'd secured an opportunity two hours after applying, "There was no long application process. I was able to get right into it and start to see how the businesses worked very quickly."
And ultimately, what students really want is to learn about your company, demonstrate skills, and build relationships. Beyond improving access, diversity, conversion, and other key recruiting metrics, Micro-Internships offer a candidate experience that aligns to your brand.