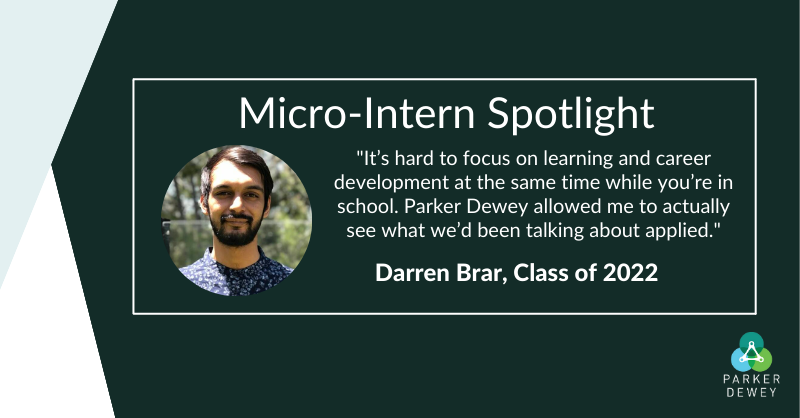 Student Success: Expanding Horizons with HubSpot
A few months ago, if you had asked Darren Brar about his career plans, the California State Northridge marketing major would have responded with job titles that involve digital marketing and SEO. While those are still of interest, a new area - marketing automation software - has Darren excited, and he wouldn't have been aware of it if it weren't for his Micro-Internships.
Perspective
At the time this is being published, Darren has already done two Micro-Internships in the two months he has been on Parker Dewey. While both involved market research, the clients were, in Darren's words, "complete opposites of each other". One was for a medical informatics startup, allowing Darren to see how that manager is developing a business. The other was for HubSpot, providing Darren with an inside look at a company that has already established itself.
The HubSpot Program
Darren's Micro-Internship with HubSpot was part of a larger program hosted by the well-known and widely used Customer Relationship Management software. HubSpot's Education Partner Program helps qualifying schools and instructors teach their students how to use the same information and technology used by marketing and sales professionals around the world. In fact, for a limited time, HubSpot has funded Micro-Internship opportunities for its customers, allowing them to benefit from HubSpot-trained students at no cost.
In Darren's Micro-Internships, he immediately recognized the value of having been taught by a HubSpot Education Partner at California State Northridge. Darren shared, "The first meeting I had with my Micro-Internship manager at HubSpot, he was using terms that I would not have known if I hadn't taken the HubSpot courses. I felt like I could get around and had the confidence to ask about the few terms I didn't understand."
Darren also shared how his Micro-Internships allowed him to better understand the information he'd taken in through the HubSpot certifications he'd done in classes.
"It's hard to focus on learning and career development at the same time while you're in school. Parker Dewey allowed me to actually see what we'd been talking about applied."
Efficiency
Darren, like most members of his generation, values ease and efficiency, and Micro-Internships offered him both. For his HubSpot Micro-Internship, Darren learned that he'd secured the opportunity only two hours after applying.
"There was no long application process. I was able to get right into it and start to see how the businesses worked very quickly."
The ability to jump right in was especially appealing to Darren, who used his Micro-Internships as a way to test drive different aspects of the marketing world. Darren had done a traditional internship in the past, and shared that by comparison, his Micro-Internships were "like getting a much easier and efficient slice of that."
Value
Darren clarified that just because these experiences were shorter, didn't make them any less valuable, especially for students like him who are using the platform for career exploration. "You have full-blown internships, part-time jobs, and full-time jobs, but this trumps all of those". He shared that he might even do another before the semester ends, saying "that will be adding three different people to my network and getting insights into three different companies, which is so important. You get to see what you like and what you don't".
Advice
Darren recommends that his peers not only use the platform, but also that they log in and apply regularly.
"I applied for a lot of Micro-Internships that I didn't get. It's just a matter of finding the right fit. There's a lot of projects on there, so if you can find something that speaks to you, you'll be able to respond to the questions in a way that speaks to the employer."
JANUARY 2023 UPDATE
Darren let us know that he has recently started working for an IT company based in Irvine, California as a Sales and Marketing Specialist. Darren is excited to contribute marketing recommendations and drive sales for his new employer, who is a HubSpot client.
Darren shared that he was able to reference his Micro-Internships in his interview, and highlighted the positive impact of having had that real-world experience in the HubSpot platform.
"My experience with Parker Dewey, mainly working on projects with HubSpot, played a significant role in my getting this position."
Congratulations Darren! We are thrilled for you and your career journey!
---
If you are a student interested in learning more about how you can immerse yourself in real HubSpot projects, click here.
If you are a faculty or staff member interested in learning more about the HubSpot Education Partner Program, click here.