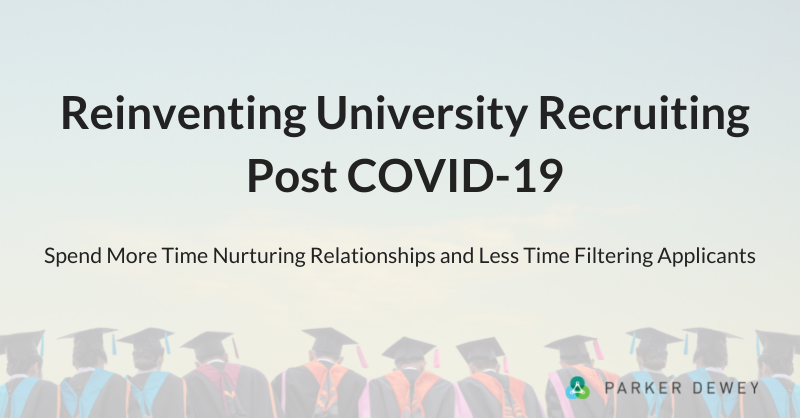 Reinventing University Recruiting: (Kinda) Post COVID-19
With so many campuses planning to reopen for fall, it's time to look at how we recruit early career professionals—to build something that actually works. In reimagining hiring strategies, recruiters are asking: What remote practices should stay? What processes are in need of a refresh? What "tried-and-true" programs are ready to be retired?
In this webinar, Parker Dewey CEO and founder Jeffrey Moss covered how companies can access, engage, assess, and convert students in the evolving almost-post-COVID-19 world. Read on for a summary or get the full playback here.
Pre-COVID-19 Recruiting Strategies
Campus recruiting hasn't evolved all that much in the past 40 years. To capture the attention of overwhelmed college students, companies have continued to rely on tactics like:
Sponsored job ads
Career fairs
Info sessions
Interviews
Resume screens
Recruiters constantly compete for the same talent. A diverse candidate pool is difficult to create. Companies spend money and time on new hires who turn out to be the wrong fit. And with the addition of technology, students are even more bombarded by these strategies—making it more challenging for companies to differentiate themselves from competitors.
The Pandemic's Effect on Recruiting Strategies
Campus recruiting largely went virtual over the past year and a half, and companies adjusted their wording to reflect the evolving landscape. Think "web-based sponsored job ads," "virtual career fairs," or "online info sessions." For students, another Zoom call was less than appealing. For companies, standing out in something like a virtual career fair or info session was nearly impossible. (And the opportunity to entice students with free food was gone!)
And while recruiters imagined over this past year that remote strategies would create a chance to access new students—geography aside—we've seen that companies continue to struggle with:
Accessing untapped candidates
Effectively engaging talent
Assessing potential hires
Consistent conversion
Why Experiential Recruiting Works
Unlike traditional methods, experiential recruiting creates value for hiring managers, university recruiters, and students—a win-win-win.
It attracts students who you might not otherwise reach.
A real, hands-on experience gives students an opportunity to understand your company—as well as do away with any preconceived notions they might have about a particular industry or job. As a former Micro-Intern shared, she hadn't previously considered a role in the plastics space:
"I hadn't even considered my target industry before my Micro-Internship. I applied for the project just to gain some experience, and I realized that I actually was way more interested than I could've imagined! Fast forward to now, and I'm applying to jobs in the same field as my Micro-Internship."
In order to give students the recruiting experience they want,
Strengthen existing university relationships: Connect with students and recent graduates of specific schools and increase awareness of your organization on campus.
Build new relationships: We're partnered with 400+ colleges, universities, and non-profit associations across the country. Micro-Internships help companies build relationships with schools and organizations where they're not yet recruiting—creating access to a whole new talent pool.
Keep scheduling flexibility top of mind when hosting events—even though an event held in "off hours" may have lower turnout, you'll earn good will from candidates that have conflicts during prime time.
It gives students an opportunity to be engaged with real work.
More than 86% of students rated "real work experience" as their preferred method of engagement with employers. Micro-Internships allow students to learn about companies and roles and also help build those valuable relationships with hiring managers. Students continue to highlight a strong preference for these experiences—and not networking events and other virtual opportunities that feel more artificial and potentially tokenizing for students from underrepresented backgrounds. As one student explained,
"It wasn't until I got to actually work with specific companies that I knew what I could expect. For me, the companies I felt more connected to were those that I was more involved with early on."
In order to engage students,
Turn boring info sessions into "speed dating" where hiring managers and volunteers from across the business can connect with students for quick, informal mentoring.
Empower hiring managers to give back to their alma maters. Micro-Internships provide a new way for alumni to support their alma mater. By posting a featured Micro-Internship, they can select a current student searching for professional experience, while also getting work off their to-do list.
It allows recruiters to assess potential hires in real-time—not based on non-predictive signals like academic pedigree or GPA.
Where traditional recruiting often means filtering students by what's written on a resume, experiential recruiting allows organizations to see a candidate in action. And as managers assess students, students can assess the company and role, too—ensuring mutual fit.
Students within the Parker Dewey network are eager to show what they've got:
"In my Micro-Internship, I actually had the chance to prove myself and my skills, and show the hiring manager what I could bring to the table. I don't think that would have been possible in a regular interview process."
In order to create opportunities for meaningfully assessing students,
Create a small Micro-Internship program for hard-to-fill departments: Give students and recent graduates an opportunity to actually experience the day-to-day. As they get a taste of the work and department, you get an understanding of their work ethic, existing skill set, and interests.
Look beyond GPA: Instead of relying on academic pedigree, turn the focus to soft skills—like grit, communication, and teamwork capabilities. By using real work to assess skills and screen applicants, you'll improve hiring outcomes and gain hiring manager buy-in. This allows you to move away from the non-predictive filters like GPA.
It builds real relationships between students and companies.
No matter how many t-shirts you send or events you host, the student and hiring manager relationship is the most important factor in driving conversion—especially for candidates from underrepresented backgrounds.
In talking about her Micro-Internship experience, one student highlighted how the opportunity to engage with managers who "looked like her" provided a level of comfort that she would fit in at the company. She also shared:
"I was surprised at how integrated I was on my team, even from a short, part-time project. I was able to build genuine relationships with my managers and supervisors, and those interactions were the ones that actually made me want to continue my involvement in the company after my Micro-Internship ended."
In order to drive sustainable DEI efforts:
Run a Micro-Internships for ERGs program:
Leverage ERGs to help potential candidates visualize themselves at the company
Empower ERG members to engage with students and graduates with backgrounds similar to their own
---

About Micro-Internships
They work at scale.
Short-term, paid, remote opportunities are accessible to all types of candidates, enhancing applicant diversity and encouraging career exploration
Professional, comprehensive projects are valued by busy professionals and hiring managers as an additional resource and meaningful skills-based hiring assessment
Experiential recruiting allows students to demonstrate their skills while trying on companies for fit, leading to bettering hiring outcomes and higher retention
Through collaborative hiring, hiring managers and team members are introduced to candidates earlier in the process supporting recruiting's efforts to fill the pipeline with qualified applicants
They're more cost effective than traditional methods.
Where a traditional process might cost anywhere from $35,000 to upwards of $490,000, Micro-Internship programs create 40-80% cost savings. See the math here!
Ready to reimagine your recruiting practices?
In our (kinda) post-COVID-19 world, Micro-Internships help drive company awareness, attract more applicants, and convert candidates to full-time hires.