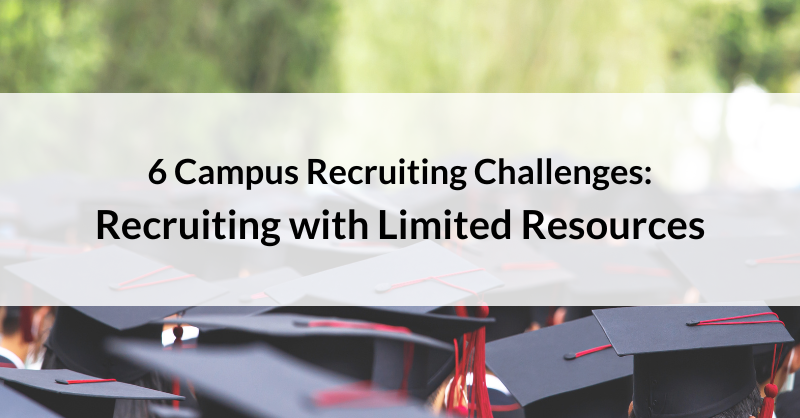 Recruiting with Limited Resources
In this series, we're covering six of the most pressing challenges facing campus recruiters right now. Stay tuned as we release a new post each week!
Identifying and engaging top candidates is tough. And for companies with limited resources, it's even tougher. When you're working with a lean recruiting team, a tight budget, or a jammed schedule that doesn't leave much time for campus recruiting, it's even more crucial to cut through the noise and stand out to high-potential talent. Unlike more traditional recruiting methods, Micro-Internships can help teams with even the leanest of resources build relationships with candidates and recruit more efficiently. Here's how.
Micro-Internships help employers optimize resources.
As we've highlighted before, traditional recruitment methods often involve significant financial investment, from lengthy internship programs to elaborate campus recruiting events. For teams operating with limited resources, these expenses can be daunting. Beyond the price tag, traditional recruiting is also time-intensive: travel to college campuses, hours spent reviewing application materials, various rounds of Zoom interviews. Teams with limited bandwidth might not be able to spare valuable time.
With Micro-Internships, employers invest only a fraction of the time and money demanded by typical recruiting methods. Companies on the Parker Dewey platform typically see 40-80% in cost savings on cost-per-hire when incorporating Micro-Internships into their existing processes. In 2022, $402 was the average cost per Micro-Intern. For companies that choose to leverage Micro-Internships as a hiring tool (like this one), this represents a huge cost savings. Plus, employers can strategically choose projects to meet business needs or assess for specific roles (i.e., a content creation project for a marketing candidate, or a candidate sourcing project for an HR candidate).
Micro-Internships help employers spread the word—without the cost.
On the same note of optimizing resources, through Parker Dewey, Micro-Internships are open to over 11 million degree earners on college campuses across the country. For employers who might not have excess funds to put towards brand awareness efforts, Micro-Internships allow employers to get in front of students. There's no cost associated with making an account on Parker Dewey, or posting a project; payment to your Micro-Intern only occurs upon completion of the project. (More on that here.) For employers facing budget constraints, the opportunity to access such a vast candidate pool is a game-changer. It's a means to ensure that even without a substantial financial commitment, companies can engage with a diverse range of talent and discover candidates who bring fresh perspectives and unique skillsets to the table.
Micro-Internships help derisk the hiring process.
Recruitment is not just about finding candidates; it's about finding the right candidates. Micro-Internships provide candidates with the opportunity to work on real projects, allowing you to assess their skills in action. This practical approach to skill assessment offers valuable insights into candidates' capabilities, helping you make more informed hiring decisions.
The short duration of Micro-Internships also encourages swift relationship building. Unlike longer internships, which require a more extended commitment from both parties, Micro-Internships allow you to engage candidates quickly. This rapid interaction gives you a glimpse into candidates' work ethics, communication skills, and cultural fit. As a result, you can identify promising candidates efficiently, avoid prolonged recruitment cycles, and more confidently extend full-time offers.
Micro-Internships help free up your HR team's time.
Unlike traditional recruiting methods, Micro-Internships can be facilitated by any member of your team. If you're a small organization with an underresourced recruiting team—or without a designated recruiting team, period—you can still leverage Micro-Internships for hiring. (I, for example, completed a Micro-Internship with Parker Dewey's amazing Vice President of Marketing in advance of being hired for a full-time role!) And with a Micro-Internship program, no matter who posts the project, everyone on your team gets access to the full list of applicants and the project manager's feedback upon completion to aid in the hiring process.
Interested in learning more about how Micro-Internships support teams with limited resources? Schedule a call with us!