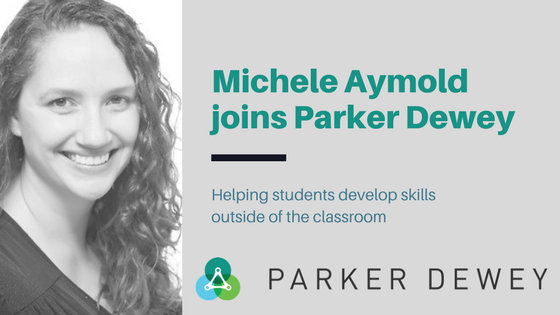 Welcome Michele Aymold: Parker Dewey Expands Leadership Team
It's official - this week I joined Parker Dewey as Vice President of Marketing and I could not be more energized! I started my marketing career in higher education, and helping students develop skills outside of the classroom has always been a passion of mine.
WHY PARKER DEWEY:
In my most recent role, I faced hiring challenges to build my team of young, talented marketers willing to work for lower pay in exchange for a fast paced environment with unlimited learning opportunities. At that organization, we relied on resume screening tools, assessments, and referrals to find and weed through applicants. What I found was I lacked confidence in both fit and skill. The result was that more often than I care to admit, I hired the safe choice--the person who knew a guy that knew a guy.
As a young female leader in tech, I wasn't being true to my value of giving diverse candidates a chance. And while I built an amazing team, I also wondered if there were other capable people who weren't making it to my inbox due to our initial screening process.
The data is solid: diverse teams lead to better business outcomes. But it's too easy to hire the guy who knows a guy. We have to lower the perceived risk of hiring an unknown or someone without the "right" major, school, or GPA; I believe Parker Dewey has built a viable solution for this.
HOW:
Parker Dewey helps professionals get work off their plate by utilizing college students and recent grads to complete these tasks. In two very real ways, Parker Dewey can lower the perceived risk from hiring an unknown: 1) by opening up single assignments to diverse candidates and those with non-traditional backgrounds, and 2) by allowing managers to easily build a pipeline of candidates that have done the work outside of an existing network.
For me, after first learning about the company I immediately thought of things like email list building, copywriting, and data segmenting that would have been perfect - they were valuable, but weren't the best use of my time. As a hiring manager, the idea that I could test drive candidates upfront and actually have some idea what it's like to work with them really resonated with me. I was also floored to learn that because Parker Dewey is not a recruiting firm, just a facilitator to match companies with ambitious students, there's no bill or finders fee for turning a project into a full time role.
ON HELPING OTHERS:
I've always believed that marketing at its core is educational -- that you must go beyond product features and buzzwords to actually help your audience. Great marketing gives more than it takes, making it easy to see how a company is more than it's product: it's a partner in your success.
At Parker Dewey, I hope to share real ways to help bridge the talent gap, improve hiring outcomes for entry-level roles, and--most important to me--demonstrate how experienced professionals can mentor and grow the skills of the next generation without leaving our desks or adding more to our agendas. My goal is to become your partner in success, whether you are a busy professional, hiring company, or career launcher.
HOW YOU CAN HELP:
Reject your hiring status quo, stop ignoring your "stuff I need to do, but isn't the best use of my time" list, and post a project for a college student or recent grad to complete. Maybe you'll get to share how your small project impacts the organization and teach a lesson. Maybe you'll give an underemployed new grad a glimpse at a path they hadn't considered. Maybe you'll adopt a new way to vet candidates. Maybe you'll just cross an item off that list.
For sure, you'll provide students with valuable experience that they can use to enhance their resume, explore career choices, and apply what they learned in the classroom.
I look forward to sharing more on Micro-Internships and how professionals can mentor career launchers to help bridge the talent gap. (You can sign up for blog updates to keep up with me!) Most importantly, I hope you will help Parker Dewey to bring this new model to the masses.