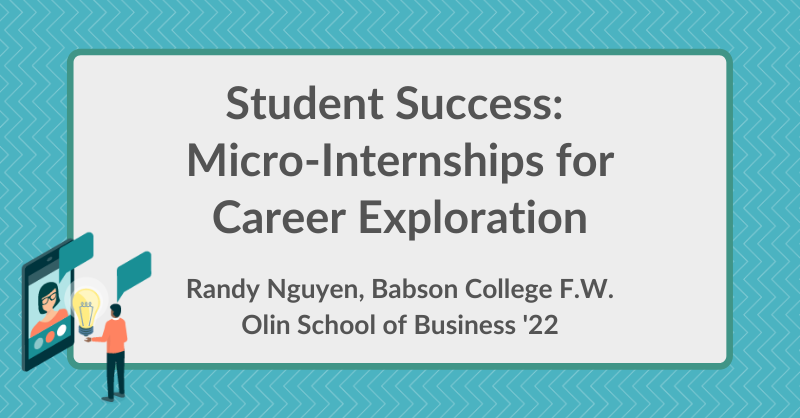 Student success: Micro-Internships for career exploration
Meet Randy Nguyen, a recent graduate of the University of Massachusetts Amherst, Isenberg School of Management & Commonwealth Honors College. Randy recently became a candidate at Babson College for his Master's degree in the MSEL program. Right now, he's exploring career options before his expected May 2022 graduation.
Before he was hired for his first Micro-Internship, Randy had the opportunity to connect with the employer. As Randy shares, this first conversation can be a great opportunity for a candidate and hiring manager to touch base—without the time commitment or stress of a formal interview.
Randy: The company CEO was very kind to me and it felt more like a 'get to know me' conversation than an interview. She got to know my background and was impressed with Parker Dewey helping set this opportunity up. She asked me, 'If I give you this opportunity, will this be your first shot at an internship?' I will forever remember that last wrap-up question and a few days later, I got a Parker Dewey notification that I was hired for a competitive analysis project!
Micro-Interns approach projects with different goals, from building skills, to gaining experience to put on a resume. With a major in Operations and Information Management, Randy was able build upon his academic work—but he also used the Parker Dewey platform to look for opportunities beyond his major.
Randy: I was searching for data analyst specific roles to explore if I can handle the role and work on gaining more knowledge. But at the same time, after signing up for Parker Dewey, and understanding more of what Micro-Internships are, I instantly decided to apply for roles beyond my major and explore other career options.
Randy notes that for Career Launchers, Micro-Internships are a useful tool for career exploration. Instead of committing to an industry, organization, or longer-term opportunity, Career Launchers can get a real feel for the day-to-day and the nature of the work.
Randy: Micro-Internships are like fast internship opportunities to explore career options for students that don't know what they want to do after graduation. But before a student commits to a certain career, they can use Micro-Internships to explore the role or industry to see if it's a best fit or if they need to pivot. The flexibility of the model allows students to try out many Micro-Internships without the repercussions of traditional internship commitment or full-time job positions.
Early-career professionals are often scared to make a mistake or hesitant to speak up. Because Micro-Internships typically run on a quick timeline, we encourage Micro-Interns to ask managers early and often when questions or challenges emerge—and Randy shares similar advice.
Randy: It is okay to mess up or be lost. Message the employer right away for some proper guidance. They are more than happy to help and they want you to succeed in your future professional career.
In his advice to fellow Career Launchers, Randy suggests framing a Micro-Internship as you would any other professional engagement: an opportunity to show an employer what you bring to the table. He also highlights the importance of asking for feedback during and post-project.
Randy: Pretend that Micro-Internships are an accelerated workload of the traditional three-four-month internship. Put in two or three times the effort into completing the project with all of your experience. Ask for feedback at the end on what you can improve on because it shows your performance quality under immense pressure if you were given a deadline in a full-time position. The feedback will help you see where you lacked or can improve to help you for your next job application.

The debrief discussion I had with the CEO allowed me to see how I should prepare myself for future employers. I learned how to present myself professionally and explain my work thoroughly to my employer. The CEO was impressed with the completed project because I went above and beyond to give my own personal recommendations and extra data that wasn't part of my duties within the job role.
Randy expects to graduate from Babson's F.W. Olin Graduate School of Business in May 2022.
Learn more about how Micro-Internships can help your teams grow!