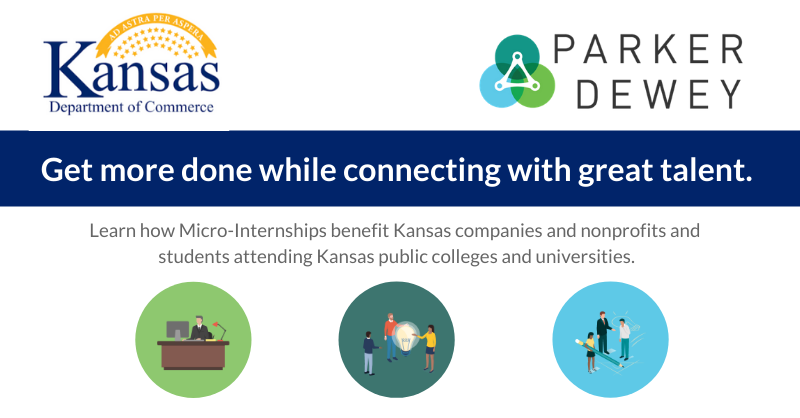 Introducing the Kansas Micro-Internship Program
Estimated reading time: Less than 4 min
We are excited to announce the launch of the Kansas Micro-Internship Program. This program is part of the Kansas Board of Regents' "Building a Future" strategic plan and the Kansas Department of Commerce's aim to "connect businesses, job seekers, educational institutions and training providers to ensure the state's workforce is equipped to meet industry needs and to help create economic success for Kansas residents and businesses.
Through this program, Kansas-based companies and nonprofit organizations that select a student who is currently enrolled in a Kansas public two-year college or four-year university is eligible to receive a 50% matching micro-grant up to $250 per project (for a maximum of two projects). There is no cost to students or colleges/universities to participate in this program.
Projects are posted on the Parker Dewey platform where students from across the state can find available opportunities and connect with projects both for this program and from hundreds of other organizations nationwide. Parker Dewey supports organizations by scoping out the projects; handling all HR, payroll and other administration for the project; and the organization can hire the student for a long-term role at no cost.
This collaboration is led by Tim Peterson at the Kansas Board of Regents, and we are also grateful for the support of Jennifer Alvarez and Leigh Anne Taylor Knight at the DeBruce Foundation and faculty/staff at the 30+ colleges and universities across Kansas for sharing information about this program with their students, employer partners, and other stakeholders.
If you are interested in learning more or getting involved, please read on.
What are Micro-Internships?
Micro-Internships are short-term, professional projects:
Typically require between 10-40 hours of work
Due within a few days to a few weeks
Exist in any department within an organization, in any industry
Posted year-round
While the projects may not be the best use of time for busy professionals (e.g., content creation, data cleansing, lead generation, etc.), Kansas' college students and recent grads are excited to gain professional experience. As a result, not only do organizations get on-demand support, but this also allows organizations to connect with local Kansas talent to see if the student is a good fit for a permanent role.
How Businesses Use Micro-Internships
Micro-Internships focus on solving the challenges many organizations are experiencing including:
Missed opportunities as existing employees have too many tasks and not enough time
Access to high caliber college students and recent grads who are excited about opportunities in Kansas
Ability to drive diversity, assess fit, and ensure successful hires


How to Get Started
If you are an organization (for-profit, non-profit, or government) based in Kansas:
Click here

to learn more and post a project

Click here to review a webinar with an overview about this program
Click here to access the webinar's slides
A list of FAQ's for organizations are available here
If you are a student attending a public college or university in Kansas:
Click here

to sign up for the Parker Dewey platform

and access these opportunities
Click here to watch a webinar with details about the program and tips for success
Click here to access the webinar's slides
A list of FAQ's for students are available here
If you are a faculty/staff member at a Kansas public college/university interested in learning more:
Click here

to access various resources for faculty/staff

to share with your students, employer partners, and other stakeholders
Click here to watch a webinar recording for Kansas college/university faculty/staff
Click here to access the webinar's slides
If you have any questions or we can help in any way, please click the link below or send us an email.