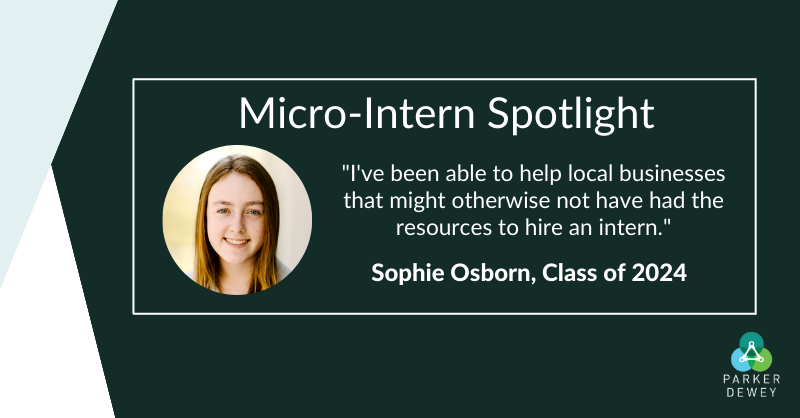 Micro-Intern Success: Kick-Starting a Career in Kansas
Sophie Osborn, a Marketing major at Kansas State University, faced some significant obstacles when she first started seeking out internship experience. Although Sophie knew she had a lot to offer and was eager to build her resume, many of the opportunities she found were focused on upperclassmen, and Sophie - a sophomore at the time - didn't qualify. She had hoped she could use her winter break to gain professional experience, but when she returned to her small hometown in rural Kansas, the only opportunities she could find involved manual labor.
While some students might have accepted this perceived lack of opportunity, Sophie was determined to keep searching, and that's when she found out about Micro-Internships.
Highlighting Hidden Opportunity
When Sophie described her initial struggles with finding internship opportunities, location and transportation were brought up repeatedly. She explained, "My school is in a college town in the middle of Kansas. A lot of companies are based an hour or more away and doing an internship in person just didn't seem feasible."
Unfortunately, Sophie's situation is not unique. A lack of transportation is often cited by students as a barrier to taking on an internship, and that lack of transportation becomes even more problematic the farther away internship opportunities are. Not only does this cause an issue for the students who are seeking experience, but requiring in-person engagement also unnecessarily limits the talent pool for companies in rural areas, giving students the impression that they need to leave the area to expand their opportunities, and resulting in brain drain.
Issues like these are exactly what the Debruce Foundation, Kansas Board of Regents, and the Kansas Department of Commerce came together to address via the Kansas Micro-Internship program. By funding Micro-Internships for Kansas-based organizations, this program allows companies - including small businesses or nonprofits who may not have otherwise had the means - to engage with Kansas-based students enrolled in public two-year colleges or four-year universities. This is allowing students the opportunity to gain paid, professional, project experience while also making them aware of the great companies and opportunities in Kansas.
Just as intended, when Sophie started looking at Micro-Internships on Parker Dewey, it not only allowed her to connect with companies who wouldn't have been accessible to her if they required her physical presence, but also opened her eyes to some great companies closer to her area that she hadn't known about before creating her account.
"A lot of the companies I've worked with, I've become aware of through my Micro-Internships. There have been a few big ones too that I had heard of, but didn't fully know what they do."
As of this writing, Sophie has completed more than a dozen of these paid projects, and is currently in the midst of an additional three. While Sophie has applied for and been selected for projects outside of the Kansas program as well, she highlighted that having access to so many project opportunities in her home state has been meaningful.
"I've been able to help local businesses that might otherwise not have had the resources to hire an intern. Working with the nonprofits has been especially rewarding."
Allowing Companies to Recognize Potential
Sophie and other Kansas students like her aren't the only ones benefiting from this program. The companies involved have also been able to use these Micro-Internships as a low-risk way to audition talent for longer term roles. In fact, one of the first projects Sophie did ended up keeping her on as a regular intern. Although the firm is two hours away from Kansas State University, the remote Micro-Internship project allowed the company to determine that Sophie could accomplish the work without physically being present, so both parties felt comfortable extending the relationship. Sophie shared, "It's a great company and they've been a fun team to work with."
From Sophie's perspective, the flexibility has been crucial in her being able to take on so many projects. She explained, "I'm very involved at school. I'm in leadership roles in multiple clubs, I work on campus, I'm a social media manager for a foundation in Boston, and I'm in a sorority. It's a lot to balance, and it's difficult to commit to something long-term."
Thankfully, the structure of Micro-Internships, as well as Sophie's project supervisors, allow for that flexibility. "If things come up, my supervisors have always been very understanding," Sophie shared. "It's been really helpful getting to practice the communication and interpersonal dynamics of working with a supervisor."
That stated, neither Sophie's busy schedule nor being remote have stopped Sophie from developing real relationships with her Micro-Internship supervisors, or from making meaningful contributions. She shared, "For one of the projects I've worked on, the company said it's so impactful that they call the project the 'Sophie Spreadsheet'. I love knowing I've made an impact and that it's appreciated."
Getting to Know Herself through Micro-Internships
Once she realized all the opportunities that were available through Micro-Internships, Sophie wasted no time in using the projects to help clarify her own career goals.
"I went into college knowing I wanted to major in business, but I had a lack of exposure to the different areas. These projects allowed me to see firsthand. In one I got to do merger and acquisition research. Another involved social media long-term strategy. Right now I'm doing a mystery calling one. I've really enjoyed being able to get experience and insight in a lot of different areas. It's also given me a big leg up as I apply for traditional internships this coming summer, because I have all this experience to show potential future employers."
While Sophie still has a wide range of professional interests, her Micro-Internship projects have also helped her rule out some career options. She explained, "I've realized that I tend to gravitate to the creative side instead of the analytical, and that's nice to know about myself before spending a whole summer on something."
Helping Dreams Come True
Sophie made it a point to highlight the importance of pay in the Micro-Internship model, saying, "The financial aspect was key. I was struggling to find jobs that I could make work around my other commitments, so it's been super helpful to be able to work on my own schedule and get paid. It's taught me a lot about remote work and I've improved my time management skills as a result."
Sophie had specific plans for her Micro-Internship spoils, and spent the bulk of her pay this past summer on a study abroad trip to Scandinavia.
"Sweden and Denmark were amazing, but they were also very expensive, so what I earned with Parker Dewey projects helped me fully immerse myself in the experience. I was even able to do a project while I was abroad!"
Advice
As Sophie continues to engage in projects, she encourages more companies to follow the example of the 17 she's already connected with through Micro-Internships. She highlighted, "It's a low-risk way to test a potential intern or hire. I also know some of the companies I've worked with appreciate having things that have been on the backburner for ages finally get done by a Micro-Intern."
For her fellow students, Sophie said, "I definitely recommend applying. Have clear communication with your supervisor if you get selected, and that can help you build skill sets that will really set you up for success."
Sounds like great advice to us!
---
If you are a Kansas-based organization who wants to work with amazing students like Sophie, click here to learn more about the Kansas Micro-Internship Program and post your project today!