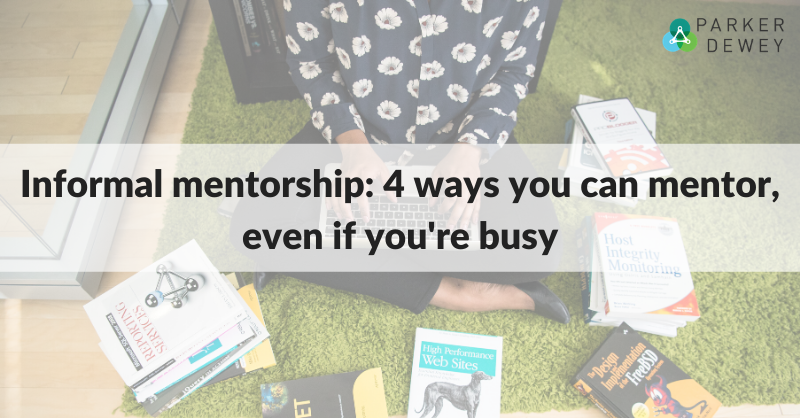 4 Ways You Can Mentor Even If You're Busy: Informal Mentorship
Mentoring is a two-way street: I've found you learn a lot about yourself and your beliefs when you're teaching and sharing with someone else.
Even though I've been involved in formal mentorship programs over the years I've never had a formal mentor myself. Instead, I've had to learn directly and indirectly from those around me.
If you have an entry-level team, utilize interns, or are considering launching a Micro-Internship program, here are a few ways you can actively be an informal mentor:
Tell Them Why
One of the easiest ways to coach someone is explain why a project or task is important. It can be hard to see the big picture, especially for someone new or inexperienced working on just a single piece of an overarching strategy. We all hate busy work, but conveying how a seemingly small or rote task will add value, make the team more effective, and impact the business overall can help ease the pain of the less-glamorous assignment.
Be a Role Model
If you value learning and growth, make sure your employees and co-workers see you reading and searching for answers. I've encouraged new hires and established team members alike to block time on their calendar to learn and I continually try to squeeze in this time myself. While the relationship may begin because someone sees you as an expert, I like to remind others (and myself) that my viewpoint is just one of many perspectives.
Offer Support
Sometimes all it takes to be a good mentor is to stop talking and start listening. Often, we need a sounding board to help us process thoughts, ideas, and conflicts. I've always appreciated a reminder that I know what I should do when confronted with a situation, and as a result, try to offer the same advice in return after taking the time to listen.
Ask Questions
Renowned motivational speaker and marketing consultant, Simon Sinek, put it best when he told the world to "Start With Why." Whether you are just getting to know someone, or figuring out if there are ways you can better support them, asking "Why?" helps to uncover values, biases, and assumptions. From there, you can better guide or direct your team member.
While a formal mentoring relationship can be time consuming, making time throughout your day to share, tell, and teach junior team members and career launchers can be extremely beneficial and rewarding.