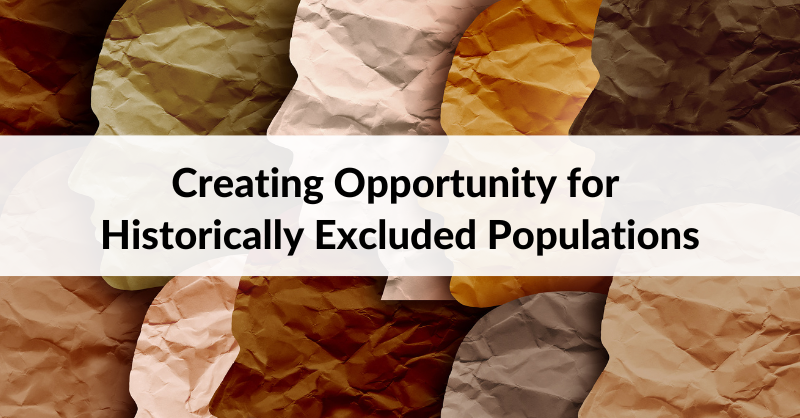 Creating Opportunity for Historically Excluded Populations
Daniella Flores, the Wayfinders Program Coordinator at John Carroll University, details how their program and partnership with Parker Dewey has expanded access to paid, professional opportunities for students from historically excluded populations.
The First of its Kind
Every institution has a mission and values, with some doing better jobs of living up to them than others. For instance, John Carroll University, a private, Jesuit institution in University Heights, Ohio, describes itself as a campus dedicated to responding to demographic, economic, and social challenges. In itself, there's nothing particularly exceptional about this as a core value for an academic institution. How John Carroll University stands out from the crowd, however, is the way in which it has taken this value and put it into practice with the Wayfinders Program.
The Wayfinders Program, housed under the Center for Student Diversity and Inclusion, is a unique initiative dedicated to improving professional readiness for historically excluded populations. So unique, in fact, that it's the first and only program in the United States of its kind housed by a multicultural office. The program accomplishes its goals through a combination of workshops, advising, networking opportunities, and Micro-Internships.
In 2020, the program began when the center was awarded a grant from the Cleveland Foundation's Fenn Educational Fund to be spent over the span of two years. With that grant, the center was tasked with providing more equitable opportunities for students and alumni from historically excluded populations, including those who have disabilities, are of color, LGBTQ+, first-generation, or come from a low-socioeconomic background.
Daniella Flores, an alumna of John Carroll University herself, has been managing the program since December of 2021. Her goal is to see these students leave John Carroll and begin their careers feeling prepared and secure in the fields that they've chosen.
The Role of Micro-Internships
Daniella explained that the target demographics involved in the program are likely to be working multiple jobs, making it difficult to find time for career related experiences. That's why Micro-Internships - paid, professional, deadline-driven projects - are a key part of the Wayfinders Program.
"Micro-Internships are really great for those students who can't afford the time to switch majors but are recognizing a new interest. Some students have even added a new major or gone ahead and decided to make a switch after doing a Micro-Internship because that experience gave them the confidence to do so."
For other students, these projects act as a confirmation of existing career goals, which was the case for Rivera Cruz, a Junior at JCC and aspiring congressman. Rivera has done two Wayfinder Micro-Internships involving data analysis and immigration, and shared that their experience not only helped them solidify their career goals, but also gave them a starting point in their career journey.
"I didn't know where to start and Micro-Internships were a first, simple step. Being a first generation student is difficult. Your parents don't know how to help you. I had to figure it out, and the Wayfinders Program and my Micro-Internships have helped me do that."
In addition to the benefits of career exploration, the flexibility of the short-term remote projects plays a significant role in Micro-Internships' appeal and accessibility. Daniella explained why this is crucial for the students the Wayfinders Program serves.
"Students are doing a lot. They need some flexibility, and these Micro-Internships provide them with that. They can still work that full-time job that they need to afford tuition, but they can also feel confident perhaps working a few less hours at that job while getting career-related experience at a paid Micro-Internship." In Daniella's words, "The ability to make their own schedule is huge."
Rivera seconded this sentiment, explaining that they were already working a full-time job when they took on their second Micro-Internship, but that the flexible nature of the project made it easy to balance.
"I believe this is the best program for those who have packed schedules but want to gain job experience on their time."
Rivera went on to share that they credit their impressive resume to their Wayfinders Program experience, and that the networking opportunities it allowed for were just the cherry on top.
The Wayfinders Program has only increased the level of flexibility for students and recent graduates since the program's inception, allowing for 40-hour projects over the summer when participants tend to have more time as opposed to the 20-hour projects available during the academic year.
Considering students' schedules when determining project durations is far from the only work Daniella does behind the scenes to make sure these are valuable and accessible opportunities.
How Companies Get Involved
Before students get to see and apply for the projects, Daniella interviews the hosting companies to explain the program and make sure both the project and the organization are a fit. While the companies are expected to offer mentorship and guidance, they are ultimately getting project support from a talented John Carroll University student or recent graduate at no cost to them. Daniella shared that she's even had companies reach out to her about hosting projects.
"Once companies understand the concept, they're typically excited to get involved."
While the Wayfinders Program works with companies big and small, all the Micro-Internship host organizations are locally-owned, and Daniella takes special care in seeking out businesses and non-profits that are owned or managed by women, minorities and/or alumni. When asked about other criteria for selecting partners, Daniella explained that it's all about the students' interests and career goals.
"I want to make sure students will benefit from these projects not only financially, but also in terms of career development."
To ensure that these goals are being met, Daniella carefully reviews each project before it is posted, and also collects feedback from students, ensuring that the sites are offering high-quality experiences.
Making it Easy - Involving Parker Dewey
When companies are approved to participate, their projects are posted to Parker Dewey, where students who are part of the program can view opportunities and begin applying. When asked why they chose to partner with Parker Dewey for the program, Daniella's quick response was that it made things easier: for supervisors, students, and for Daniella herself.
Daniella knows that posting the projects on Parker Dewey is simple, and she appreciates that the platform has reminders to make sure payment amounts are fair. She expanded, "We want to make sure we're feeding our students' financial needs while helping with their career development goals, and those reminders help accomplish that."
Daniella also appreciates that housing the projects on Parker Dewey means that Wayfinders Program students are exposed not only to the projects available through the program, but also to all the other projects companies from across the United States have posted to the platform.
"Some come to the platform looking for Wayfinders Program opportunities and secure projects outside the program, while others hear about Parker Dewey and then find out about Wayfinders. It works out well either way."
Rivera had the former experience. While they first came to Parker Dewey looking for Wayfinders Program-specific opportunities, Rivera shared that they now check the platform multiple times a week with the goal of applying to any project that catches their interest, regardless of the source.
On the employer side, Daniella also appreciates how easily she can see student applications through her Parker Dewey account, and can't say enough good things about the data she can request as a Parker Dewey partner.
"I can see how many students have created accounts and how many students have applied. I get all the data in a simple Excel sheet. It makes it really easy to show that our program is growing and having an impact."
Celebrating Success and Looking to the Future
Daniella highlighted some of what the program had been able to accomplish in just two years of funding:
53 John Carroll University students and recent graduates from historically excluded populations have engaged in Micro-Internships.
Those Micro-Internships have resulted in 860 hours of flexible, paid experience.
19 of those projects have led to some form of additional or longer-term opportunity.
This summer, Daniella highlighted positive outcomes like these and the data provided by Parker Dewey to reapply for funding to continue the program through the 2022-23 academic year.
Not only did the Cleveland Foundation's Fenn Educational Fund decide to fund the program for another year, but they also decided to award the Wayfinders Program upwards of 50% more than what they had requested, with the goal of allowing Daniella to create even more Micro-Internship opportunities. Daniella was simultaneously shocked and thrilled to receive the Fenn Foundation's decision.
"We're excited to be able to meet demand and offer even more of these paid experiences."
Due to Foundation limits, the Wayfinders Program will not be able to reapply for additional funding after this year, but based on the obvious positive impact demonstrated in the data as well as the increase in demand, Daniella is optimistic about finding future sources of funding, whether from other sources or the university. She shared, "We're trying to find ways to incorporate this into the fabric of John Carroll permanently."
Advice for Other Institutions with Similar Goals
For those looking to begin similar programs, Daniella's first recommendation is to do plenty of research. She shared that there are lots of organizations out there that provide funding, so it's important to search regularly and to use all the keywords of the populations you're trying to help. She also recommended searching for scholarships for those same populations, because the same sources often have grants available as well.
Regarding grant applicants, Daniella encourages others to make sure they have a clear understanding of their own goals before they apply, because that will help them make their grant proposals as clear and concise as possible - a strategy that has clearly served Daniella well.
Daniella also urges offices not to ignore the importance of institutional knowledge. Like many colleges/universities, her office has seen a fair amount of turnover in the past few years. Accordingly, she made it a priority to seek out campus partners who could give her context about the program and other campus efforts that took place before she started. She advised, "Partner with somebody who has been at your institution for more than three years if you haven't been there for that long yourself, so you can understand what your organization has done to try to address issues and how well that has or hasn't worked."
On the topic of partners, Daniella also strongly recommended that anyone looking to run a program involving Micro-Internships consider a partnership with Parker Dewey.
"It's just me running this program, and working with Parker Dewey is like having another person on the team. They always get back to me same-day. If you have a pressing need, a question, or you're applying to a grant last-minute, they're going to get back to you quickly and with helpful responses."
---
Parker Dewey is honored to partner with colleges/universities, workforce development organizations/chambers of commerce, and other mission-driven organizations focused on creating more equitable and accessible paths from college to career. To learn more about Parker Dewey's partnerships and how your organization can get involved, click here to set up a meeting with our Director of Partnerships.