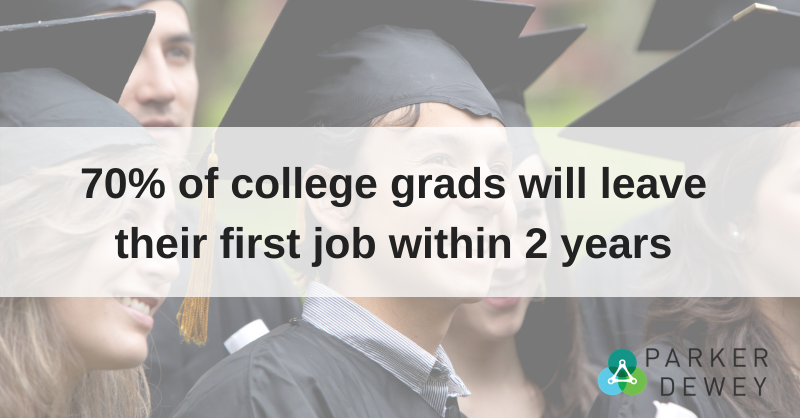 Is your entry-level hiring strategy broken?
There's something clearly wrong with most companies entry-level hiring strategy. Given that 55.3% of recent college graduates will leave their first job within the first year, and 70% leave their first job within two years, the evidence is clear that most companies have a broken strategy.
Although changing jobs has become easier through innovation in HR tools (no longer do individuals scour classified ads or mail resumés), Gen Z has a different view of their career as compared to the generations that came before them. While some claim it is about their work ethic or desire to do gigs instead of having a steady job, we know from working with thousands of college students and recent graduates that this is incorrect. The reality is that technology provides these Career Launchers with an increased awareness of alternatives that better match their interests.
Since they're your company's future, you need to adjust your hiring strategy to align with the ways Gen Z will choose jobs and their expectations once they begin work. Despite their best efforts to accommodate Millennials, many companies are still falling short when it comes to entry and junior-level recruitment and retention.
If your company can answer "yes" to one or more of the following questions, it's time to rethink your entry-level hiring strategy.
Are you experiencing high turnover among your entry- and junior-level employees?
Are you overlooking diverse talent and missing out on the potential diversity holds for your company's performance?
Is your hiring strategy causing you missing out on top talent?
Signs your entry-level hiring strategy is broken
High turnover among your entry- and junior-level employees
A high rate of entry and junior-level turnover, whether voluntary or involuntary, is a clear indicator of a broken hiring strategy.
Voluntary turnover is often a sign that the employee did not get what they expected out of their position. On the flip side, involuntary turnover typically indicates that, in one way or another, the employee didn't meet the employer's expectations or the requirements of the job. In both of these instances, the candidate vetting process failed to identify the right fit for the position.
It goes without saying that turnover is expensive. You've likely heard the figures: it costs, on average, 20% of an employee's salary to replace them. But the costs are often even more significant when you consider the fact that high turnover undermines productivity and hinders workplace culture and team dynamics.
To detect a turnover problem before it gets out of hand, make sure you're assessing your company's retention statistics on a frequent basis––an annual analysis isn't enough. You should also evaluate the data based upon specific segments such as tenure at the company, years of prior experience, etc. Expected turnover rates vary by industry, but if you find that turnover is consistently above the national average of 16.7% you may have a problem.
Using segmented data, you may also want to evaluate if different recruiting channels, specific colleges, majors, GPA, etc. perform better when it comes to identifying talent that lasts.
Overlooking diverse talent and missing out on the potential diversity holds for your company's performance
Your company will never achieve its diversity goals if you're not hiring diverse entry-level talent. If you're retaining and developing talent the way you should be, entry-level employees will one day become mid-level managers and eventually, senior leadership, so diversity must begin with them. A lack of diversity at among junior employees is another indicator that your entry-level hiring strategy is not as effective as it could be.
But is diversity really that important? In a word: yes. Research from McKinsey indicates that racially diverse companies perform 35% better and gender diverse companies perform 15% better than national industry medians. The research further indicates that diversity in age, sexual orientation, and global mindsets also have an impact on company performance.
If your company is consistently hiring entry-level talent from the same universities, staffing firms, or other sources, you're limiting your opportunity to realize benefits like these. It's time to rethink the ways you attract, identify and secure entry-level talent.
Missing out on top talent
For your company to achieve its full potential, you need high performers at every level. But unfortunately, many companies fail to establish a solid entry-level hiring strategy and treat entry-level recruitment as an afterthought. The extreme care and vetting that goes into hiring executives and middle managers is tossed aside, and junior candidates with attractive GPAs and alma maters are selected over individuals who may have more grit, enthusiasm or other, less tangible skills and aptitudes.
Have you ever hired an entry-level candidate who ended up being a poor performer simply because you were impressed by their academic credentials? Does it seem that your competitors are getting more value from entry-level employees than you are? These are clear signs you need to rethink your entry-level hiring strategy.
Google's senior vice president of people operations, Laszlo Bock, is a vocal advocate for looking beyond the resumé to find top entry-level talent. In an interview with the New York Times, he explained: "One of the things we've seen from all our data crunching is that G.P.A.'s are worthless as a criteria for hiring, and test scores are worthless — no correlation at all." And his company's missteps prove that interviews might be worthless, too. After a study of their hiring processes, Google found there was no relationship between a strong interview and strong performance on the job. What if the perfect prospective candidate is just having an off day?
It's time to begin looking beyond a candidate's alma mater and on-paper credentials. It's also time to begin diversifying the fields of study you hire from. Forward-thinking companies like Accenture are already leading the charge in this direction. They employ a hiring strategy that emphasizes selecting entry-level employees based on "potential and a broad skill base, not specific expertise or perfect qualifications," and more companies need to follow their example. If a candidate is enthusiastic and convinced that the skills they've acquired through their school and work experience will prepare them well for your open position, give them a chance to exhibit them and convince you as well.
If you answered yes to any of the questions above, don't wait to begin making improvements to your entry-level hiring strategy and processes. Investigate new ways to assess fit, diversify recruitment streams, and secure top entry-level candidates, even if they don't fit your typical employee profile.
Gigs and project-based assignments are an effective (and often overlooked) way to get to know prospective entry-level hires and allow them to get to know your company before you make an offer. What better way to understand a candidate's potential than to see them in action? And what better way for a jobseeker to envision what it will be like to work at your company than to actually try it out? These Micro-Internships also make it easier to reach talent at universities where you don't typically recruit, and by casting a wider net than you could through internships or other traditional entry-level hiring streams, you'll discover top performers you would have otherwise overlooked.
Post a project with Parker Dewey today, and you might just meet your next perfect entry-level team member.