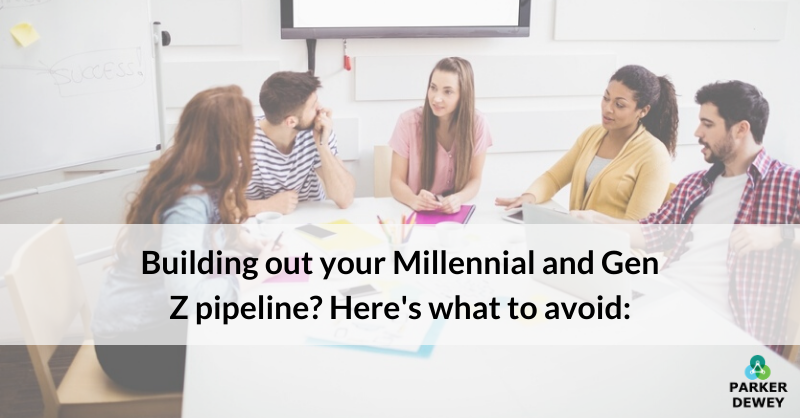 What NOT to do when building your Gen Z & Millennial talent pipeline
Are you having trouble retaining your company's entry-level employees? So is everyone else. According to Gallup, Millennial turnover is costing the US economy more than $30 billion every year. Clearly, there's something very wrong with the way many companies have been recruiting, hiring and attempting to engage Millennial talent, and it will only get worse as Gen Z joins the workforce.
We've all read about what you should do when it comes to hiring tech savvy Career Launchers for entry- and junior-level roles. But as you build your entry-level talent pipeline for your company, here's what NOT to do:
DON'T let your judgment get clouded by an attractive resumé
When you meet a candidate who just graduated from a prestigious university with a 4.0 GPA and an impressive set of internships on their resumé, it's easy to get swayed into thinking they'll be a perfect fit for your company. But we've all had these "ideal" candidates fall short on the job due to low performance, poor fit, or both.
A resumé just isn't an adequate indicator of actual job performance and potential. Many skills––especially soft skills like drive, passion, and genuine interest in a position––won't show up on paper. To avoid making the mistake of judging a book by its cover, consider testing entry-level candidates for your talent pipeline through short-term assignments. Not only can you evaluate the individual jobseekers, these Micro-Internships (like those on Parker Dewey) can provide your existing team with immediate support.
DON'T underestimate the importance of cultural fit
Sure, "cultural fit" might feel like the HR buzzword of the year (or decade). But it really does have a business benefit. Studies have shown that employees with a better cultural fit:
Perform better on the job

Are more committed and more likely to remain with their employer

Have more job satisfaction
According to SHRM, turnover as a result of poor cultural fit can cost a company 50-60% of an employee's annual salary, so you want to be sure a candidate is a fit before you make an offer. Take time to define your company's culture and the type of prospective employees that will fit within it and strengthen it. It's also important to find Gen Z and Millennials for your talent pipeline that fit both with the culture you have now and the culture you envision for the future; your entry-level employees are your future leaders.
DON'T neglect diversity initiatives
Achieving cultural cohesion in your company does not mean neglecting diversity and inclusion. In fact, the opposite is true––there is a linear relationship between employee satisfaction with company culture and diversity. Even more interesting, the same sort of relationship exists between diversity and overall company performance. Racially diverse companies perform 35% better and gender diverse companies perform 15% better than national industry medians. The benefits expand beyond this when one includes individuals from diverse backgrounds, colleges, and other factors.
You want your entry- and junior-level talent to grow with your company, so the Career Launchers you engage with to build your company's talent pipeline should be diverse enough to match your company's overall diversity and inclusion goals. But if you continue recruiting talent from the same set of schools as you always have, meeting your diversity goals will be tough. Recruit Career Launchers from as wide a variety of universities and alternative backgrounds as possible. Working with Parker Dewey's diverse Career Launchers can be a great way to get started as it lets you understand the benefits prior to committing to a full-time hire, internship, or change to your recruiting strategy
DON'T rely solely on traditional internship models
One of our clients once compared internships to dating. You want to get married someday (or make a full-time hire), but know you shouldn't jump into that big of a commitment before first getting to know someone, and there are a variety of ways you can and should do so.
Of course, internships are great, but they're not the only way to find and get to know the best entry-level talent for your team. Continuing with the dating metaphor, jumping right to an internship can be like getting engaged before ever even going on a date. So to make internships more effective, you can combine them with recruiting methods like:
Company challenges

Semester-long consulting engagements

Project-based consulting and Micro-Internships
Read more about each of these tactics for recruiting entry- and junior-level talent for your Gen Z talent pipeline in our eBook on new strategies for improving entry-level hiring outcomes.
DON'T ignore the input of the rest of the team
The fact that you "clicked" with a prospective hire during their interview doesn't mean they'll mesh with the rest of the team you expect them to work with. Unfortunately, an interview setting isn't a great indicator of how well a candidate will jive with an existing group dynamic.
Give members of a prospective hire's future team the opportunity to engage during the vetting process before making a full-time or even internship offer. Doing so gives you a chance to assess team dynamics early on and might help existing employees feel more engaged and involved as well. Ideally, this goes beyond just interviews by other members of the team. Look for opportunities to have them join a team meeting or a discussion with an existing customer, or execute a stand-alone assignment.
DON'T start recruiting only when a vacancy or need arises
Hiring mistakes often happen when you try to fill a role too quickly. It can be tempting to compromise when workloads are mounting and the capacity of an existing team is dwindling.
To avoid forcing a square peg into a round hole, don't wait until you have a vacancy to start cultivating your talent pipeline. Instead, engage entry-level candidates who are both eligible for full-time roles and available to help with one-off needs until something opens up. This is yet another area where Parker Dewey's on-demand talent can help.
If you're trying to build your Gen Z talent pipeline in preparation for future needs and challenges, start testing prospective hires on Parker Dewey today. Through Micro-Internships with Career Launchers, you can test prospective team members for skill and cultural fit, find diverse talent, and avoid common pitfalls of building that talent pipeline.