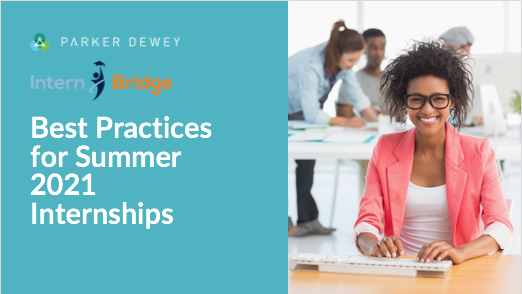 Best Practices for Summer Internships 2021
Update for summer 2022: While this summer's internships programs are bound to look different from the two summers before, we know for certain that the way we work—and the way we introduce early-career talent to the workforce—has changed. Read on for tips from last summer that we believe still apply to this upcoming one.
---
There's still uncertainty about what will take place this summer given the continuance of pandemic-related office closures. And while you may have "gotten a pass" last year as every organization scrambled to adapt internships to the remote-work environment, this year students expect companies will be ready to welcome them in-person, remote, or as part of a hybrid program.
Parker Dewey CEO, Jeffrey Moss, sat down with Intern Bridge CEO, Robert Shindell, Ph.D., to share best practices for ensuring this year's internship programs -- in whatever format they take -- are a great experience for students and organizations alike. Read on for a recap of the conversation or watch the replay now.
On top of common challenges facing human resources and recruiting teams like reneges from students who found other opportunities since initial acceptance, unfilled roles still open, new requests from managers, and commitments to diversity, companies will also need to overcome Zoom fatigue from students and employees alike who have relied primarily on virtual meetings over the past year. Despite these challenges, internship programs can be successful by putting a strong emphasis on four key components of the experience.
Cultural Transmission
We often hear organizational culture most often in terms of "culture fit," however the concept of culture fit can be easily misconstrued as contrary to inclusive work environments. Instead, according to Shindell,
organizations should create opportunities for cultural transmission: how can we share not just what we do, but who we are as a company and how we want to be in the future, when today's interns are considering full-time roles.
In order to do this in a way that goes beyond just talking about corporate mission and values, intern managers should identify thoughtful activities that highlight the culture they want to nurture. For example, organizations that value collaboration should be mindful of including team-based projects in their intern's responsibilities. Similarly, organizations that encourage a culture of leadership should find opportunities for interns to make presentations to other employees, run meetings, and even organize events throughout their summer experience.
Meaningful Work
For anyone early in their career, providing opportunities to understand how individual tasks and responsibilities relate to the greater organizational mission is critical. Too often, hiring managers think about the "busy work" they can pass off to an intern. As HR and recruiting leaders, it's important to encourage managers to demonstrate both the crosswalks--how skills learned in the classroom are applied in the workplace--as well as the "why." For example, data entry is a common entry-level task across industries. Left alone to complete the task, an intern may not appreciate the value this seemingly menial task offers. Instead, managers should take the time to explain both the implications of inaccurate data and the positive outcomes associated with having correct data in the systems, including how the data impact other departments and outcomes down the line. These bite-sized learning experiences may take just a few additional minutes when it comes to delegating and explaining a task, but have positive impacts on the intern's overall evaluation of their experience and enhance their feeling of supporting an organization's mission.
Professional Development
Whether the internship is the first job a student has ever had, or it's one of many experiences someone launching their career has collected, another key component of your internship program is providing opportunities for interns to learn and grow. While your organization may choose to do structured professional development training throughout the course of an internship, or take a more laissez-faire approach leaving development up to individual managers, establishing clear outcomes can be beneficial to students. Consider taking a play directly from higher education and creating an internship syllabus to help managers define the core competencies, responsibilities, and outcomes a student can expect to master by the end of their internship. Moreover, Moss adds that
development opportunities don't need to be limited to your department.
By creating opportunities for an intern to work on projects that go across teams - and sharing what skills the intern will use, develop, and be assessed on - you can combine professional development with meaningful work experience. This approach helps managers too: reframe the perception of what an intern can do with your internal team. This isn't someone your managers need to "babysit," but instead is someone who is ready to apply their classroom mindset to provide value to managers.
Mentoring and Relationship Development
The final component to creating your best internship program is helping your interns and team develop authentic relationships. For inexperienced managers, help them understand the difference between mentoring and "volun-telling." Your team should go beyond simply sharing what they do in a typical day or why they chose your company, and instead find organic opportunities to discuss work and life. This could be a structured opportunity for interns to share their work, what they learned, and what they may do differently next time with someone other than their manager. Or it could be built into professional development where your team can provide feedback to the intern on where they are, where they could continue on into a career, and how your organization will support them. Both Moss and Shindell highlight how Employee Resource Groups can be a great source for connecting interns with employees who may not be in their department, but have similarities.
Final Thoughts and Things To Do Now
Take the time now to identify what experience you want the interns to have and know that when you plan for the experience, it should be easy to pivot how you deliver the experience should the unexpected happen.
Now is also the time to create a "Plan B" for reneges, new open roles, or additional needs.
By utilizing Micro-Internships, you can help support your existing team now, and should you end up not needing additional interns, you'll have a head start on building your candidate pool for next year.
Finally, don't overlook ERGs/BRGs as a way to connect existing employees with interns to build authentic relationships. Download our quick start guide for launching Micro-Internships with ERGs.