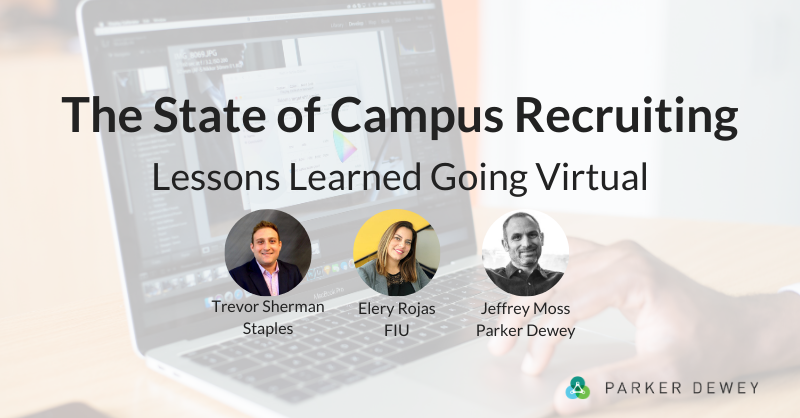 Winter 2021: Lessons Learned Going Virtual
The fall of 2020 brought novel challenges to recruiters, institutions, and students alike. In the wake of COVID-19, companies and universities were faced with making an entirely new playbook on how to carry out operations as normally as possible. Recruiting became virtual, businesses struggled to connect with students, and students contended with the challenge of engaging with companies without the help of in-person career fairs or internships.
In our winter 2021 edition of The State of Campus Recruiting, Jeffrey Moss (Founder & CEO, Parker Dewey), Trevor Sherman (Senior Recruiter of University Programs & Corporate Functions, Staples), and Elery Rojas (Assistant Director of Internships for Employer Engagement, Florida International University) discussed lessons learned going virtual from the perspectives of employers and universities. They examined topics such as: what worked well in the fall, the challenges they faced and how to overcome those challenges, diversity strategies, and advice for the spring recruiting season.
The following is a synopsis of the conversation, including some of the key takeaways and quotes from the panelists. In addition, the replay is now available on demand.
Reflecting on the Fall: Successful Strategies & Programs
Jeffrey: This fall was obviously an unprecedented situation, but what was such an honor was seeing how much the companies and the schools really stepped up. They found ways to make it work. What do you think worked well during this crazy year?
Elery: The ability to adapt, number one. Also communication: communication with students, communication with employers, communication with staff. And just being able to really accommodate all the needs because some events got shut down completely, along with internships.
Trevor: The flexibility that I saw with the students and the level of understanding that they had with us, because we don't have a clear sense of direction either. It's new ground for all of us. This level of understanding was really instrumental and really refreshing to see. Also, the continued engagement that we saw with our business partners and Staples to go that extra mile to make sure that their interns were well taken care of. They are checking in making sure that the intern doesn't have any questions, making sure that the team is doing the same.
Jeffrey: What programs did you find most beneficial in recruiting students this fall?
Trevor: The best thing we were doing was going to student organizations and partnering with clubs on campus like "Women in Computer Science." We were able to have workshops with them, and guided info sessions around how to make the transition from college to corporate. Letting our advice do the talking for us so that the student feels motivated on their own to look for opportunities with us.
Elery: I think being able to see more than 5 companies at a time. We had so many different open houses, mini fairs, industry nights, and industry programs that we have been able to open that door to so many companies. There is no one Zoom event that is the same as the other. The students love the fact that they are able to talk to the employer and the recruiter one on one.
Key Takeaways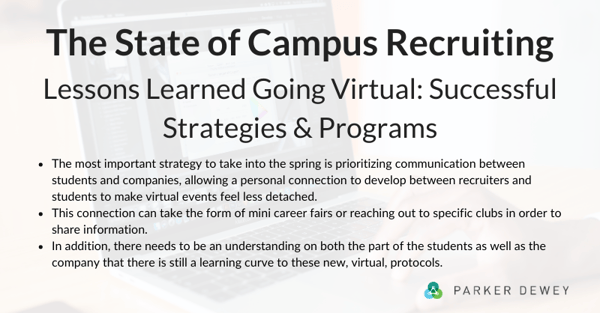 Fall Challenges & How to Overcome Them in the Spring
Jeffrey: What didn't work out last year, specifically for Staples, and how are you responding to it? Are there lessons learned?
Trevor: Something that we saw a big challenge with was social connection. When you're onsite with an internship program, it's a lot more connected and a lot more face-to-face. It's entirely more face-to-face. There are pizza parties, there are ice cream socials, there are event field days. When it's virtual, it takes a lot more effort on the part of the interns to connect with each other and on our end as University Recruiting to make sure that we are providing enough opportunities for the interns to interact with each other, both with us present and without us present. That is an area that we have a lot of opportunities to grow next year.
Jeffrey: That has been very consistent with all companies. Can you share any previews of some of the stuff you have on tap to overcome that in the coming year?
Trevor: I think we will be doing a lot of coffee chats. We did them once a week over the summer and they were very successful. We are going to have more opportunities for the students to connect with each other without me present. I got the feedback that, because I'm a representative of Human Resources, that they don't feel like they can be as open with each other as they can without me there.
Jeffrey: Yeah, that's how you replicate the informal gathering at a lunch or a bar or that kind of experience. But all of that is once the students are actually in and working on the internships. One of the things we are hearing from a lot of companies is how difficult it was to engage the students through all the noise. Everyone is sending messages, everyone is trying to have interesting content. How do you get through it to engage the students in a remote way, and what are you doing this year with regards to that?
Trevor: As far as when the recruitment starts, we rely heavily on brand recognition that not every company has. To supplement that, we have done a lot of work when we reach out to students through platforms like Handshake, doing those virtual career fairs and info sessions. We also heavily rely on word of mouth.
Jeffrey: Elery, you have the opportunity to see a variety of different companies trying to engage the students. Where are you seeing employers go beyond posting on Handshake to step up and find creative ways to engage, whether they have the brand recognition or not?
Elery: Something we always encourage as part of the employer engagement side of the house is being able to recognize that you are not a visible brand. Being able to participate in programming to overcome that obstacle is really important. Being able to do anything beyond the career info session is beneficial. Info sessions are not always popular—even when they were in person. Being very creative and having that dynamic to engage with the students and having fun industry and networking events is what works and what is popular with students.
Key Takeaways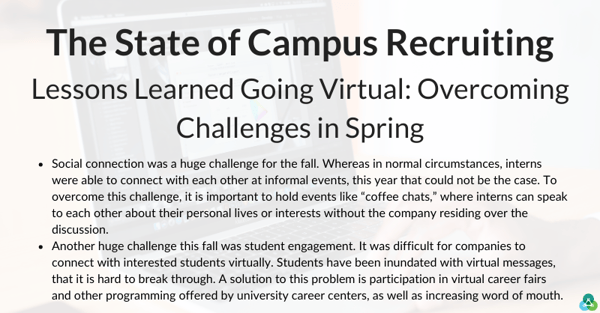 Diversity, Equity, and Inclusion in Campus Recruiting
Jeffrey: Diversity, equity, and inclusion, have been important topics for years but they are obviously at the forefront right now. So many companies have a diversity, equity, and inclusion (DEI) Strategy. Are the students buying it? Or have they gotten cynical to it?
Elery: It's been a double-edged sword. We got a rush of employers opening their doors in their recruitment options, but it is kind of like they are getting on board now as opposed to these other companies that already had these programs or initiatives in place. It has been a plus for the students to see more variety whether it is corporate or federal government. It is great that they are waking up to the movement but some students are vocal about these companies just entering the scene when they should've had these practices all along.
Jeffrey: Trevor, what are some of Staples's strategies to address diversity, equity, and inclusion this year?
Trevor: One of the ways we remain diverse is always ensuring that when we are recruiting, we tap into those diverse populations, and when making hiring decisions to democratize those opportunities, especially now that there are so many remote opportunities. Beyond that, we do a really good job once the candidate gets hired to produce an inclusive culture. You can be a really strong and diverse hiring company, but the culture itself might not be inclusive to support that diversity. At that point, the diverse hires leave because they don't feel supported.
Jeffrey: You brought up a good point about how the acceptance of remote work has opened up new doors. Are there things you can point to that you are now able to do differently because of remote work, whether it is access to different schools or different strategies?
Trevor: I think the biggest one is leveraging Micro-Internships through Parker Dewey, which has allowed us a lot of opportunities to tap into diverse populations to test the waters and to test-drive that talent.
Key Takeaways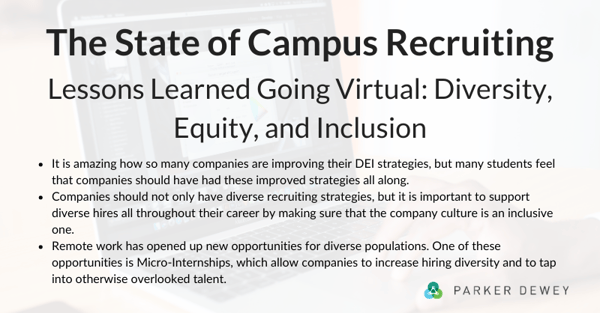 Advice Moving Forward
Jeffrey: What is the biggest piece of advice you would share with your counterpart. So Elery, what is the biggest piece of advice you would share with companies on how they can be more successful?
Elery: Being more active with programming, not being afraid to innovate, and doing activities that you might never have done before. You have to be comfortable to get in front of the students in any way you can in order to seem like a company that is providing a service rather than just selling who and what they are.
Jeffrey: Trevor, what advice do you have for the universities or for students?
Trevor: For universities, make sure to promote events to students as much as possible. For students, just show up. We understand that there is Zoom fatigue, but it is so important to put in the effort to get to know the companies as much as they are putting in the effort to get to know you.
Key Takeaways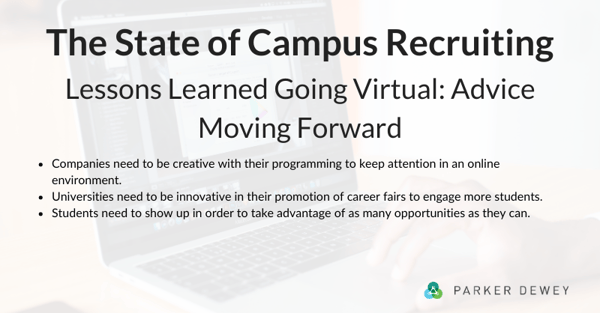 ---
About The State of Campus Recruiting:

Each quarter Parker Dewey brings together corporate leaders, universities and organizations supporting students, and all those interested in addressing the challenges of college-to-career during our State of Campus Recruiting Call. We touch on hot topics facing recruiters and institutions and welcome questions in advance to help shape discussions with our panelists.