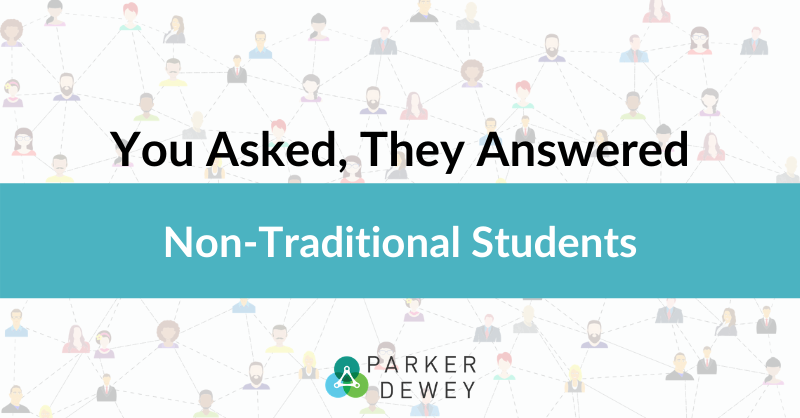 You Asked, They Answered: Non-Traditional Students
At Parker Dewey, we love connecting college students and recent grads with companies offering short-term, paid, professional projects! We also love when we can help bring these two groups, along with career service professionals, faculty, organizational leaders, recruiters, and hiring managers, together to share knowledge that helps our entire network!
Our monthly feature: You Asked, They Answered, helps those looking to launch their career get the inside scoop on all things related to finding the right job after graduation.
This month's question comes from Frank, a 2019 graduate with a Masters in Engineering and 49 years of professional experience in another field. Frank wasn't alone in asking:
"How can non-traditional students stand out—and avoid being screened out—for entry-level roles?"
In addition to Frank, we received similar questions from students and recent graduates who are:
just finishing their degree after spending time in the workforce in retail or un-related roles,
changing careers and completing a degree to complement their move, and
previously executives now looking to start over from the bottom in a new industry.
The fact is, so-called non-traditional students are no longer the exception, they're the norm! According to the Lumina Foundation, today's students are older, more diverse, and not only come to class with prior work experience but are also more likely to work full-time while going to school.
Here's what our network of early career and career service professionals had to say to this growing group of Career Launchers:
Sean Lynott, Senior Campus Recruiter at T-Mobile:
"If you're just finishing your degree after spending time in un-related roles, your resume should show class projects or internships related to the field you'd like to move into. Similarly, if you're changing careers and just finishing your degree, recruiters want to know what you have done that's related to your career move. For someone that was previously an executive or has a long history of work experience, don't set your sights too low. If you were a VP you should be looking at Director and above roles. Applying for Manager or Sr. Manager roles doesn't make a lot of sense from a recruiter's perspective."
Eric Hellige, Director of Career Services:
"It's all about targeting your resume toward the position you're applying to. Use the job description to understand what the employer is looking for and make sure those things are included in your resume. Also, showcase your achievements and how you can impact the business. Employers want to know how you can help their team or department make an impact on their goals."
Rex Trewin, Owner of Recruitment Education Consulting Services:
"It's all about the resume and cover letter. Your resume should tell the story mapping out how you came today to apply for x position. Most traditional undergrads list education first, as that's their top achievement. But non-traditional students should avoid a strict chronological resume and do more of a chrono-functional resume, starting with a summary of qualifications highlighting their top four or five achievements over their career. Finishing a degree may be one of several achievements. And where the story from the resume may leave me puzzled for a career changer, the cover letter is the chance to tie that all together so it's clear to me why this student believes the role is the right one for them."
Christopher Rafinski, Senior Program Advisor at Borough of Manhattan Community College advises an 8-step approach:
1. Get to know yourself and your vision.
2. Strategically choose jobs that contribute to your growth towards your vision.
3. Know the experience level of traditional applicants.
4. Tailor your resume and cover letter specifically to the job posting – you don't need to leave everything you've ever done on your resume.
5. Highlight key transferrable skills that directly apply to the job.
6. Traditionally, it's recommended to put no more than 10 years of job experience on your resume.
7. Depending on the experience required by the job, you may choose to leave off school graduation years.
8. Know that you, as you are and the experiences you've had, are immensely valuable."
TL;DR: The experiences of non-traditional students are immensely valuable to employers, be sure you're telling them the right story in your resume, cover letter, and application materials!