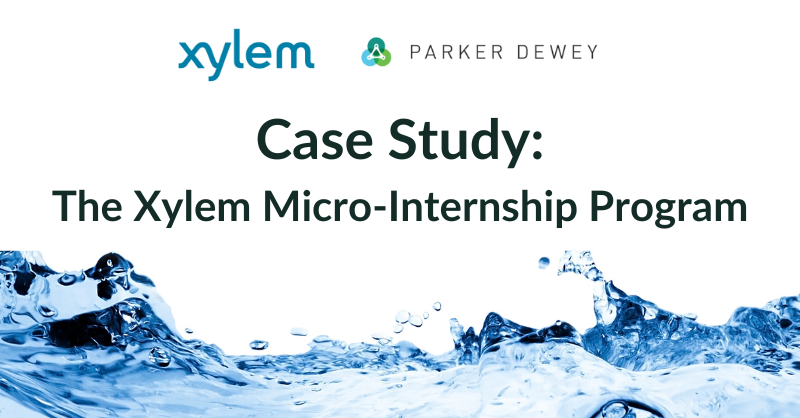 How Xylem expanded brand awareness and improved early-career DEI
Headquartered in Washington, D.C., Xylem is a leading global water technology company committed to solving the world's critical water, wastewater, and water-related challenges through technology, innovation, and expertise.
Xylem is a Fortune 500 company, a Fast Company 2022 Best Workplaces for Innovators Standout and employer to more than 22,000 colleagues worldwide, and the organization sought to increase its workforce of early-career talent.
Xylem partnered with Parker Dewey to pilot Micro-Internships across their organization.
In its initial pilot with just 15 Micro-Internships, Xylem:
Drove applications from over 480 college students at nearly 300 schools, a dramatic increase from its previous approach targeting candidates at four focus schools
Increased early-career candidate diversity based on race, gender, and socio-economic background
Supported teams across the organization for both technical and non-technical projects including:

Business Operations and Strategy
Compensation and Benefits
Compliance and Ethics
Corporate Communications
Corporate Social Responsibility
Human Resources
Learning and Development
Marketing
Product Development
"We aimed to draw in a diverse pool of young talent and create meaningful change for both our company and candidates. When we came across Parker Dewey's mission and network, we saw a strong fit. After a pilot to explore how we could integrate Micro-Internships into our hiring process, we're now expanding the program and collaborating with managers to promote this skills-centered approach," said Karen Lutz, Xylem Vice President Talent and Leadership Development.
Since the initial launch, Xylem's Micro-Internship program continues to grow, with Parker Dewey facilitating connections with over 3,000 early-career candidates, at over 800 schools, at an average cost of $548 per project–a staggering decrease from the average early-career candidate cost per hire of $6,110 as calculated by the National Association of Colleges and Employers.
Leading the Digital Transformation of Water
Xylem's technology and services ensure water is more accessible and affordable, and communities are more resilient. With sustainability at the forefront of everything they do, their global teams are built around a culture of diversity, equity, and inclusion, where all voices are heard, and all talents are harnessed.
For early-career talent, Xylem offers an environment where new hires can take an active role from day one, working to drive the business forward and make a meaningful impact. Through several programs and initiatives, Xylem views early-career talent as an investment in the future of the company. It is committed to empowering the next generation of water and sustainability leaders.
Before partnering with Parker Dewey, three initiatives were already central to Xylem's early-career talent strategy:
University Champions: Cross-functional teams engage with a select number of universities focusing on attracting and developing talent by building strong relationships with key university stakeholders.
Summer Internships: Opportunities for undergraduate students to work directly with existing teams on in-depth projects, which serve as a feeder to rotational programs and full-time roles.
Rotational Programs: Two-to-three-year full-time positions in engineering, finance, and operations designed to accelerate professional development through technical and leadership training in a variety of business-critical assignments.
These initiatives fill approximately 90 early-career positions available each year and help ensure new hires have the skills and competencies required to excel and advance within the organization.
Challenges of Early-Career Recruiting
Many organizations face common challenges in early-career recruitment, including:
Student awareness including early identification: Capturing the attention of prospective candidates who may not be considering roles before they determine where to apply.
Achieving DEI goals: Creating sustainable, equitable pathways that reach diverse candidates and overcoming internal obstacles.
Candidate selection: Assessing candidates efficiently beyond non-predictive signals or time-consuming methods.
Budget and bandwidth constraints: Focusing limited time and other resources on what really impacts hiring outcomes.
Building relationships: Building real, authentic relationships with prospective candidates in the way they want to be engaged.
Hiring managers: Engaging hiring managers with a resource to support recruiting efforts, while overcoming challenges that often arise.
"I didn't know about Xylem before discovering their project on Parker Dewey, but I knew I had to apply after learning about what they do and their mission as an organization. I'm so glad I had the opportunity to work on the Micro-Internship–the flexibility to work remotely on my time is what brought me to Parker Dewey," said Beverly Anderson, Xylem Micro-Intern.
Working with Parker Dewey
Micro-Internships facilitated by Parker Dewey helped overcome these challenges, helping enhance employer brand awareness, deliver diverse candidates, and support existing teams.
Beginning in 2021, while the Xylem team continued their work on existing initiatives, the Parker Dewey team provided program design and launch support including:
An internal, department-specific portal for hiring managers
An external portal for students to view and apply to projects
Training for hiring managers to about Micro-Internships, the program, and project best practices
Internal marketing collateral to spread the word amongst Xylem employees
Project scoping support and posting assistance as needed, based on best practices from the existing project library
Candidate outreach to Parker Dewey's nationwide network, across social media channels, and via 600+ partners
All applicant data including resumes, short-answer responses, and demographics
Manager feedback and Micro-Internship project evaluations
Quarterly Impact Reports to highlight key data, highlight projects, and provide actionable next steps
The initial round of projects immediately demonstrated the utility of Micro-Internships to hiring managers across departments—from human resources and business operations, to sustainability and web development.
Expanding Opportunities for Connecting with Early-Career Talent
To date, Xylem's Micro-Internship program has enabled the entire organization to engage with early-career talent to support and expand upon the initiatives of the recruiting team.
Through Parker Dewey, Xylem is able to utilize both a target school strategy and reach candidates from more than 5,700 academic programs across the United States. Parker Dewey's open network of highly-motivated career launchers ensures opportunities at Xylem are accessible, with more than 80% of Micro-Interns hired through the platform coming from diverse and underrepresented backgrounds in the workforce.
Micro-Internships allowed Xylem to offer practical, hands-on experiences to early-career talent, enabling them to gain valuable skills and knowledge.
"These projects have been eye-openers in the way they've allowed me to grasp company culture, corporate language, and email etiquette in a North American company. There are lots of insights that you can get even from such a short experience. Even the way people approach the tasks and you is important to experience and learn from," shared Cem Sagiroglu, Xylem Micro-Intern.
As a skills-based hiring tool, Xylem's Micro-Internship program continues to expand as a feeder into summer internships for both technical and non-technical roles, as a talent pipeline for engineering, finance, and operations rotational programs, and as a path directly to full-time early in career roles as they arise. By adopting this skills-based audition, Xylem has attracted and engaged talent that was previously unaware of how their skills applied to the industry, the vast opportunities available at Xylem, and encouraged hiring managers to consider candidates based on abilities over pedigrees, significantly diversifying their early in career talent pipeline.
Xylem continues to scale its Micro-Internship program—showcasing its commitment to engaging with talent from diverse backgrounds and expanding its brand awareness. As a complement to traditional university recruiting strategies, Xylem will seek to further support hiring with Micro-Internships by:
Aligning Micro-Internships with currently open or expected early in career openings
Engaging members of Xylem Employee Resource Groups to further support DEI initiatives
Expanding its network of campus ambassadors, students who have experienced Xylem's employer brand first-hand
With Parker Dewey, engaging early-career candidates is easier
Xylem's challenges are common among organizations big and small. Learn how your organization can save time on campus recruiting, build relationships with talent across the country, increase productivity of your existing teams, and lower hiring costs at ParkerDewey.com