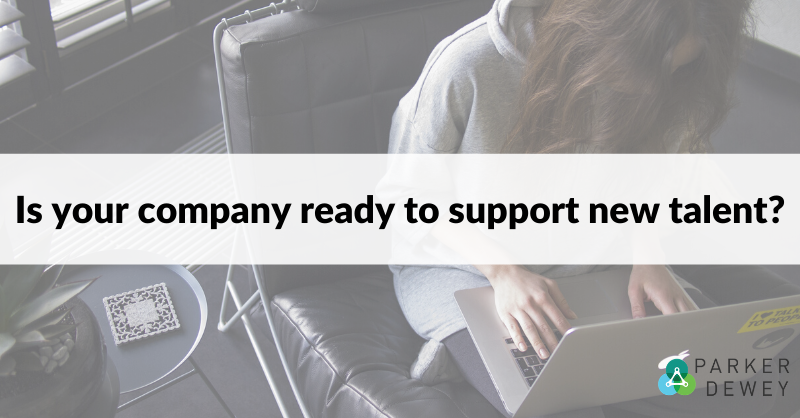 What the Class of 2023 is looking for from Employers
Tech-savvy by default, college graduates gearing up to launch their careers across majors and disciplines are attracted to companies that offer straightforward ways to continue their learning and help them successfully transition from college to career. Is your company ready to support new talent?
Address Skills Gaps
In addition to onboarding new hires on company history, processes, and terminology, Career Launchers can benefit from core skills training. Though companies have used bachelor's degrees as proof of soft skills, many graduates seek ongoing nurturing and development opportunities. Providing informal mentoring opportunities between new hires and seasoned professionals can be as simple as giving new hires a variety of tasks to introduce them to the business. Regardless of job title, seeing the company and industry from various angles allows an entry-level hire to understand their impact and value to the big picture.
Create Clear Paths for Advancement
Whether it's a result of the instant feedback from social media or that social media evolved to fit our desires, today's Career Launchers want ongoing discussions about their performance. Many college graduates view coaching opportunities as a way to advance when they already possess the required hard skills. However, companies also need formalized performance review processes with clear guidelines on what is required to reach the next level. Completion of training programs, cross-functional projects, and development opportunities should all be highlighted in recruiting materials to attract young candidates.
Flexible Work Environments
Just as higher education has embraced online, blended, and experiential learning, Career Launchers are seeking similar opportunities in the workplace. College grads and experienced professionals no longer want to be measured by the hours they sit at their desks but by the amount and quality of the work they are getting done. Additionally, structured social opportunities with colleagues outside of work can help foster community engagement and feed into mentoring relationships.
At the core of each of these areas are opportunities for continuous learning from others within the organization. Career Launchers desire flexibility as they develop professionally and want to work for organizations that are committed to their success.
We had a discussion on what current Gen Z students are looking for, based on data, in our most recent webinar, Reinventing University Recruiting. Watch the full replay with our top takeaways, or read our full summary.
Not ready to support new talent? Learn more about creating a Micro-Internship program with Parker Dewey to get work done while engaging with current students and graduates.