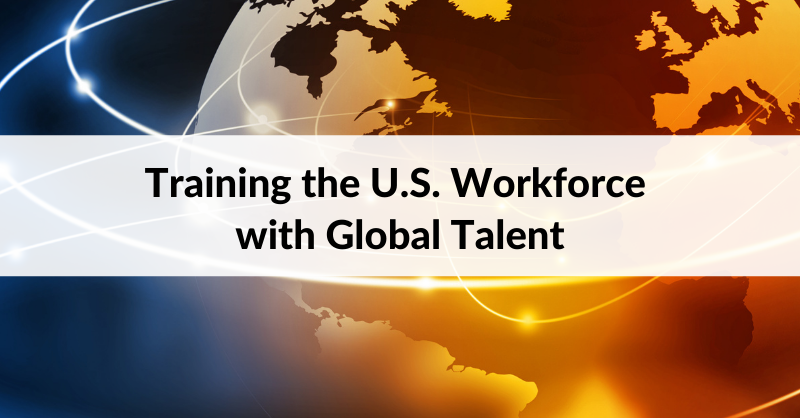 Training the U.S. Workforce Driven by Global Talent with Open Avenues Foundation
Danielle Goldman, Co-Founder and Executive Director of Open Avenues Foundation, shares how her non-profit uses Micro-Internships to build pathways for global talent to contribute to the United States' innovation economy and educate the future STEM workforce.
Building a diverse workforce is incredibly beneficial in today's globalized culture. A diverse workplace leads to better decision-making, lower turnover rates, and increased innovation. Professionals from other countries bring along varying perspectives that help teams increase effective collaboration, fuel productivity, and attract and retain new talent. We are all connected via social media, e-commerce, and other tools that allow us to successfully work and communicate with people across the nation and the globe. Of course, there are challenges to bringing a diverse group of people together, such as communication difficulties, cultural misunderstandings, and discrimination. Nevertheless, the pros outweigh the cons. Leaders like Danielle Goldman, Co-Founder and Executive Director of the Open Avenues Foundation, are breaking down barriers to help organizations across the U.S. reap the benefits of diversity in the workplace.
Open Avenues is a 501c3 non-profit that strategically partners with universities and high-growth companies to connect top global talent with students nationwide for career development opportunities in the STEM and business fields. For many students who participate in Open Avenues programs, gaining mentorship, building social capital, and participating in paid work experience for thriving companies is life-changing.
To add an experiential learning component to their program, Open Avenues partnered with Parker Dewey to provide college students with paid Micro-Internships. The Open Avenues Micro-Internship program came to fruition thanks to the foundation's and Danielle's strong belief in the value and diversity that global talent brings to the United States workforce.
"I grew up with a father who is an immigration attorney. We've always known the value of foreign talent in the United States. We are now empowering foreign nationals to be trainers and leaders of our future workforce."
When students are hired for Open Avenues' Micro-Internships, they work directly with the foundation's Global Talent Fellows—professional foreign nationals who work for Open Avenues' partner companies while participating in leadership development. Through the program, Fellows create Micro-Internships in their field of expertise while training and coaching college student participants to complete the work.
Since 2019, Open Avenues' Fellows have led more than 350 students through projects such as developing cloning strategies to study chromatin biology, picking stocks using financial tools and statistical data science, and performing a bioinformatics analysis of a microbiome DNA sample. Open Avenues is launching 27 new Micro-Internships this summer led by Fellows.
"The Global Talent Fellowship is a leadership development opportunity for foreign talent, and we are excited to be partnering with companies at a very fast rate to support their employees. All of the Fellows are part-time employees with Open Avenues and are incentivized to create career-building opportunities for students," Danielle says.
For any college and university partnered with Open Avenues, these highly talented Fellows are launching Micro-Internships for students, including international students, DACA recipients, and others with common barriers to traditional internships. Students are eligible to apply for Micro-Internships, work as paid contractors, and ultimately, can be hired by Open Avenues' partner companies.
The value for students: Paid, professional experience, and networking opportunities
Companies typically have specific schools that they recruit from, and non-traditional students who don't go to these schools or cannot attend career events due to other commitments can be left behind. Fortunately, Open Avenues' Micro-Internships help connect students directly to these companies and put them on their radar.
"For students that are interested in participating in our projects, we want to encourage students not to feel that they are not qualified for one of our projects and not to be scared to apply," Danielle says.
"We aren't looking for a filled resume, we're looking to fill the resume."
Students gain skills, build a professional network, and complete projects for these fellows and companies, work they can leverage to demonstrate they are qualified and capable when applying for entry-level roles. Students can also work on interview prep, resume revision, and build confidence in themselves as professionals.
To succeed in getting hired for these Micro-Internships, Danielle advises students to demonstrate a passion for the field the Micro-Internship will be focused on and prepare to elaborate on why they'd like to take on a particular project and how it would help them in their careers.
The value for companies: Diverse talent pipeline and greater retention
Through its Global Talent Fellowship, Open Avenues hires foreign nationals from high-growth partner companies for five hours per week to launch Micro-Internships, which create pipelines for future talent to enter the companies. Fellows have demonstrated work experience and are experts in their fields. Some of the current fellows are software developers, data scientists, and scientific researchers. Most Fellows also have Masters' degrees or PhDs and are eager to work with students and identify high potential early-career professionals.
Or, in Danielle's words, "We're training the future workforce driven by global talent. These foreign nationals are building bridges, training the future workforce, creating opportunities for students to gain skills, building relationships with them, and also doing these preliminary projects that are going to demonstrate that students can do the work that is needed to apply for an entry-level job at a company."
For companies looking to access skilled early-career talent and build a diverse and inclusive workplace, taking part in the global talent fellowship will procure a top-tier talent pipeline as fellows work directly with students on company-related projects.
Open Avenues is sponsoring many STEM-focused projects. Companies who see Open Avenues Micro-Internships on a student's resume can ensure that the student has completed a valuable experience that featured a real-world project, professional development, and mentorship.
The value for universities: Professional development and mentorship available to all students
Universities across the U.S. can partner with Open Avenues to provide Micro-Internships to their students. This comes at no cost to the university, and these opportunities are open to students from all backgrounds, including international and undocumented students. Each Open Avenues Micro-Internship includes the paid professional experience, a unique mentor network, and supervision by a foreign national who is an expert in their field.
To learn more about Open Avenues' growing network of educational partners, click here.
"It's a win for companies because they get to support their foreign talent and build diverse talent pipelines, it's a win for universities because their students get access to our Micro-Internships and cohort of Fellows, and it's a win for students because they're connecting to companies and paid resume-building opportunities," Danielle says.
---
Parker Dewey is honored to partner with colleges/universities, workforce development organizations/chambers of commerce, and other mission-driven organizations focused on college accessibility and early-career recruiting. To learn more about Parker Dewey's partnerships and how your organization can get involved, click here to set up a meeting with our Director of Partnerships.