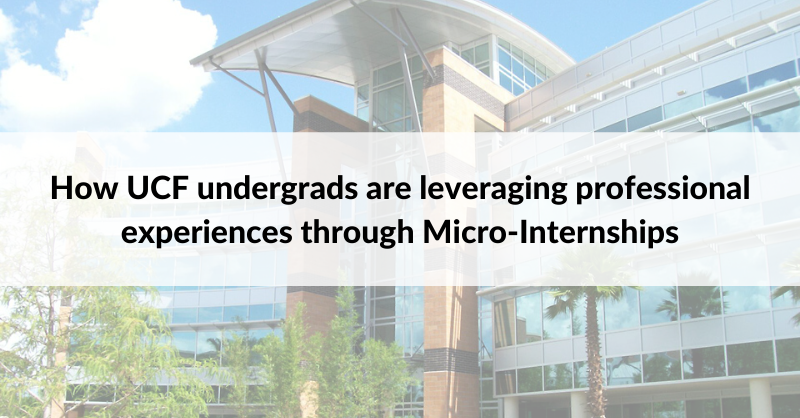 University of Central Florida offers short-term, remote work experiences to rising young professionals
Undergrad students from the University of Central Florida can now leverage career-building possibilities through a new pilot program that allows them to gain professional experience while they finish their degrees. By working on short-term projects in areas of interest, students develop professional relationships, get to know different companies, and leverage the knowledge they gain to help build their resumes with skill sets that can drive their future.
Entry level jobs still require work experience
Those newly entered (or about to enter) into the workforce often need extra tools to fill in the gap from college to career. Not all students have the connections to land that first job or interview and, more often than not, entry-level positions require that candidates have prior experience working in their profession. How can students that are less connected be more ensured to get in the door and land that first job? Only by getting the work experience and making professional connections as soon as they can.
Using opportunities to work directly with companies is giving these undergrads the fuel they need to bridge the gap between their college-to-career transition.
Work experience at students' fingertips
UCF has been able to pilot this initiative by working with Parker Dewey, the largest platform offering professional, short-term, paid work experiences for college students. Students who are looking to utilize the advantages of Parker Dewey's diverse network find the exposure they need to kick-start their careers, regardless of background, major, or location.
In fact, multiple student groups from UCF are using the Parker Dewey pilot program to prepare. The current participants include:
business majors who have attended a recent career fair
students in the EXCEL program who are in the first few semesters of science, technology, engineering, and math programs; and
student athletes.
As they use the benefits from these short-term work experiences to build their portfolios and their skill sets, the university is able to gauge the success of the possibilities the program offers.
Students find success
Those from UCF that have signed up for Parker Dewey's platform have given feedback that illustrates their excitement about the opportunities they are seeing such as:
"I think this is an astounding opportunity for self-motivated students to build their professional portfolio and make a little money on the side without getting into trouble! I can already tell I will be spending a lot of my free time using this service and look forward to providing feedback in the coming months!"

"I think this would be a good program for Sophomores and early Juniors to use in order to gain real work experience so that when they go to apply to internships in Junior and Senior year they have experience. The internships also pay very well! I have started looking into which ones I want to apply to."
With more confidence to back them through their first job hunt, it becomes less daunting for young professionals to forge their career paths. Plus, since all of these short-term projects are paid, what college student doesn't want to make a little money on the side?
The numbers show that there has been an 1740% increase in the number of sign-ups from UCF students on the Parker Dewey platform in the past month alone! (That is not a typo.)
Equity for all
To further advantage of the UCF school community, the projects available through Parker Dewey are typically remote. This means that any student, regardless of their location, time, skill level, or mobility limits, has an equal opportunity to advantage themselves. With access to projects from nationwide companies, those that cannot participate in traditional programs, are no longer restricted. This encourages students that would typically feel they have extra barriers to entry during the application process, which can make pilot programs with Parker Dewey a driver of diversity and inclusion.
Here's how your company can get involved
The tremendous growth of UCF students utilizing the Parker Dewey platform illustrates the vast interest in opportunities like these. Employers who want to access a diverse population of highly-motivated students will find an ample supply by using short-term work projects. The fact that students and recent graduates have the advantage to be remote also greatly widens the talent pool.
Opportunity for alumni involvement
Using Parker Dewey in your HR efforts not only provides a great opportunity for current students, but for the alumni as well. Those that have recently graduated and are still searching for their first job can also work on projects and connect with employers, allowing companies to identify candidates for current or near-term full-time roles. For alumni that have already launched their careers, Parker Dewey allows them to support current students and gain extra help to complete a project or two that they have not had the time for. It's a win-win.
Local business involvement
Early work engagement from UCF students can empower the relationships between local businesses and their university, which ultimately impacts the rest of the community. As local companies offer short-term projects, the students have a pathway to continue their career development in their own backyard. Increasing their brand involvement with community campuses, businesses also increase the chance that students remain local instead of moving elsewhere in search of opportunities after graduation, giving way to the creation of a healthy recruiting ecosystem between schools and local companies.
There are multiple solutions that Parker Dewey can offer for HR recruiting, internships, and bridging the gap between college-to-career.
If you'd like to learn more, you can set up a call with our team.