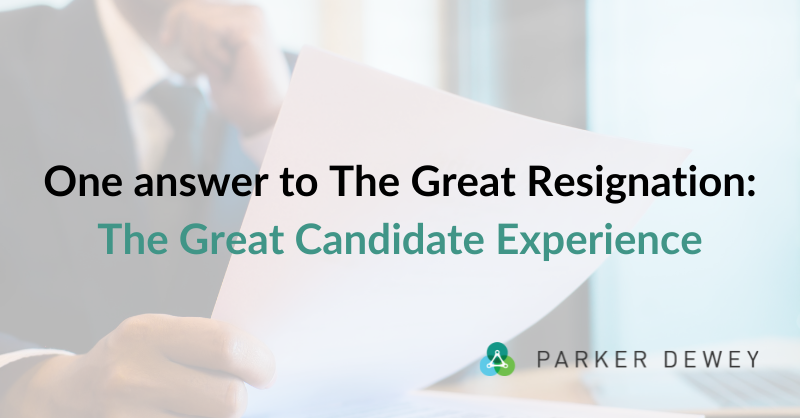 The Great Candidate Experience
The Great Resignation → The Great Reshuffle→ The Great Retention
Whatever you call the current employee's job market, human resources professionals are working overtime to attract, engage, and retain employees for their organization.
If you haven't thought about the candidate experience from the perspective of diverse, skilled applicants, we're sure you're missing out.
Consider the detailed example provided by a candidate stuck in a 5+ month long process. While this may be the "norm" for big tech, this TikTok user highlights exactly where the recruiting process fails to meet the needs of low income applicants.
What's more is that many of the screening processes and technologies meant to help save recruiters time (think AI, personality assessments, and job simulations) have already been found to systematically filter out qualified candidates.
One solution gaining traction is the move towards skills-based hiring, which provides opportunities for early-career candidates and those with limited experience to demonstrate skills not easily identified by a resume, such as:
work ethic
adaptability
accountability
critical thinking
problem solving
effective communication
While both recruiters and applicants may groan with the idea of another step added to long, already inefficient processes, many organizations have found the opposite to be true: increased efficiency, better hiring outcomes, and time and cost savings by integrating Micro-Internships into their existing hiring process.
Here's how:
Micro-Internships skip automated resume screening and deliver candidates straight to hiring managers, who not only want to find their next team member, but also have immediate business needs waiting to be addressed by the new hire.
During the Micro-Internship project experience, hiring managers witness a candidate's work style in action, enabling them to assess the skill competency and potential based on actual output.
Meanwhile, candidates also get a sneak peek into what it's like working with this manager or team, understand the working environment, and get a feel for the expectations and responsibilities of the role.
To address the concerns of the candidate seen in the TikTok video, Micro-Internships facilitated through Parker Dewey are always paid, professional, and meaningful, ensuring that even if the candidate does not get the job, they still had a positive experience with the company.
When organizations move skills assessment to an earlier stage of the hiring process, early-career candidates benefit from an insider's view and a newly-established connection with your team, both of which contribute to an overall increase in retention.
"My Micro-Internship helped me establish what I wanted to do with my life. It helped me find my strengths, interest, and the work environment that best suited me."
Whether you're looking for ways to improve your candidate experience or struggling to keep early-career candidates engaged as they consider more opportunities than ever before, Micro-Internships create wins for recruiters, hiring managers, and candidates alike.
Join Parker Dewey on February 10th for our next State of Campus Recruiting panel featuring expert viewpoints on:
The Great Resignation and its impacts on early-career hiring
diversity recruiting and where organizations are leaving candidates behind
campus recruiting technology trends
and much more, as this candid conversation unfolds!