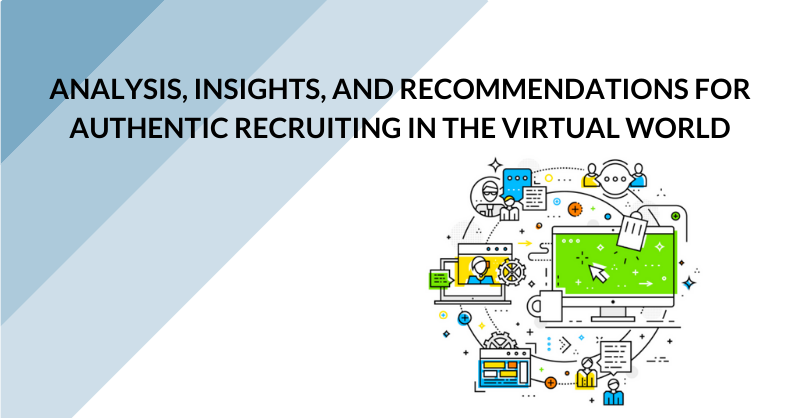 Succeeding in the New Normal: Virtual Recruiting
Employers have accelerated their virtual recruiting efforts as an essential part of their overall talent acquisition strategy since the start of the pandemic in March 2020. This acceleration was accompanied by a set of new opportunities and challenges—engaging candidates in meaningful and authentic ways throughout the entire talent acquisition life cycle.
NACE and Mary Scott, Scott Resource Group, teamed up to articulate a set of recommendations and insights, based on research and qualitative interviews with students, for effective virtual recruiting strategies and practices. Access the full publication from NACE, Succeeding in the New Normal: Student Attitudes and Effective Virtual Recruiting, and read on for a few key highlights and takeaways we had from the paper.
This report highlights three key areas most impacted by the pandemic-driven shift to virtual recruiting, including candidate attraction, candidate engagement, and the application process.
Without on-campus career fairs and info sessions, candidates had to more heavily rely on their own research: 72.6% of students ranked employer websites as their top resource, yet less than half (47.9%) consider employer websites either very or extremely useful. For recruiters, this should be the impetus to do a web update as soon as possible to ensure your site tells the full story of what it's like to work there for early-career candidates.
Though organizations will need to do more to adapt to virtual candidate attraction, once candidates are interested, keeping them engaged presents more challenges to overcome. The findings in this report detail the way students see the implementation of a variety of virtual recruiting techniques. Ultimately the study shows, the call from candidates is for virtual experiences that are humanized, transparent, and authentic—hallmarks we often associate with high touch, but which can and should be part of the virtual experience.
Finally, when it comes to the applications process, students are again calling for employers to have more deliberate processes with clear touchpoints in place. Regardless of the application system, students are weary of submitting applications only to receive a confirmation email from a "no-reply" address. In addition, they don't trust third-party matching services increasingly used by companies seeking diverse talent. Specifically, students want more transparency to understand why they are seen as a match for roles they were not previously considering. Most importantly, students want to understand how results of a job matching algorithms, online assessments, and even recorded interviews are being used to make decisions and employers should be cautious about introducing tools that reinforce negative perceptions held by students. Unlike a question-based assessment, Micro-Internships clearly map out the candidate's current skill level with the open opportunities and can provide clear next steps that are rated favorably by students.
Digital is here to stay and as digital natives, college students will be adept at using any platforms provided to them. They will also find every possible way to optimize the system in a way that they think will work best for their goals. What has yet to be mastered through digital platforms is the authenticity that they want to see in order to understand why they should want to work somewhere. To them, a fully digital hiring experience is not something they believe in—they still want to connect with potential co-workers. When companies are not using technology to get the process right, the resulting disconnect during the engagement and application process from recruiters leaves a bad taste in applicants' mouths. Companies will need to adopt more remote-based programs that create meaningful connections between candidates and current employees, while also helping students to understand how their skills can be applied within the organization.