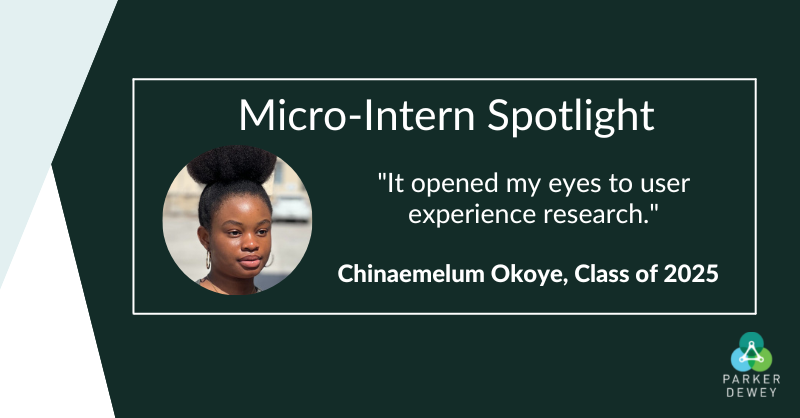 Keeping Options Open
Upon meeting someone, typically one of the first questions asked is, 'What do you do?' and rather than respond with hobbies or long-standing goals, it's commonly recognized that the proper response is to share how one makes their living. Associating one's identity with their career is no new phenomenon in the United States. In fact, the first english surnames were often a reflection of one's occupation (the cook's last name was Cook, the shepherd's last name was Shepherd, etc). With this mindset being the norm, it's not surprising that an equivalent question has been established for college students: "What's your major?" With this one question, the asker seeks to understand how the student intends to make their living, but in a rapidly changing world with new career options constantly developing, a student's major is no longer the start of a linear career path that it may have once been. For students like Chinaemelum Okoye, an international student studying molecular and cellular biology at Stetson University, passions can span multiple majors, and Micro-Internships allow them to keep diverse interests alive while still staying on track to graduate with whatever major they have declared.
An Enthusiastic Explorer
Chinaemelum's interests span all things science and technology. This makes her current molecular and cellular biology major a good fit, but she also has a passion for computer science. In fact, she used to major in it. Despite having made a commitment to molecular and cellular biology on paper, Chinaemelum was excited when she realized that she could apply to any Micro-Internship on Parker Dewey that caught her interest, including those related to computer science and some in fields she hadn't explored before.
"I switched to molecular and cellular but I still have this interest. Sometimes I still feel like I shouldn't have dropped computer science. [Micro-Internships] give you an opportunity to stay engaged in a different path, regardless of your major."
Chinaemelum, is, in her words, "Still figuring things out", and having project-based opportunities to explore helps inform that process.
The Appeal of Micro-Internships
When Chinaemelum first became aware of Micro-Internships through an email from her institution, Stetson University, multiple aspects appealed to her. One was the fact that all the opportunities were paid. Another was the chance to explore various careers and industries without making a long-term time commitment. Chinaemelum was also excited when she realized that all the opportunities on Parker Dewey were available to her as an international student.
"Not all opportunities are open to international students. Trying to figure out eligibility or ways to get paid make it really stressful and it can be a longer process than residents face… It's been really exciting to see that all the opportunities on Parker Dewey are open to me as an international student. I'm excited to take full advantage of it."
Chinaemelum wasted no time in checking out the available Micro-Internships, and was excited to see the range of projects.
"I was looking for experience. You never know what will come from an opportunity, so I liked seeing all the options."
By exploring Micro-Internships, Chinaemelum also learned something new about herself - that she very much enjoyed working remotely.
"Working virtually is perfect for me. I get to work at my own pace… I can dedicate weekends and get the project done. It works with my schedule. The experience is also way bigger than what you would expect from a 15-hour project."
A New Door Opened
Chinaemelum let her natural inquisitiveness and enthusiasm for learning new skills shine in her application responses, which led to her being selected for her first Micro-Internship in an area that was new to her - user experience research. Despite not knowing what to expect, Chinaemelum was eager to meet with her supervisor, who explained the details of the project. The experience led to Chinaemelum looking at her technological interactions and career aspirations with fresh eyes.
"It opened my eyes to user experience research. You go into a project expecting to find one thing, but you might end up going in a different direction. I've learned that I should be even more open to exploring new career paths, because I had never thought about user experience before, and now I realize that's a potential career path for me."
Chinaemelum also appreciates how Micro-Internships make it easy to engage with and learn from her supervisors, citing the interactions and feedback as another benefit of the experience.
"Getting feedback was really helpful. I submitted multiple drafts and [my supervisor] gave me insights on how to organize the work. It improved my ability to creatively and visually display information. The exposure was great."
Interactions with a new supervisor is something Chinaemelum is looking forward to again in her second Micro-Internship, which she has recently been selected for.
Advice
For companies, Chinaemelum can't see any reason not to post a Micro-Internship.
"Students are getting experience. You're getting things done. It's a win."
For her peers, Chinaemelum is excited to spread the word about Micro-Internships. In fact, she's already enthusiastically shared her experience with her friends. She shared, "I told my friend to check it out and she also did one over winter break and is on her second one now."
She also encourages multi-talented students like herself not to limit themselves when it comes to Micro-Internships.
"There's no harm in exploring and trying out new options, even if you think your path is already defined. Like I learned from my project, you don't know what you don't know… Just give it a shot and you might be marveled at the experience and the outcome."
---
If you're looking for a way to engage multi-talented students like Chinaemelum, there's no easier way than with Micro-Internships.