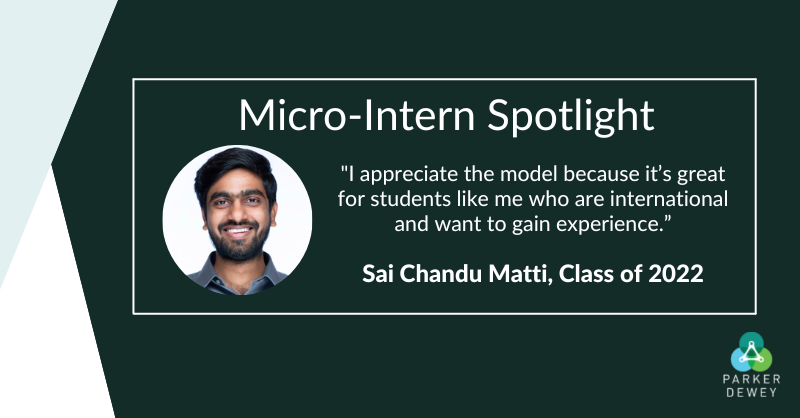 Building a Network in the United States
For domestic and international students alike, internships are a great way for early career individuals to explore career paths, build experience, and expand their professional networks. However, work opportunities for foreign nationals are highly regulated, which can make finding a paid internship difficult, not to mention the hoops one must jump through once an opportunity is secured. Thankfully for international students, Parker Dewey is the employer of record for all the Micro-Internships on the platform, and accommodates the 'hoops' as long as international students are eligible to work in the United States, whether through OPT, CPT, or some other form of work authorization (Parker Dewey recommends students check with their institution's international student services to see what option is best for the student's situation). The result is a platform where international students can apply for opportunities with confidence in their eligibility, and connect with companies in ways that may not have been possible outside of Parker Dewey. This was the case for Sai Chandu Matti, a computer science major and recent graduate of Texas Tech University.
Internship Challenges faced by International Students
By the time Sai became aware of Parker Dewey Micro-Internships, he was approaching the summer before his final semester at Texas Tech University. Sai was already well aware of the challenges involved in securing an internship as an international student. As a first generation student from India, he knew internship experience was going to be crucial, both to build experience in his chosen field, and to prove himself at an American company. Unfortunately, it was no easy process.
"Before Parker Dewey I applied to many internships - I don't even remember how many, but with no hope. One position tried to consider me, but being an international student, sponsorship was a hurdle. I wasn't even interested in the sponsorship part, I just wanted practical hands-on experience, but that didn't necessarily matter."
Finding Access through Parker Dewey
Determined to get an internship, Sai was still in the midst of applying to opportunities when he saw a notice about Parker Dewey on a Texas Tech news portal.
"I was exhausted by repeated rejections on other platforms. I'd never heard of Micro-Internships before, and I figured why not give it a try?"
Even though Sai was dubious based on his past experiences, he applied to a few projects that were aligned with his skills and experience and was excited when he received a message that one of the companies was interested in seeing some of his past work. Sai quickly provided the requested examples and was hired for the project in mid June.
Despite his initial skepticism, Sai was thrilled to see companies on Parker Dewey genuinely looking to engage students based on their skills without regard for their potential sponsorship needs and was excited to dig in.
"I appreciate the model because it's great for students like me who are international and want to gain experience. Parker Dewey has given me hope that there are at least short assignments available, and once companies see what you can do, you might be able to extend the experience."
Applying Skills and Building New Ones
Not only was Sai excited to have been selected for a project at all, but the computer science major was also particularly enthused about working on one that allowed him to leverage his existing skills while also developing new ones. His project, setting up a dashboard report for an e-commerce company, gave him this opportunity.
"The project was really laying the foundation. It was like I was given a tract of ground and I was building it from nothing. They had the data, but I had to investigate the tools, the deployment, the dashboards, everything."
Sai also described the role his education at Texas Tech played in preparing him for this opportunity.
"SQL was a fundamental part of my computer science major, and that's all I knew starting the Micro-Internship, but because I was strong in that, I had the foundation to be able to build on and be successful. Without that core foundation, I would not have been able to do this project."
Sai completed his Micro-Internship before beginning his last semester at Texas Tech, and is grateful for the experience. From Sai's perspective, "This Micro-Internship gave me the chance to prove myself."
Plans for the Future and Leveraged Micro-Internship Connections
Sai's outlook and opportunities as he completed his final semester were vastly different than they had been the year before. Instead of feeling hopeless about career prospects, Sai had already received multiple full-time offers by the time he graduated. Sai credits that success, in part, to his Micro-Internship experience and how he was able to talk about it.
"What I did in just one month was referenced regularly in interviews when I was asked about a challenge I've faced, having built everything on my own. It demonstrated that I was adaptable and able to learn."
Sai also drew attention to the benefits of having his Micro-Internship supervisor act as a reference for his job search, both from a pragmatic and professional point of view.
"My Micro-Internship supervisor has acted as a reference here as I've been applying for jobs, and that's been extremely helpful, because potential employers here can't as easily call my previous employers in India. He's been able to verify my skills and work ethic.... A recommendation from someone here in the United States means something different than the recommendations I received in India. It proves my ability to be successful here."
Thanks to that recommendation, in combination with Sai's perseverance, skills, and education from Texas Tech, Sai has recently accepted a full-time senior software developer position with a US-based payroll and human resources technology provider. We at Parker Dewey look forward to hearing about Sai's continued success in the United States!
Advice for Companies
Sai recommends Micro-Internships to any employer, recognizing that there's great talent to be gained, but no commitment required with the Micro-Internship model.
"There's a lot of talent out there with no experience. They just need a chance and you can give them that opportunity to prove themselves."
Sai also hopes companies recognize how much more effective a Micro-Internship is at judging talent than a traditional interview model, deeming it "one of the best ways to judge talent."
"You cannot get to know about an individual from conducting only an interview or an assessment. These kinds of short assignments are best in terms of determining abilities and getting perspective on all the different dimensions of a student (professionally, psychologically, commitment, work ethic, punctuality, skill level, ambition, etc)."
Advice for Students and Recent Graduates
Sai encourages his peers to keep an open mind when looking at Micro-Internships, and to consider that the project can be a stepping stone.
"This experience is something you can use to build on to secure later internships or full-time roles. The results are something specific and real to talk about in interviews. It's really a golden opportunity."
---
If you're looking for a way to engage talent based on their skills instead of their sponsorship status, there's no easier way than with Micro-Internships.