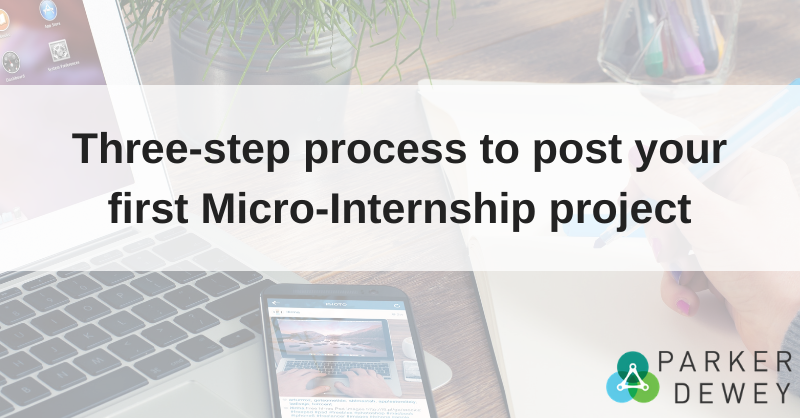 A Parker Dewey primer for employers: 3 simple steps to start your first Micro-Internship and find an immediate resource
Is Parker Dewey talent right for you? If you have a project you want to get off your plate and need an immediate resource, why not work with our college students and recent grads (Career Launchers) to get it done? In the process, you'll help them gain meaningful experience and may even meet someone who would be perfect for a more permanent role at your company.
It's easy:
Select a candidate

Get the work done
Step 1: Post your Micro-Internship
Posting a project on the Parker Dewey platform takes no more than five minutes. You don't have to pay for anything upfront and you're not obligated to use the Career Launchers who apply for your project. You set your own price, and you only pay if you select one of the candidates and they successfully complete the project you've posted. No strings attached.
Not only do you set the price and deadline, you can also request any special skills, decide if the project is remote or on-site, and set a location or other requirements for each individual project, ensuring you find the right fit.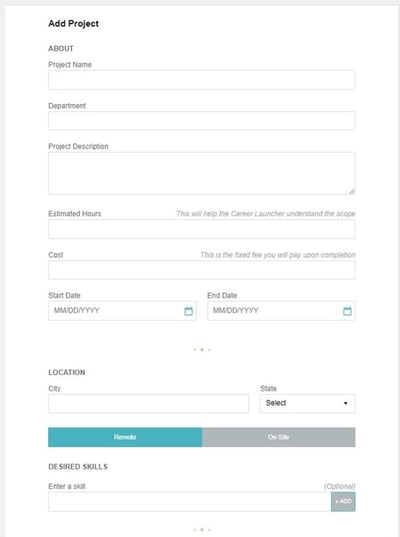 Parker Dewey makes it easy for you to quickly add your project. Simply create a project title, add a description and set your start and due dates to get started.
To post your first Micro-Internship, we just need your company name, email address, password, and any other information you want to share. Once this information is in your profile, you never have to enter it again.
Click "Add Project" on the top of the screen and fill in the form. The only additional information we need from you is:
Project department/function

Project description

Project start date and due date

Length of time expected to complete project, in hours (Note: Simply estimate so Career Launchers have time to do an awesome job)

Budget for project - all projects fees are fixed and the Career Launcher selected earns 90%

Share location preference - remote or on-site
That's it.
Of course, you can define other requirements like desired skills, preferred majors or degrees, or if you need multiple people to work on a project at once. Companies often choose to use multiple Career Launchers on a project when they need an immediate resource to tackle big, multi-faceted tasks like evaluating different industries, drafting content on multiple topics, or researching prospects in different roles.
You can ask questions of the applicants. While not required, this is a great way to quickly learn about the candidates so you can select the best Career Launcher for your project. For example, you might ask:
Why are you interested in this project?

Would you consider an internship or full-time role after this project?

What are your long-term professional goals?

What prior experience has prepared you for this project?

How would you approach this assignment?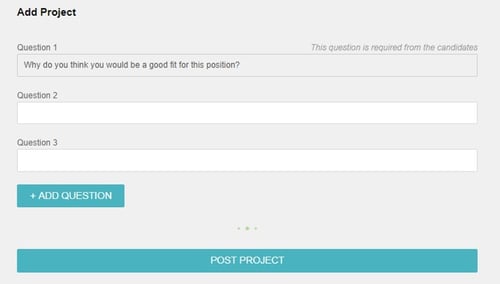 Add in project questions for your potential talent to learn more about how they might approach your project and their experience on this type of work.
Next, you can view a preview of your post. If it meets your satisfaction, hit "Continue" and it will go live. Now you're on track to finding an immediate resource and getting the work done.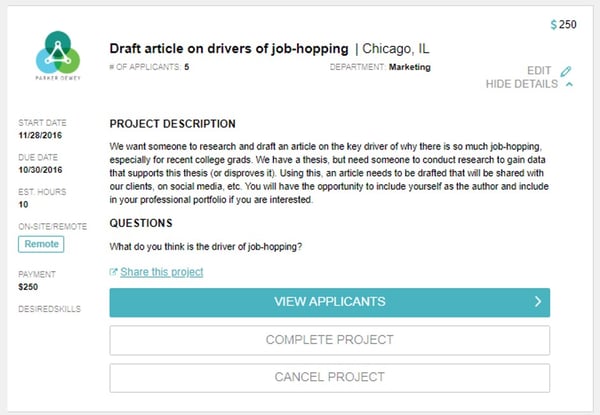 Preview your project before it goes live to ensure you've included everything you need and that it looks nice.


Step 2: Select a candidate
While all of Parker Dewey's Career Launchers are highly motivated to demonstrate their skills and explore career paths, only you can determine who is the right fit for your project. Profiles have a lot of great information about the candidates, but you can also schedule a discussion, ask for writing samples, or request anything else to help you make a decision. However, since these are short-term engagements intended for companies that need an immediate resource, there is no need to go through the comprehensive interview process you would use for an intern or new hire. In fact, many companies use the project as part of their evaluation for hiring decisions!
Here, you can see a quick overview of candidates and click "View Details" to learn a bit more about each.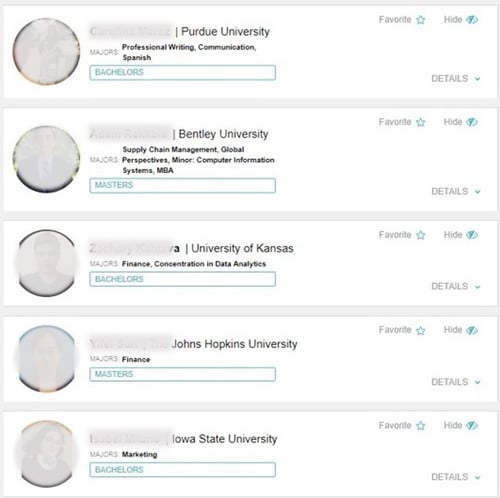 See who has applied to your project at a glance.
On the details page, you can see each Career Launcher's resumé, LinkedIn profile, education, experience, and answers to questions you posed. You can also exchange messages with candidates to ask more questions or request additional information.
Review all of the candidate's information and details in one place and reach out to them directly if you have questions about how they might approach your project.
When you're ready, select your candidate. It's that easy. We'll send you a note with their direct contact information and you can work with them however is best for you. There's no need for you to worry about payment, NDAs, HR documents, or anything else. The candidates are contractors for Parker Dewey, so we have it all covered.
Since we stay out of the way, you can also interact with the people who are working on your projects however you want. For example:
You can provide a template for the project or a blank slate.

You can request check-ins or just the finished project.

You can ask for communication over email or phone (or even carrier pigeon, if you're so inclined).

Since there are no costs or fees if you hire a Career Launcher, we don't need those burdensome platforms to get in the way of you turning your immediate resource into a longer-term asset for your company.


Step 3: Get the work done
Rest assured that the Career Launchers who have joined Parker Dewey are here because they want to be–we don't allow colleges or universities to require it. They're proactive, highly-motivated, creative individuals who are looking to demonstrate their skills, build their networks, and explore career paths by acting as an immediate resource to your company, so you can be confident they will do an incredible job on your assignment.
All you need to do is tell us when the project is done, and payment can be made to Parker Dewey directly via credit card, check, wire, etc. We handle the rest.
And if you found someone you want to hire for an internship, full-time job, or anything else, you can reach out to them directly. We don't charge any fees because we don't want to get in the way of a great opportunity. In fact, we LOVE when Career Launchers and companies find a perfect match!
Ready to amp up your productivity, rethink your internship and entry-level hiring processes, and make an impact all at once? Parker Dewey is here to help.