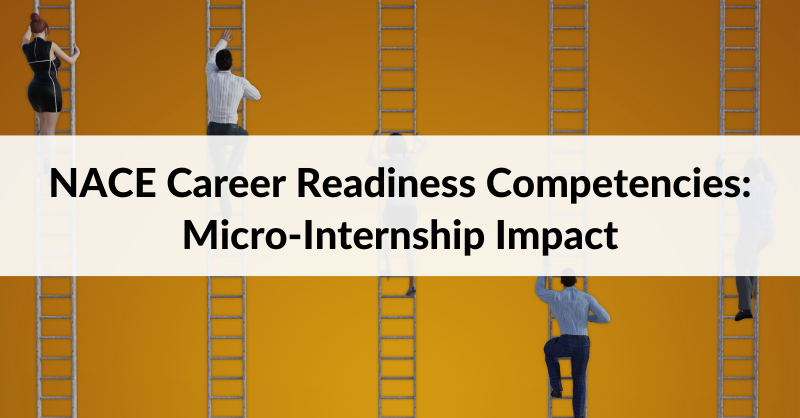 NACE Career Readiness Competencies: Micro-Internship Impact
For Career Services professionals, the NACE Career Readiness Competencies are an invaluable tool for understanding the impact of various career activities being completed by students. A variety of programs have evaluated a wide range of experiential education opportunities including on-campus internships, virtual internships, and general education coursework. But how do Micro-Internships impact students' career readiness?
Since the beginning of May 2022, Parker Dewey has been asking Career Launchers (i.e. students and recent grads) who recently completed Micro-Internships to reflect on the impact of these experiences. These questions are based on framework as defined by NACE in 2020. The chart below illustrates students' perceptions of how they have improved in these areas as a result of their Micro-Internship experiences.

Comprehensive Impact
The data is being collected on an ongoing basis, but as of this update, feedback showcases that even these short-term experiences (generally 10-40 hours in duration) have a major impact on students' perceptions of their career readiness. In fact, as a result of their Micro-Internship(s), 98.1% reported that they either improved or built confidence in at least one competency, 81.9% of respondents felt that they improved in 3 or more of the competences, and nearly half (49.5%) reported either improvement or increased confidence across all 8 competencies.
Areas of Most Improvement
For Career Launchers looking to build skills related to Communication, Career & Self Development, and Professionalism in particular, the survey results indicate that Micro-Internships are a great opportunity. Considering solely improvement as opposed to a combination of improvement and confidence-building, 73.3% indicated that they improved skills related to Career & Self Development as well as Professionalism. The area with the highest reports of improvement is Communication, leading the way with just under three quarters (74.7%) of Career Launchers indicating improved abilities. Considering the direct connection and communication Micro-Interns have with companies, these reports aren't surprising, nor are they insignificant in terms of the positive impact these communication skills will likely have in Micro-Interns' future workplaces.

The Importance of Confidence
Even for those students who may not have recognized improved skills, most found an increase in confidence. This result is significant as researchers have found that confidence can have a significant impact on career success. In every surveyed competency, at least 75% of Career Launchers reported either an improvement in the surveyed areas or an increase in confidence, and over 90% of Career Launchers reported improvement or increased confidence related to Career and Self Development, Communication, Critical Thinking, and Professionalism.
In the words of one student:
This was a large step up, as an industry professional-led project compared to my self-directed software projects in the past. I am certain that I want to work in this industry now.
These results are particularly important when considering that over 80% of Micro-Internships are completed by students from under-represented backgrounds. Many of these students can experience the imposter syndrome, a challenge that is being addressed more frequently at career centers including University of Florida, Northwestern, and Georgia Tech. The confidence built through Micro-Internships allow these students another opportunity to combat the ill effects of this phenomenon.
Implications for Employers
Employers have repeatedly found a significant mismatch between the competencies that are important and students' performance in these areas. Based on the NACE Job Outlook 2022 employer survey, Critical Thinking was the competency where there was the greatest difference in employers' perspective of the level of importance compared to employer perception of students' proficiency. According to Micro-Internship data, over 70% of survey respondents have reported an increase in their critical thinking abilities due to their Micro-Internship, and more than two thirds of those who didn't report increased skills, reported enhanced confidence in this area. In total, that's 90.5% of respondents reporting either increased ability or confidence related to Critical Thinking.
For employers who are looking for students who are better prepared for the workplace, seeing Micro-Internships on a student's resume can be a major differentiator in determining their readiness for the workplace. This is something we hear directly in conversations with students like Yonas, Raeven and Teagan. It's also something that students have said en masse with 99% of Career Launchers reporting they are likely to recommend Parker Dewey to a friend.
And it's something we continue to hear from companies who are using Micro-Internships in a variety of ways to engage with early-career talent.
---
We look forward to continuing to provide updates about students' perceptions of their career readiness. If you don't offer Micro-Internships to your campus community, click here to learn more about how Parker Dewey can help.
If you have projects on your professional to-do list that could help Career Launchers increase their skill levels and build confidence in these abilities, post them on Parker Dewey.