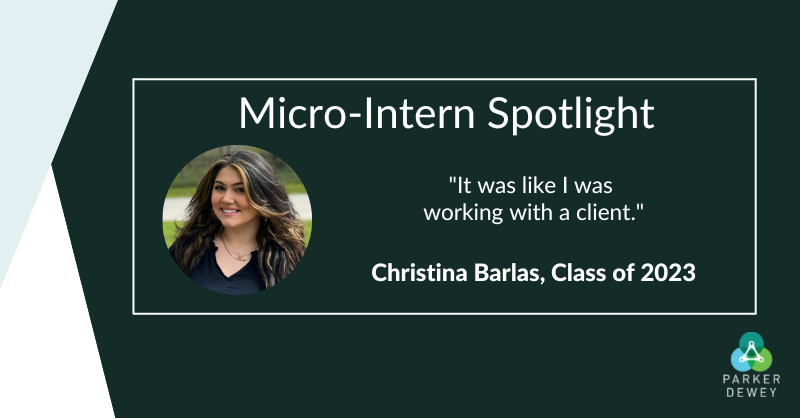 Micro-Intern Success: Finding Opportunity While Working Full-Time
As is well-documented by NACE, internships play a high-impact role when it comes to securing gainful employment after graduation. That's why Career Centers across the country encourage their students to start thinking about internships as soon as possible, an endeavor we applaud! However, it's important to keep in mind that 37% of college students are 25 or older, making them more likely to be balancing classes and jobs. This can easily result in schedules that don't always allow for traditional internships, as was the case for Christina Barlas, a first-generation Digital Media & Web Technology major at University of Maryland Global Campus.
The Nontraditional Student
Like many potential students, Christina hesitated to pursue a degree out of financial concern. She shared, "For me, I had to put off going to school for a couple of years. I figured I could never afford it."
Rather than pursue a degree, Christina decided to build financial stability and begin a career as a hairstylist. While she enjoyed the creative aspects of it, she quickly realized it wasn't quite right for her, and began to research different career options. She knew she'd stumbled upon something exciting when she began learning about graphic design, but also knew that to be competitive, she wanted to get a degree.
Pursuing a degree, however, did not mean that Christina had the option of losing her income. Between two administrative assistant roles, Christina works full-time while pursuing her degree at UMGC. The requirements of these two roles as well as her classes left her struggling to make a traditional internship fit in her schedule. Christina shared, "I would like to do an internship, but with my schedule I just can't, so I was looking for that opportunity to still have an internship without that time-consuming commitment."
Finding Flexibility
It was at this point in Christina's journey that she became aware of Micro-Internships. When asked what made her decide to try the platform, she said that the convenience and flexibility were key, in addition to the projects themselves.
Christina appreciated that her Micro-Internship supervisor recognized her various commitments and schedule. Despite only meeting via video once to kick off the marketing plan project, Christina felt that she had every opportunity to clarify goals in that meeting and sent additional questions as needed throughout. Christina also loved the freedom to structure the project in the way she thought would be most effective. Ultimately, Christina shared, the flexibility was an impactful component of the experience. "I was able to do this on my own time. As a short-term project, I was able to fit it in where I could."
Christina continues to be grateful for the control and flexibility that comes with Parker Dewey Micro-Internships as she looks ahead to future projects. She explained, "I'm waiting for my schedule to calm down to apply for more and take on another one. I'm so happy that I happened to find it."
"Without it [Parker Dewey], I don't know that I would have been able to do any other type of internship because of my schedule."
The Benefits of External Experience
Christina, who loves getting experience in different environments, also recognizes the benefit of having this experience on her resume. While she has no shortage of work experience, she was grateful that her Micro-Internship allowed her a way to get experience directly relevant to her career goals while maintaining her full-time workload.
She also appreciated the new perspective the project added to her experience, sharing, "It was similar to if I were to work for a marketing or graphic design company. It was like I was working with a client." She went on to explain, "I got to research things that I wouldn't have otherwise learned in school or with my current employers. Now I can apply those new things I learned to future opportunities."
In addition to the experience and pay, Christina shared, "The networking was also a benefit. It's nice to get new perspectives and be involved in a real-world situation that's different than what I'm used to. I also got to understand the pain points businesses experience, which makes me feel more prepared for the future."
Back in the classroom, Christina shared that her Micro-Internship experience is also having a positive impact on her academic work. She explained that in one of her current classes, she's designing a marketing plan similar to the one she put together for her Micro-Internship. Talking about it, she said, "It definitely does help that I now have background knowledge that I wouldn't have had before."
Plans for the Future
As Christina's thoughtful research and planning of her education and career have made clear, she likes to think ahead, and this experience helped her do that with more clarity.
"The Micro-Internship helped me realize even more what I want to do. I've always liked creating things and I was able to be artistic and creative within the strategic plan, and I loved doing that. That confirms for me that I'm on the right path."
Christina looks forward to eventually applying her digital design and marketing talents at an entertainment or travel company.
Advice for Companies
Christina encouraged companies not to wait to do their first project, sharing, "My manager told me it was her first one and I was new to it too, but I think we would both agree that it was an awesome experience."
This is a sentiment the company does indeed share and clarified in their feedback, stating, "This was a very positive experience."
The company went on to detail the many ways that Christina impressed them, including her communication, the quality of her work, the final presentation, and the fact that it was all done within the established deadlines. Simply put, it made their lives easier.
"For us, who know little in the area of marketing, it has been and will be very helpful in our growth."
Advice for Career Launchers
For fellow students, especially those who have to hold down jobs to afford tuition, Christina highly recommends the platform.
"For people who have to work and can't take the time to do an internship, a Micro-Internship is great for getting that experience while also making some extra money."
She went on to clarify the impact for her specifically. "For me, I was able to have something else that I can add to my portfolio, which is awesome. There's always something you can do in addition to your classwork or regular work."
---
Learn more about how Micro-Internships can help you engage talented non-traditional students.