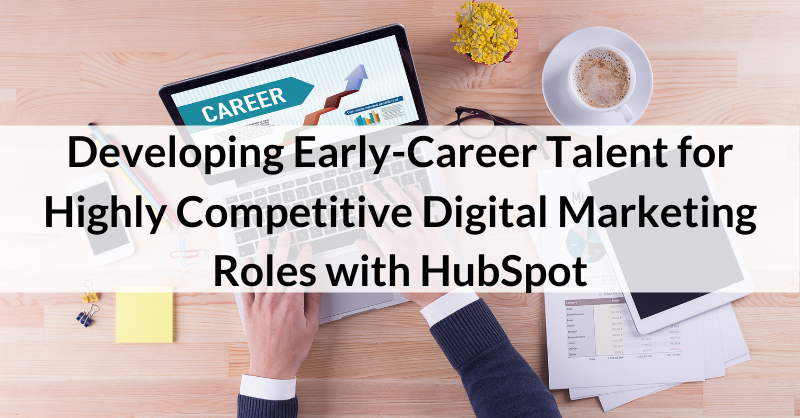 Developing Early-Career Talent for Highly Competitive Digital Marketing Roles with HubSpot
Julia Gueron, Manager of the Education Partner Program at HubSpot, shares how Micro-Internships support students in learning industry-relevant skills to build formidable resumes and get hired for in-demand digital marketing roles.
In a competitive job market, organizations seeking to hire and retain talent often turn to talent development and training. Whether the goal is to improve candidate engagement or increase employee retention, talent development initiatives that support digital workforce skills provide ongoing benefits. Recognizing these benefits, HubSpot is doing its part to future-proof both its organization and those of its users and Solutions Partners through digital marketing education coupled with hands-on work experience.
HubSpot (NYSE: HUBS) is a leading customer relationship management (CRM) platform that provides software and support to help companies grow better. The platform includes marketing, sales, service, operations, and website management products that scale to meet customers' needs at any growth stage. Today, more than 135,000 customers across more than 120 countries use HubSpot's powerful and easy-to-use tools and integrations to attract, engage, and delight customers. Through its Education Partner Program, the company aims to support its customers and partners in developing talent and bringing them into their businesses.
HubSpot's Education Partner Program was founded in September 2016 and provides college and university professors with everything they need to teach leading marketing, sales, entrepreneurship, and communications courses. The program's mission is to give college students the tools and resources they need to be ready for an increasingly technological world with ever-changing market trends and concepts. To date, HubSpot has worked with 1500+ professors at 700+ universities in 65+ countries through its program. Julia Gueron, Manager of the Education Partner Program at HubSpot, explained the reasoning behind the program's creation.
"Digital marketing is constantly evolving. We want our customers to have the best practices to succeed in business and using our platform. We recognize that to support diverse workforces, we must lead the way by providing training to diverse populations."
Students are reaping the vast benefits from learning about topics such as:
Website Design
Email Marketing
Social Media
Blogging
SEO
and Data Analytics
"The HubSpot materials reinforce my textbooks and help the students apply major inbound marketing methodologies like search, social, email, and content marketing. The certification not only helps the students learn but elevates the quality of class discussion," explains Dr. Debra Zahay-Blatz, Professor of Marketing, Marketing and Entrepreneurship Char, St. Edward's University
HubSpot's customers and Solutions Partners are unlocking the power and potential of the HubSpot ecosystem for students. Students seeking entry-level digital marketing roles benefit from acquiring skills and employing them to secure the positions they're after in the competitive digital marketing field.
"The education partner program allows students to come out of school as a bit of a specialist...how do you differentiate yourself from the enormous pool of people that will compete for the same positions? You learn a piece of software, and HubSpot is the perfect example, especially since this ecosystem is just on fire with growth," says Jason Azocar, current HubSpot customer and CEO of HubSearch.
The Education Partner Program started solely with training, then introduced in-class projects where students worked with classmates to complete work for businesses. While in-class projects provided context to classroom examples, students missed out on one-to-one connections from working directly with an organization, and in-class project partners lacked the ability to differentiate individual contributions from group work. Moreover, research has proven that unpaid early-career work experience such as in-class assignments and job simulations deepen existing social divides for underrepresented and historically marginalized talent, with paid interns consistently receiving more job offers than peers with unpaid experience.
Enter Micro-Internships Powered by Parker Dewey
Building on the Education Partner Program, HubSpot partnered with Parker Dewey to provide college students with opportunities to work on real, paid, professional projects to solidify learning and add context to classroom examples. These Micro-Internships not only provide HubSpot's customers and solution partners with on-demand support but also bridge the gap between college and career to help students build their resumes and increase pathways to opportunities.
"
I find that paying a student is a universal marker of appreciation," Julia says.
Our customers and solution partners c
an also ensure that their early-career talent pool is not made up just of students who can afford to forgo a paycheck, which helps them create a more inclusive talent pipeline."
Of course, payroll and employment contracts for short-term work can create a burden for some organizations; Parker Dewey's unique business model alleviates all risk by assuming the role of employer of record. HubSpot further lessens the burden for its customers by funding the cost of Micro-Internships up to $350 per project.
"Parker Dewey is a model for how we want to work with external partners. It feels like they're an extension of our team." Julia notes. "Their business model and mission are in direct alignment with our program goal to support talent development and increase access to careers in digital marketing for all."
Real Experience, Real Relationships
"I have students working with corporate partners on HubSpot projects. They get a professional certification, and it enhances their reputation, it enhances their skills," reports Ian Cross, Senior Lecturer, Bentley University.
Through HubSpot's Education Partner Program, Micro-Internships enable students to practice using the tells and inbound marketing methodology—keeping a talent shortage at bay while enabling students to build the skills for the roles they want.
"This program gave me the digital skills necessary to not only land a job right out of school with an agency but also to generate real results for our clients," says Cody Ferguson, Ohio University graduate, now an Inbound Marketing Consultant.
"My favorite part of using the HubSpot platform in class has been the creativity that we've had with it; we've been able to create landing pages and email campaigns and have a lot of fun with reaching out to the customers and the different ways that they would like to interact with the brands," says Megan Flynn, Bentley University graduate.
While students clearly benefit from industry-leading resources and paid work experience, HubSpot's customers and solution partners are also reaping the benefits of working with Micro-Interns. "HubSpot is selling licenses at a faster clip than people are learning it. By providing classroom resources, HubSpot is inspiring a new generation to learn marketing, sales, and digital technology, which directly supports our business growth," commented Jason.
HubSpot hopes to have as many of its customers and Solutions Partners as possible participate in the Micro-Internship program over time. "It is so easy to do. The financial burden is minimal. I started as the pilot, and have had such a great experience that we're now going to see how we can create projects in lots of different areas within our research institute that can take advantage of this," shares Russ Lyons, Head of Biomedical Education and Innovation at the Novartis Institutes for Biomedical Research.
Julia advises HubSpot users to start building relationships with early-career talent. Even organizations with existing internship programs can benefit both from on-demand support and year-round talent pipeline building.
For interested universities and education partners not part of HubSpot's Education Partner Program, it's free to join and easy to apply!
---
Add paid experiential learning to your existing training program
Connect with Parker Dewey to learn how Micro-Internships support learning outcomes, drive candidate engagement and improve diversity recruiting initiatives.