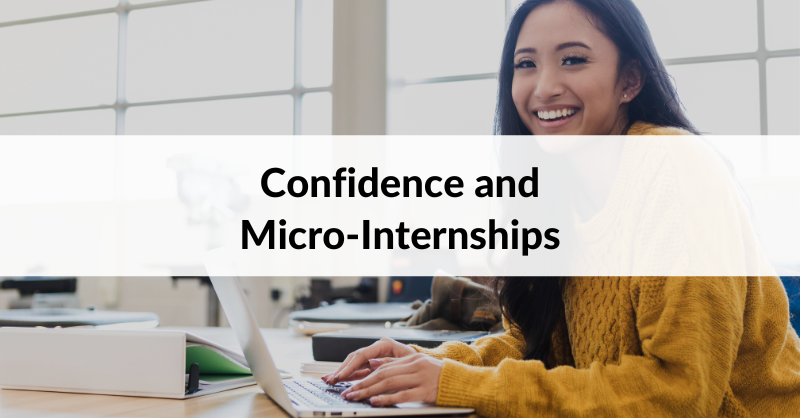 Confidence and Micro-Internships
It's no secret that confidence can have a significant impact on career success. A lack of confidence in one's abilities can even lead to imposter syndrome, which up to 82% of people will experience at some point in their lives. This was reflected in Parker Dewey's own student sentiment survey, where 'I lack confidence' was one of the top 3 responses when college students were asked about the most significant obstacle they faced in their job search.
Thankfully, there are a variety of methods for tackling imposter syndrome, and saying yes to opportunities is one of them. By engaging in activities at the edge of your comfort zone, you can build the experience that leads to confidence.
Micro-Internships are a great example. A student or recent graduate might look at a Micro-Internship description and hesitate to apply if they don't know how to do everything listed in the description, and that would be imposter syndrome creeping in. Rather than ask yourself if you know how to execute a project in its entirety, ask yourself if you would know how to get started. Often, if you can think of a place to start, then it doesn't hurt to apply!
It's also important to remember that you're not on your own if you're selected for a project. Your professors, mentors, and even alumni are all great sources of advice if you're unsure of how to tackle a certain aspect of your Micro-Internship. Upon project kickoff, you will also be connected with a point of contact at the company who can answer specific questions about the project. D'Ziyah Mitchell, a Political Science major at Howard University who has done multiple Micro-Internships, shared that networking with and learning from her supervisors was a key part of the Micro-Internship experience.
"They taught me to never be afraid to ask questions and to connect with people outside of work as that is how you really advance in your career."
This inquisitive and ready-to-learn attitude is shared by some of the most successful Career Launchers using our platform. For example, Danielle Whitaker - a Mass Communications major at Colorado State University Pueblo who has completed five Micro-Internships - specifically seeks out Micro-Internships that can help her grow, saying, "Whenever I see a posting that says they're willing to help me learn something that I may be a bit shaky on, I immediately want to apply for that opportunity."
Danielle is not alone in her efforts to use Micro-Internships to build her skills along with her confidence.
In fact, 98% of Career Launchers who recently completed a Micro-Internship reported either

building abilities or confidence related to Career Readiness

as a result of the experience.
Those survey results are clear evidence that the students and recent graduates who are selected for projects don't go into their Micro-Internships with perfected skills or astounding levels of confidence, but they pushed themselves to apply, and grew as a result. As you check out the available Micro-Internships on Parker Dewey, we hope you'll do the same! Be honest and authentic about your interests and skills, and be open to trying new things. You never know what skills you could build, what confidence you could gain, and what you might find out you like!
---
Get tips on acing your short-answer responses and improving your chances of being selected for a Micro-Internship.