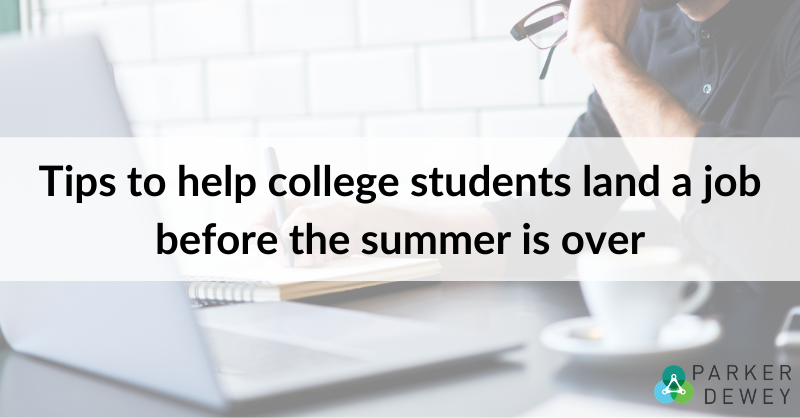 Looking for a Summer Job? 4 Things College Students Should Do Right Now
It's officially summer and you're (hopefully) taking advantage of the extra time you have to focus on building your professional network and landing a great summer gig. Even if you have not yet graduated, you might already feel the pressure of the increased competition in the job market due to the pandemic. On the other hand, you may fear that time is running out to land a summer job before positions fill up. After all, it's almost July.
For some students, the widespread effects following the COVID-19 disruption can directly impact their career plans. In more competitive positions, students often start applying for summer positions during the fall before they graduate, and many count on internships to transition into a full-time role. In fact, according to NACE, 53% of students who had an internship received at least one job offer last year, but with so many canceled internships this year, it is more difficult to gain this crucial pathway.
Because this year is fundamentally different, you will benefit from taking some additional steps to what others have done before. Here are a few ideas that you can take action on right now.
Update your resume
This should be obvious, but we thought it wouldn't hurt to remind you. Before you go out and apply for positions, make sure your resume is up to date before you send it out or upload it to career sites. If you are worried you don't have enough (or any) experience to include, leverage your in-class experiences, volunteering, and projects you've created that can demonstrate your core skills. Core skills like critical thinking, written communication, leadership, problem-solving, and collaboration are in-demand with employers across industries, regardless of your career path.
Pinpoint to your strengths in these areas that are applicable to the position you're applying for (and even tools that you know how to use – software like Canva, Powerpoint, or Cision for example) to demonstrate that you have what it takes to grow in that role. Recruiters will know that you are at the start of your career, but you will have a leg-up if you can demonstrate that you are able to learn on the go, regardless of your academic major.
Learn how to craft a winning
resume.
Build your LinkedIn presence
Your ability to land an opportunity is oftentimes only as strong as your network. If you are not doing this already, use LinkedIn to connect with people in industries and roles that interest you – even just to chat, ask their advice, or compliment them on their work. Sure, you can use the LinkedIn job search tool to find available openings, but engaging with professionals in a way that's authentic is more beneficial for building your professional circle, which will help you down the line. Another tactic you should use is when you find a job posting that piques your interest, consider reaching out to the recruiter that posted it, and introducing yourself as someone who is looking for future opportunities in that area. Most people don't take this initiative, so by making this connection, they are likely to remember you and keep you in mind in the near future.
Create your own Micro-Internships
Whether you had an internship lined up and it was canceled, or you're still exploring careers, Micro-Internships can help you gain experience this summer and all year long. Ambitious students are reaching out to companies they'd like to work with and asking if they can help out. Find a manager at a company in the department of your choice and be direct about your enthusiasm just to gain experience (this is especially handy if you've built that relationship with them already). Once you have enough information and have a clear idea of how you may be able to assist, you can reach out and say, "Hey if you're busy, I'd love to help you work on [x project] and gain some experience." There are many companies that don't think in these terms and taking this approach shows that you have the initiative and willpower to develop a connection with them as a potential intern or employee. Here's a quick template you can use to do this. Be sure that when you approach a brand or company you are interested in working with to highlight that working on a short-term professional assignment will help them and also help you.
Find an alumni or a mentor
It's common for students to reach out to alumni and ask to gain insights or professional support. Alumni from your school have just been in your shoes and, more often than not, are willing to help you gain experience and appreciate the opportunity to give back to a student. Also, think about people you've interviewed with in the past – if you had an effortless connection and would feel comfortable reaching out for advice, feel free to do so. Start to build those relationships now and you might find that opportunities will open up.
All is not lost
In the long-run, employers will want to know what you did during the COVID-19 pandemic. Showcasing that you took initiative to build your skills, engage with professionals, and learn from experiences you carved out will pay off. "It's a time of opportunity, discovery, development — and it's a time for you to really figure out who you are and what you want to do," says Jill Tipograph, co-founder of career coaching firm Early Stage Careers in New York. All is not lost this year just because of an economic downturn and yet-to-be-seen ripple effects from a pandemic. Opportunities are waiting to be discovered and created.
Read more about what you can do this summer in this recent CNBC article.