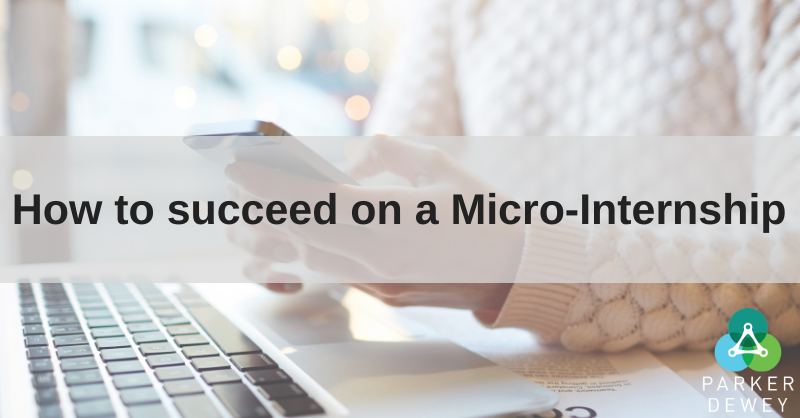 Career Launcher Resource: Succeeding on a Micro-Internship
Registering with Parker Dewey to complete projects as an independent consultant is the first step, and you've taken it. Once you secure your first Micro-Internship, though, how will you ensure that you are effective? Below are strategies you can focus on to achieve this goal and to prove that the client made the right decision in choosing you for the assignment.
Do your homework
While it's important for you to understand your expectations and goals going into an assignment, it's just as important to ensure that you understand the client's requirements accurately. This includes identifying both the specific deliverables and also how the client expects to use these items.
For example, a competitive analysis project may be used to plan future products, develop pricing strategy, understand more effective closing techniques, or for a variety of other purposes. By understanding how the project will be applied, you can better ensure that you are meeting the expectations of the client. Not only will this help with your continued professional development, but it will also ensure that you are most effectively helping the client address its business needs. If you don't have this information, you should ask the client for it.
In fact, the more you know about the company, its requirements, and how your contribution fits in, the better your chances are of executing the project well. Your point of contact at the client is likely to appreciate your interest, and this will build a favorable perception about you within the company, something especially valuable because having strong references is often key to securing full-time employment either with that company or another organization.
Manage client expectations
Be realistic about what you can deliver in the required timeframe. If you are studying and working on these projects at the same time, then you certainly want to plan how best to balance work and academics. Figure out which items on your daily calendar are flexible and fit them around the items that are not flexible.
You will need to decide how much time you need to spend on the project assignment every day to ensure you'll finish by the deadline and have enough time left to check your work. Your deliverables may include multiple pieces. Identify what needs to be prioritized, and get those tasks out of the way first. If you aren't sure, ask the client contact for more information about prioritization. Provide an outline of the deliverables you plan to submit along with timelines for each. You may also want to provide sample output to ensure that your understanding of the project work is the same as the client's, so be sure to ask the client contact if he or she would like you to submit a sample before proceeding with the rest of the assignment. And whenever you can, deliver before the deadline-without putting the quality of work at risk, of course!
Enable yourself to deliver
You may not believe this, but there are some very simple things you can do that will help you go a long way. Here are some tips:
Create a workspace that is clean and free of clutter and distractions. This will help you stay focused.
Avoid social media while you're working, unless of course your assignment requires you to stay connected.
Organize your work. Split up the overall deliverable into smaller milestones for yourself. You can check them off as you complete them.
If and when you attend meetings, in person or otherwise, be sure to take notes.
Ask for help when you need it. It's perfectly fine to reach out to your network, including the client contact, when you need assistance. Just be thoughtful before doing so and make sure you have considered the various potential solutions - you want to demonstrate respect for their time. As long as you are eager to learn and ready to take on more challenges, you are likely to do well.
Communicate well
Communication is the key to success in any role. If your communication is clear and positive from start to finish, a significant portion of your job is done. Identify the preferred mode of communication for the point of contact at the client. Everyone has his or her own style and preferences. Some people like frequent communication, while others prefer to just see the finished product. Some prefer emails, others prefer phone calls. Some are more formal and like to schedule calls with a set agenda, while others are more informal and open to ad hoc conversations.
If you are working with others on this project, be sure to stay in touch with them and keep them posted on your progress. Clear and professional communication is a sure way to make a good impression.
If you can follow most or all of these strategies, you are likely to have a positive experience. And when the assignment is done, don't forget to analyze what it has revealed about you-including areas of strength and those in need of improvement. This will allow you to continue to develop your professional skills as you launch your career.
Takeaways
Know the people with whom you will be working, their preferences, and how your work will be used.
Understand client requirements. Manage your time and effort to ensure that your deliverables are on track for the due date you promised.
Get organized, focus on your work, avoid distractions, and ask for help when you need it.
Communicate clearly and frequently.
For every engagement, set goals before you begin.